Starpoint Accelerator: Rewarding Student Innovation
Starpoint Accelerator: Rewarding Student Innovation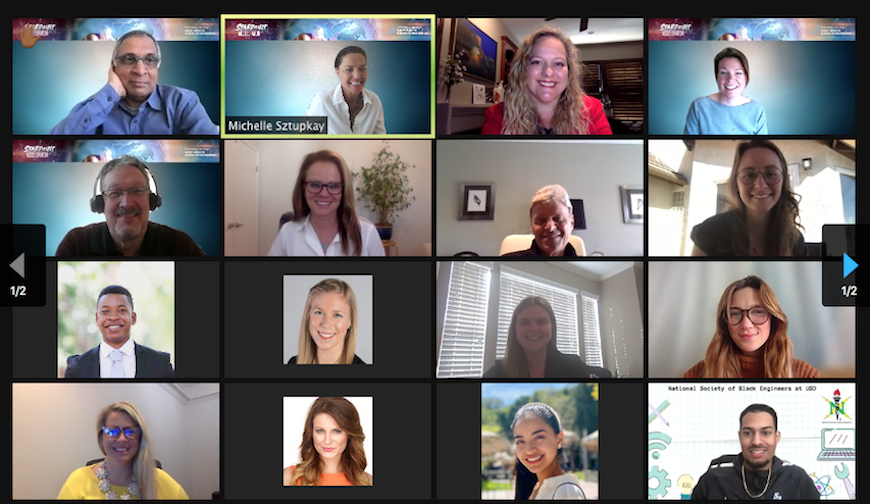 As the sun broke out from behind wispy clouds revealing a crisp blue San Diego skyline, nine innovative student entrepreneurship teams were queuing up for the inaugural Starpoint Accelerator competition on Thursday, March 4, 2021. Although the event was held virtually due to the pandemic, the online format did not stymie the resilience of these young innovators or passion for their projects.
To set the stage, the Starpoint Accelerator serves as a feeder competition to boost these budding entrepreneurs towards a more professional pitch for the main event —the Torero Entrepreneurship Competition (TECh) — which takes place on April 8th. Both the Starpoint Accelerator and TECh are engineered by the Shiley-Marcos School of Engineering's Etrack program and differ from other USD entrepreneurship competitions in that they specifically recognize technology innovation.
"The teams will take what they learned from the judges' feedback today to fill the holes in their pitches in preparation for TECh, where they will compete for up to $45,000 in seed money," explains Etrack faculty co-lead and De Sanctis Professor of Engineering and Entrepreneurship Venkat Shastri.
Teams are encouraged to address improved social conditions, the environment or quality of life. So, from repurposing non-degradable wind turbine blades into fiberglass roof tiles to revolutionizing trade among women-owned micro businesses in Mexico to one-stop housing solutions for international students, these USD student teams did not disappoint.
Many drew from personal experience to find technical solutions that fill gaps or voids in the marketplace.
The SeaMe Search & Rescue project pitched a device that aims to improve the effectiveness of the current search and rescue procedure, to reduce mortality rates within the commercial fishing industry.
"We are tackling one of the biggest problems in one of the world's most dangerous jobs," explains SeaMe founder Benjamin Foote. "As a person who has lost family and family friends at sea, this is an especially personal problem we are trying to solve."
The Discrete Solar (DS) 200 team pitched an externally mounted solar energy system that takes the headache out of Do-It-Yourself and professionally installed solar for compact vehicles, homes and structures.
"Created for alternative lifestylists, the DS 200 is built to withstand the toughest conditions on virtually any structure, while being completely self-contained — allowing the user to maximize interior space," explains mechanical engineering student Sabrina Smith. "It transforms a previously labor and time intensive task into an enjoyable, quick, plug-and-play installation."
The event was hosted by Etrack co-faculty lead and Professor of Practice, Jeff Teza. Judges for the event included Sylvia Ma, Accelerator, Connector, Investor, Advocate 4 diverse founders in San Diego, and Starpoint donors David Cohn and Carl Delia — both of whom were instrumental in the development and launch of Etrack over four years ago.
Teza met with many of the entrepreneurs for weeks leading up to the competition. "The teams showed a lot of progress and did a fantastic job, there were a lot of great ideas. The journey is the reward if you are an entrepreneur — I can tell you that from experience."
Teams were awarded in three tiers from $500 to $2,500 totaling $12,000 in seed money, so that every one of the nine teams went home with some level of funding.
Tier 1 Winners: $2,500
Discrete Solar: Discrete (DS) 200
HUGS
Second Wind
Tier 2 Winners: $1,000
SeaMe Search & Rescue
Sunlight U
Womenly

Tier 3 Winners: $500
How Bout Now
RockeTruck
twrvl
"The Starpoint Accelerator Pitch Competition gave us the opportunity to share our project with others and allowed us to fine-tune our pitch in preparation for the TECh competition." Smith continues, "We were able to connect with other USD entrepreneurs and hear from female-led and socially-responsible ventures."
As the event came to a close, Delia shared his delight with the results of the pitch competition, "We couldn't be prouder to be associated with the university and the teams here today."
— Michelle Sztupkay