USD 2.0: Next Phase in Full Swing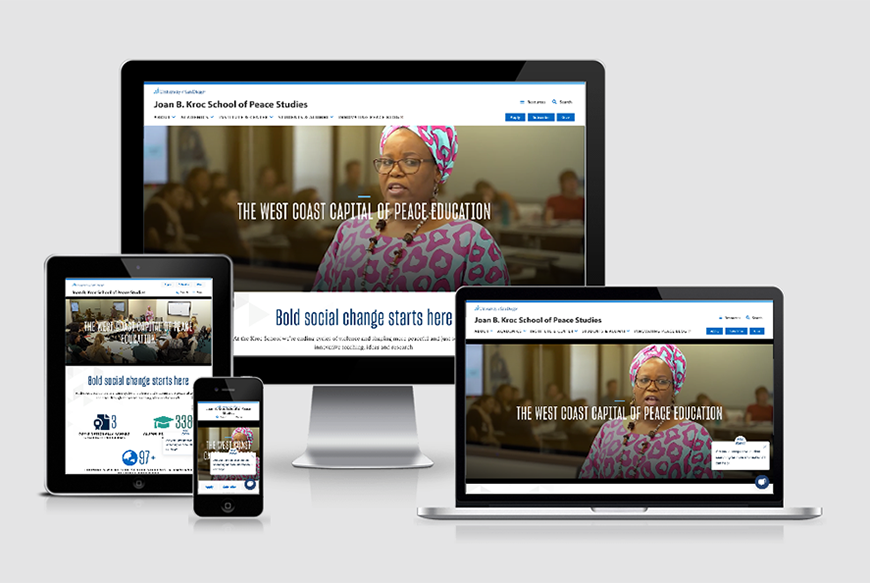 Following on the heels of a successful University of San Diego website launch in late October 2020 comes the next major web release: a new website for the Joan B. Kroc School of Peace Studies. The new virtual presence for the Kroc School and its programs, institute and students debuts on Wednesday, February 17, 2021.
What would have previously been a year-long initiative with USD's 1.0 website redesign process was compacted down into four months. The new 2.0 process included opportunities for internal and external school research and feedback, usability testing with current Kroc School students and alumni, and writing all-new content.
Other projects underway within phase 2 of the USD redesign include new websites for the College of Arts and Sciences and Copley Library. Early conversations with the School of Business, School of Leadership and Education Sciences and Shiley-Marcos School of Engineering are also ongoing.
The evolution of Camino, USD's digital design library, continues with new and enhanced features. A new visual gallery component is now available to highlight images and videos in a compact space. On the Kroc School website, the gallery component showcases academic and social spaces within the building, especially relevant during a time when classes and other networking opportunities continue to be remote. Prospective students can truly picture themselves at USD, due to the use of this gallery component.
An updated Cascade CMS training module is now available for maintainers transitioning from USD's 1.0 website to a new 2.0 website. All web training continues to be on-demand. A new online DocHub is also launching, designed to be a one-stop shop for USD website training and documentation needs.
Phase 3 website transitions will start in the coming months, with a focus on student-facing and institutional websites as the next priority. Project date ranges will be posted on the USD Redesign website as phase 3 begins.
Stay tuned for more releases, including a public changelog if you're a member of the USD community who helps maintain the USD website. We're also working to improve the USD website speed, better optimize and educate users about the website search experience and more.
— Joy Brunetti '01 (BA)
Learn more at the USD Redesign website.