USD Women's Basketball: The Brink of Greatness
USD Women's Basketball: The Brink of Greatness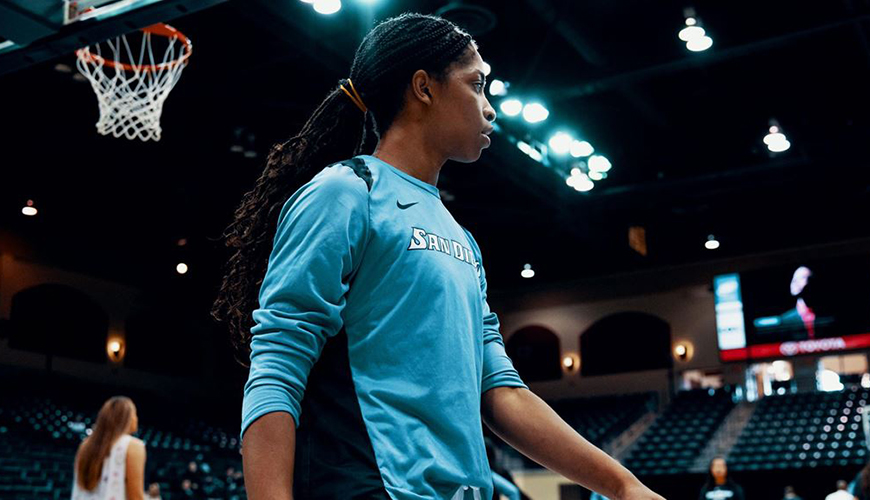 Cindy Fisher has seen a lot in her 15-plus years at the helm of San Diego women's basketball. The head coach has led the team to the postseason eight times, notched seven 20-win seasons, and rallied the program back to prosperity through tough stretches. But little could have prepared Fisher for what the last several months have held for her and her players.
"It was like nothing I have ever experienced before, to be honest," Fisher said.
Dealt a double gut punch after a crushing last-second loss in the championship game of the West Coast Conference Tournament and the cancelation of the Women's National Invitation Tournament back in March, the Toreros suffered an abrupt and unceremonious conclusion to an impressive 2019-2020 campaign.
"We were really proud of everything we accomplished, we had a really good season," redshirt senior guard Jordyn Edwards says. "But it kind of ended with a heartbreaker."
The ending in question, which found the Toreros on the wrong side of a 64-63 overtime thriller against Portland, halted San Diego's lofty postseason expectations in their tracks. The Toreros would not hoist the conference trophy that March as they had aspired to, would not host a WNIT game as they eventually expected to. One year removed from a torturous, injury-riddled 9-21 season in 2018-2019, USD instead headed home for the summer with a newfound sense of resolve. A desire, perhaps, to avenge an unfortunate end to a resurgent 2019-2020 season that saw them add 11 wins and return the program to prominence, yet finish on the brink of greatness.
"We all had to sit with that for a little bit, it was hard to go through.…tough emotions," Edwards recalled. "It's definitely one thing that we're not going to forget, and we do have to look back on that game and have that be something that drives us…to go that one step further."
The Toreros' aspirations of working in the offseason to take that next step, however, were complicated by the intensification of the coronavirus pandemic. Senior guard Myah Pace would have loved nothing more than to get back in the gym and begin building off of a dynamic junior campaign after the season ended. She was instead met with another obstacle as virus restrictions abounded.
"There was so much adversity that especially at the college level, basketball players aren't used to," Pace said. "Having to find a court to shoot on, some of them had no nets or were taped off. It definitely produced a next level of adversity that I had never seen before and it definitely was a challenge, but it allowed me to sit with how hungry I was, and what I had to do…to get better."
But in the coming days, all of the challenges and heartbreak that Pace, Edwards, and the rest of the Toreros encountered over the last several months will be set aside, and the team will finally get the chance to do what they have yearned to since their season ended in Las Vegas — get back on the court for a game.
They will do so as part of an unprecedented college basketball season, one that has already been delayed by multiple weeks from its originally scheduled start date; one that will be played without fans in attendance, and also with a modified nonconference slate. But it will be basketball, and it will be a season, and if you ask the Toreros, that's all that matters.
San Diego will be without the ebullient Patricia Brossman, who led the team in rebounds last season, as well as her counterpart, Madison Pollock. Both graduated last spring. So did Leticia Soares, whose .494 mark from the field was the best for USD in 2019-2020. Significant talent remains, however, in Pace and Edwards, as well as a crop of fresh faces ready to make their own mark on the program.
"It's been really exciting because some of the younger players who didn't get a lot of playing time last year…they've really been excited to have their moment and start making an impact on this team." Fisher said. "And then we signed three players — Laura Erikstrup, Gabby Giuffre, and Steph Gorman — in the offseason who have really came in and made an impact right away. I think our depth is really good."
On offense, the Toreros will look to both of their veteran guards to continue their success. Pace paced the team last season with an average of 11.9 points per game, while Edwards wasn't too far behind with 10.1. Speed figures to be key in USD's game plan for scoring.
"There's probably not a faster team out there in the conference right now that can really get it and go, and get up the floor quick," Fisher said with a laugh.
Edwards, who Fisher lauded for her energy and hard-nosed style of play, echoed her coach's sentiment.
"If we can score within five seconds of a missed basket or a made basket, trying to push the floor is a big thing for us," the redshirt senior said. "In our guard section we have a lot of speed, and we have a lot of girls that are good at attacking and finishing around the hoop."
Defense and rebounds, however, will be key to allowing the speedy San Diego offense to operate as designed.
"You have to be able to defend, you have to be able to box people out and get on the glass so you can get that transition going," Fisher added.
Pace, the heart and soul of a dominant USD defense last season, earned All-WCC preseason honors last week. The selection was well deserved. The Oakland, Calif. native broke the all-time single-season steals record in 2019-20 with 92 takeaways on the year and helped establish San Diego as a defensive powerhouse. The Toreros finished the year among the best defensive teams in Division I; ranking in the top 25 in steals, steals per game, turnover margin and turnovers forced. It's a strength that USD would like to carry over into their upcoming campaign.
"We were good defensively last year," Fisher said. "I think we have an opportunity to be great this year. We have a year under our belt, we have a little bit more experience as far as what we want that to look like for us."
What experience the Toreros enjoy in their continent of guards, they lack in the post after losing Brossman, Pollock, and Soares to graduation. Fisher identified that deficiency as the most notable change in her team compared to last season, and mentioned that she will look to a handful of players to step up in this regard. That could even include senior Sydney Hunter, who saw significant playing time as a guard last year.
"She's such a great athlete," Fisher said. "She can really jump and rebound, even though she's undersized she can create some really bad mismatches for our opponents. I think with the veteran players on the outside it's really helped the young post to have an opportunity to just learn as they go, and they've done a really nice job."
The Toreros' 2020-21 schedule has remained fluid as the team attempts to get games in while rolling with the metaphorical punches of the pandemic. The WCC schedule offers more certainty, though USD was picked to finish just fourth after posting a 13-5 WCC record a year ago. If the last seven-plus months have taught San Diego anything, though, it's to focus on controlling what they can control.
"Being ranked fourth, that's nothing but a number," Edwards said. "We're excited to play every team, especially since we weren't really sure if we were going to get games in this season."
And following an offseason like no other before it that was characterized by virtual meetings and distance from each other, the Toreros are looking forward to something for which there is no virtual substitute, a rush that can't be replicated over Zoom.
"I'm just ready for that game-day feeling again with my teammates," said Edwards, one of San Diego's veteran leaders. "It's something where you wake up and you're thinking about it and you're ready for it. Every win we're going to celebrate and every game we're going to appreciate.
"It's something I'm really looking forward to."