USD Professor Competes on Jeopardy! Game Show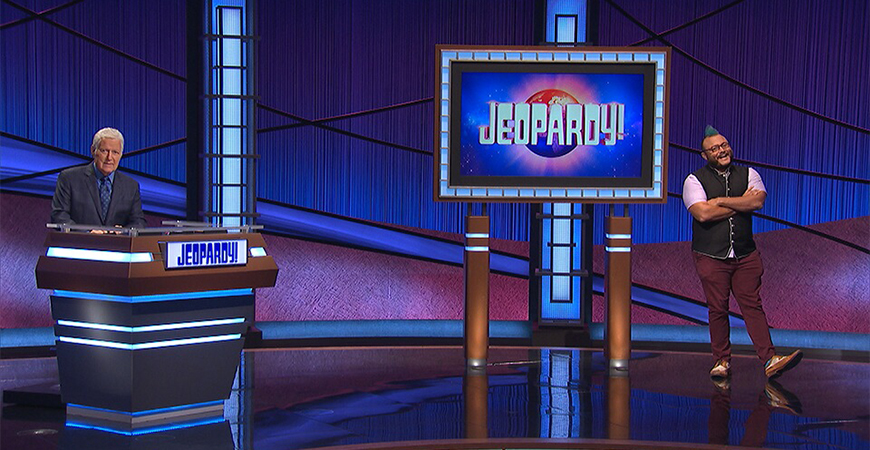 A University of San Diego history professor received two half-hour game show appearances worth of television fame and exposure on this past Tuesday and Wednesday nights.
T.J. Tallie, an assistant professor of African History at USD since 2018, appeared on the popular game show, Jeopardy! earlier this week. On Tuesday, he won $18,200 and earned the title of champion. On Wednesday, he finished third with $1,000. The two-show appearance, though was completely worthwhile and amazing, he said. Tallie also had a lot of fun — he was sporting a blue-colored mohawk hairstyle.
He also got to do something else — the shows he appeared on were hosted by Alex Trebek, who had taped numerous weeks of episodes before he passed away on Nov. 8. Trebek had been diagnosed with stage 4 pancreatic cancer in 2019.
Tallie was interviewed by NBC 7 San Diego on Wednesday and in his interview he reflected on how well Trebek looked and seemed normal at the time of his show tapings in mid-September.
As for Tallie, he has been a wonderful addition to USD's history department. In addition to his courses, he is actively engaged in research and interest in comparative settler colonial and imperial history, primarily focused on South Africa. His interests, broadly defined, involve colonialism, gender and racial identity, indigeneity, and religious expression. At USD, he teaches courses in African History, Global History, Pacific History, and Gender and Sexuality.
Since his arrival at USD, he has also co-hosted the annual Black Student Graduation Recognition ceremony and was the keynote speaker for USD's Summer Research Colloquium virtual event in August.
He holds bachelor and master's degrees in history from UC San Diego and a PhD in history from the University of Illinois, Urbana-Champaign.
— Compiled by Ryan T. Blystone
Photos of T.J. Tallie are courtesy of Tallie, NBC San Diego and Jeopardy!