Women of Impact Award Winners to be Revealed at February 2021 Event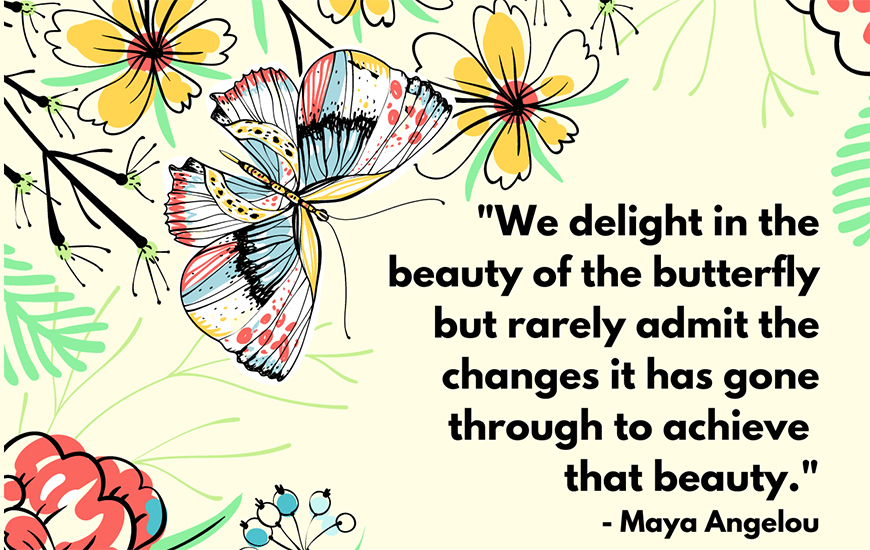 Typically, in late November or early December, the University of San Diego's Women's Commons hosts a wonderfully inspiring awards luncheon program, the Women of Impact (WOI), to honor female standouts who've been nominated by peers in five categories: undergraduate and graduate students, faculty, staff and administrators.
Due to COVID-19 and an earlier than usual concluding fall semester, Women's Commons organizers opted to push the event into 2021 and to make it an early spring semester virtual event. The official date for the 23rd edition of the Women of Impact program is Friday, Feb. 5, 2021 at noon on Zoom.
The program's theme, according to Erin Lovette-Colyer, director of Gender Identity Resources, is connected to the powerful word of transformation.
Said Lovette-Colyer: "As our staff reflected upon a theme for this year's program, the image of a butterfly surfaced quickly, which was followed by a staff member reciting the powerful words of poet Maya Angelou, "We delight in the beauty of the butterfly but rarely admit the changes it has gone through to achieve that beauty." Our world and our USD community is calling for profound change. This year's Women of Impact nominees are heeding that call in innumerable ways. We invite the whole community to join us in celebrating all of this year's nominees and the ways they are transforming our community and world!"
Past years have included a keynote speaker and more, but to see who'll be named the WOI winners, you'll have to wait until Feb. 5. But here is a complete list of the 2020 Women of Impact nominees:
Administrators: Cynthia Avery, EdD; Daniela Gurgol; Elisa Lurkis; Jen Lee Aller; Madeline Krieg; Manda Sayegh; Melissa Halter, PhD; Paula Krist, PhD; and Yajaira Nunez.
Staff: Christine Watson; Gabriella Rangrej; and Sydney Pidgeon.
Faculty: Ariel Kleiman; Casey Dominguez; Deborah Sundmacher; Emily Reimer-Barry; Jillian Tullis; Mila Sohoni; Orly Lobel; and Persephone Lewis.
Graduate Students: Alexis Isaac; Amber Knight; Caitlin Hayles; Kelly Metz-Matthews; Maddie Orcutt; Mayzong Lee; Miso Jang; Valerie Gurrola; and Valerie Mora.
Undergraduate Students: Alanna Bledman; Alexa Gonzalez; Alexandra Rollings; Allison Lu; Andrea Tecpoyotl Tepale; Ashley Raines; Catalina Carbajal; Celina Tebor; Chelsea Dunleavy; Chidiebele (Chidi) Okaru; Courtney Cureton; Dai-An Le; Delaney Tax; Emily Norris; Eniya Pendleton; Fanisee Bias; Juliana Russo; Justice Zoto; Karen Nunez; Lauren Fettes; Lindsay Royse; Linnea Leidy; Lupe Velez; MaryCatherine Smith; Maya De La Torre; Maya Matabwa; Sabrina Mendoza-Wineteer; Taylor Brown; and Vivian Mateos Zuniga.
Those chosen among this great list of nominees will join the list of all WOI recipients, dating back to 1997.
— USD News Center
To learn more about the Women of Impact event, please visit the Women's Commons website.