English Alumnus Charlie Daly Co-Authors Book with Father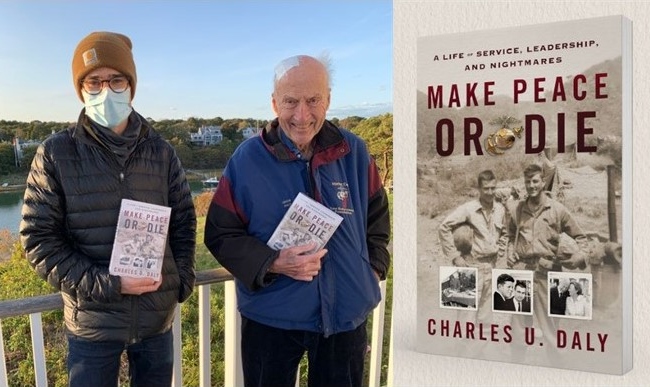 Tuesday, November 17, 2020, Charlie Daly (English, Class of 2012) celebrates the publication of his father's memoir, which he co-authored: Make Peace or Die: a Life of Service, Leadership, and Nightmares. An early draft of the book and interview with Charlie's father appeared on a podcast hosted by USD alumni (English, Class of 2003), bestselling author, and retired Navy SEAL, Jocko Willink (Jocko Podcast ep. 196.)
An Irishman in the U.S Marine Corps, Charles U. Daly thinks fighting in Korea will be an adventure and a way to live up to a family tradition of service and soldiering. He comes home decorated, wounded, traumatized, and wondering what's next. His quest for a new mission will take him to JFK's White House, the troubles in Northern Ireland, and a South African township devastated by the AIDS epidemic. Chuck's life is a true story of living up to Kennedy's challenge to "ask not what your country can do for you, but what you can do for your country."
Steven Pressfield, Bestselling author of Gates of Fire and The War of Art, had this to say about the book:
"This is the kind of book I love—a true-life memoir of a man who lived (and is still living) a multi-dimensional life of war, love, family, and service … and who writes about it like a bandit. When I finished the book, I couldn't help asking myself on behalf of our country, 'Where are the men like Charles Daly NOW?' I love books like Mr. Daly's because they give us a model to aspire to. And they're tremendous fun to read. His story and the fluent, hold-nothing-back style he uses to tell it stand with the best of the best. Semper Fi!"
Make Peace or Die: a Life of Service, Leadership, and Nightmares is available through Amazon, Bookshop, Indiebound, and you can ask your local bookstore to order it. As of November 17, 2020, the Kindle eBook is on sale for $0.99 for one week.

Congratulations to Charlie and his father Charles!