Special Recognition for Tennis' Osorio, Baseball's Kerner, Luevano, Rowing's Adams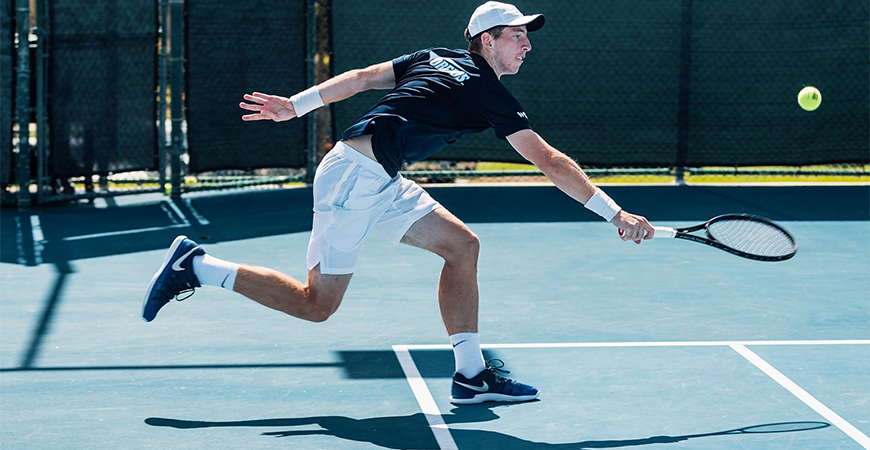 San Diego men's tennis scholar-athlete Gui Osorio achieved a program first as he was named the recipient of the Arthur Ashe Leadership and Sportsmanship Award by the Intercollegiate Tennis Association (ITA) for the southwest region.
Osorio, who competed in the top two spots in singles and doubles for the Toreros in the shortened spring this season and was ranked nationally, was one of 12 student-athletes across the country to earn the leadership honor from the ITA as it announced its regional awards on May 18.

The Arthur Ashe Leadership and Sportsmanship Award, which dates back to 1982, is presented to men's and women's student-athletes who have exhibited outstanding sportsmanship and leadership, as well as scholastic, extracurricular and tennis achievements in ways that embody the legacy of tennis icon and humanitarian Arthur Ashe Jr. The ITA honors a men's and women's player from each of its 12 regions before selecting a winner of the national award.

"Gui has been the quiet leader since he arrived on campus in January of 2017," said USD head coach Ryan Keckley. "His daily commitment to his team and to his tennis is inspiring for all to see. With a 3.65 overall GPA and highly decorative tennis career, Gui is a humble leader on and off the court who is very deserving of this award."

A native of Portugal, Osorio finished the 2020 season slotted No. 58 in the ITA national singles rankings after competing for the Toreros at No. 1 and 2 and earning a 3-3 record. He also finished his overall senior campaign with 11 singles wins, including five against ranked opponents, and six doubles victories.

In his Torero career, Osorio helped USD win three WCC championships and reach the NCAA Tournament in each full season. He was named the 2019 WCC Player of the Year, earned All-WCC in singles and doubles, and reached the NCAA Tournament as an individual in singles as a junior.

Off the court, Osorio has been named an ITA Scholar-Athlete and earned WCC All-Academic honors twice.

The national award winners for all the ITA's awards will be announced on May 25 during a special virtual awards ceremony hosted on the organization's social media accounts.
Baseball's Kerner, Luevano Earn Academic All-District 8 Honors
Adam Kerner and Thomas Luevano were named Academic All-District First Team honorees for District 8, on May 14.
It is the first Academic All-District recognition for both Kerner and Luevano. Kerner was a 2019 WCC All-Academic honorable mention, while Luevano earned multiple academic accolades as an undergraduate at Creighton.

Kerner, a real estate major, was recognized for maintaining a 3.30 GPA while starting 15 of USD's 16 games in the shortened season. The junior catcher posted a .305 batting average and finished third on the team with 18 hits. Kerner drove in 11 runs, and tallied five doubles and a team-high two home runs.

Luevano, a graduate transfer, earned a BS in Business Administration (3.46 GPA) at Creighton and is pursuing a graduate degree in the School of Leadership and Education Sciences' Leadership Studies (3.78 GPA) program at USD. Luevano was a standout in the short 2020 season, starting 14 of 16 games in a utility role for the Toreros.

Luevano was second on the team with a .356 batting average and led in hits (21), doubles (8), home runs (2) and was second in runs (11) and RBI (14).

The 2020 Academic All-District Baseball Team, selected by CoSIDA, recognizes the nation's top student-athletes for their combined performances on the field and in the classroom. Honorees selected first-team Academic All-District advance to the CoSIDA Academic All-America ballot. Academic All-America honorees will be announced June 8-11.
Rowing's Clare Adams a Finalist for FISU Forum
San Diego's Clare Adams was named one of eight national finalists for the 15th International University Sports Federation (FISU) Forum.

Adams, a senior on the women's rowing team, is a part of an elite group of student-athletes, two of which will represent the United States at the event in Budapest, Hungary.

Over 60 countries are represented with 220 expected attendees. The National Association of Collegiate Directors of Athletics (NCADA) and the United States International University Sport Federation (USIUSF) sponsor two students to represent the United States at the event, which occurs every two years.

Adams, rowed four seasons for USD, including three on the varsity eight and was an All-WCC selection in 2018. The senior, who will earn her degree in International Relations this month, posted the highest GPA (3.99) in the WCC in 2018 to earn All-Academic honors. Adams intends to volunteer with the Peace Corps after graduation.

"Clare is a great representative of USD and all of its values," said head women's rowing coach Stesha Carle. "She effortlessly balances academics and athletics while focusing on the community and the world around her."

"Clare is a fierce competitor for USD women's rowing, and has been a key contributor to the team since becoming a Torero. She is constantly at the top of all rankings athletically for our team and is constantly able to outperform her potential every day in practice. Even more impressive is that Clare continues to have the community at the forefront of her ambitions."

The focus of this year's forum is "Seventy Years onward and still going strong. How can FISU continue sustaining the University Sports Movement's legacy?" The event includes academic sessions, culture, educational and sporting activities.