Virtual Engineering Showcase Demonstrates Real Success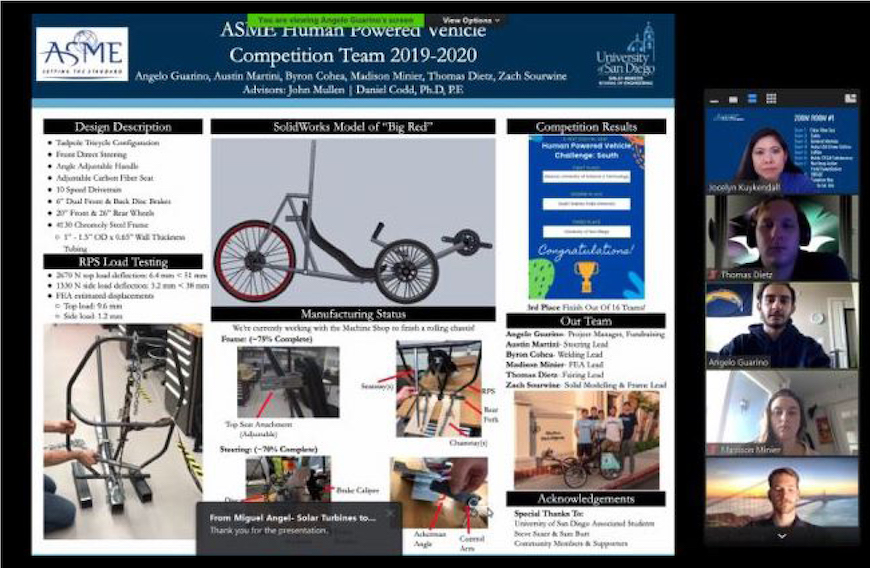 Engineers are innovators and problem solvers so when students were asked to finish projects remotely and present them online due to the COVID-19 crisis, the response was "can do."
"It's take-off time. Boom!," declared Shiley-Marcos School of Engineering Dean Chell Roberts in a video message welcoming participants to the Engineering and Computer Science Showcase on May 8.
The virtual event featured more than 40 capstone design projects in poster form, including one that's already won an award, from graduating seniors in computer science and electrical, industrial and systems, integrated, and mechanical engineering.
Projects included "Big Red," a recumbent tadpole trike that was entered in the American Society of Mechanical Engineer's (ASME) Human Powered Vehicle Challenge to further the development of transportation alternatives for developing parts of the world. While the team was disappointed that the live action competition was canceled, they kept working and finished third out of 16 teams, the school's highest placement to date, in the virtual south regional competition.
"I'm very proud of our team's persistence and determination to overcome the obstacles and adapt to the challenging scope of this year's competition," said student project manager Angelo Guarino. "We set out to improve on successes of past USD teams in order to continue building the legacy of the ASME HPVC."
To further enhance the overall vehicle performance, the 2020 design included upgrades in the ease of steering, decreasing wind resistance and improving the overall comfortability of the vehicle, he said.
Other innovative projects in this year's showcase included development of a field launchable micro-drone platform for search and rescue operations sponsored by General Atomics and HITS, a system for tracking potentially dangerous hits and performance in contact sports. There also was a Mobile STEAM Collaboratory to allow for safe transportation of tools, equipment and software to promote science and technology learning onsite with community partners and a design to purify water and remove contaminants in rural Uganda.
By one estimate, there are at least 10 million traumatic brain injuries each year that warrant hospitalization or death from sports like football or soccer. After doing extensive market research, the HITS team found a niche, creating a design for a "wearable technology, embedded in a headband" that would be affordable to high schools and youth sports and also measure athletic performance. "While our main focus is safety, this would include metrics on acceleration, speed, total distance and other measures," explained electrical engineering major Chris Reese.
The virtual showcase attracted more than 400 viewers who navigated between five Zoom Rooms hosted by faculty members and were able to chat with students about their projects.
While students and professors were disappointed they couldn't present in a live format, there were other advantages, including having visitors such as alumni or relatives who might not have been able to attend the event in person.
Associate Mechanical Engineering Professor Bryan Cornwall, for example, welcomed the grandmother of student Zach Sourwine who was part of the prize-winning ASME team. "I'm so proud of him," she said.
Minoo Gupta, a member of the school's Executive Advisor Board, also was able to watch. "I thoroughly enjoyed the virtual sessions of the engineering meeting and showcase," she said. "Very cool to be able to interact with the engineers and project directly. I could have never imagined the fun I had watching in this format. Thank you for leading the way to the virtual showcases in future!
Concluded Assistant Professor Integrated Engineering Gordon Hoople, "Our students have really risen to the challenge of distributed team work. In my class, as many businesses were doing at the time, we actually had students make contingency plans for their projects in case remote work was required. Their plans really set them up for success." As they move to their jobs and careers, "they will no doubt learn many valuable lessons from rising to the challenge."
Generous sponsors for this year's projects included Clear Blue Sea, Clarity Design, Cobham, Cubic, Dexcom, ExSJ, FedEx, Glaukos, General Atomics, Georgia Tech Research Institute, Hatsu, Hi-Q- Environmental Products, Imaging Healthcare, Jerome's Furniture, MexLog, Northrop Grumman, Nuvve Corp., Thermo Fisher, SDG&E, Seamgen, Solar Turbines, and USD Auxiliary Services.
— Liz Harman