Learning Commons on Schedule for Fall 2020 Opening
Learning Commons on Schedule for Fall 2020 Opening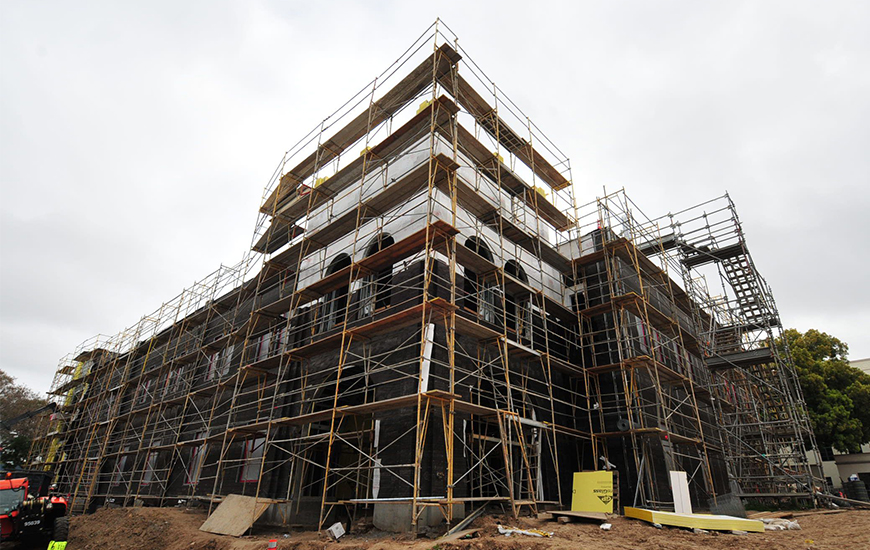 The newest addition to the University of San Diego campus, scheduled for this fall, is a building project that is part of USD's Renaissance Plan.
The Learning Commons, which will be located behind a newly refurbished Copley Library, is slated to be the first new, ground-up construction project in the Renaissance Plan.
Construction began in May 2019 and is projected to be completed and open to the USD community in time for the Fall 2020 semester.
As of this writing, a decision has not been made if students will return for on-campus classes due to the ongoing COVID-19 pandemic. Nonetheless, construction work around the state was deemed essential during California government officials' stay-at-home orders. Thus, the Learning Commons project continues.
When complete, there will be a grand exterior stairway and ramp leading to the shared courtyard between Copley Library and Learning Commons and visitors will be impressed upon arriving at the entrance with a beautiful vaulted ceiling, large windows, and an exterior facade with Spanish Renaissance precast ornamentation.
Once inside, visitors will be welcomed by an open and airy Town Square common space, eight collaboration rooms, 13 classrooms, and a Grab-N-Go food service with fresh offerings, coffee, drinks, and various snacks. The 24-hour accessible building will also house USD's Honors Program, Writing Center, and an Emergency Operation Center. A warm fire pit, beautiful lighting throughout the courtyard and under the tree, and outdoor seating will allow for a comfortable study and event space into the evening hours.
An important driver during design was to take advantage of San Diego's comfortable climate and incorporate natural ventilation throughout the building. The clerestory windows above the Town Square are automated and will open and close based on optimal outdoor temperatures. When open, the cross airflow will increase and draw hot air up and out of the building. There are also manually operated windows in every room and they are designed so that when they are open, the HVAC system in that particular room will shut off, which saves on conditioned air being wasted. These smart technology and ventilation strategies will greatly reduce the demands put on the HVAC system, while increasing comfort in a natural way.
With the emergence of the COVID-19 pandemic, the Learning Commons project was affected by supply chain disruptions for several materials, but the team worked together to find alternate or locally-sourced products to minimize project delays.
Multiple safety protocols have been implemented to help ensure the health and well-being of construction personnel and to avoid the spread of COVID-19 at the construction site. All visitors are screened for fever, cough, and shortness of breath before entering the site and must wear masks, gloves, and maintain a six-foot separation to others. The workforce is required to wash hands every 30 minutes, sanitize tools before and after each use, drink bottled water only, avoid carpooling, and participate in well-being checks throughout the day.
Lastly, through careful coordination and teamwork, the construction team has hit every major milestone and has accomplished this without a single safety incident!
The University of San Diego looks forward to the opening of the Learning Commons and for the community to enjoy it upon its return to campus.
— Meaghan Christman,
Senior Project Manager, Planning, Design and Construction
Images provided by Meaghan Christman