Dispatches from Uganda: Know-how in Numbers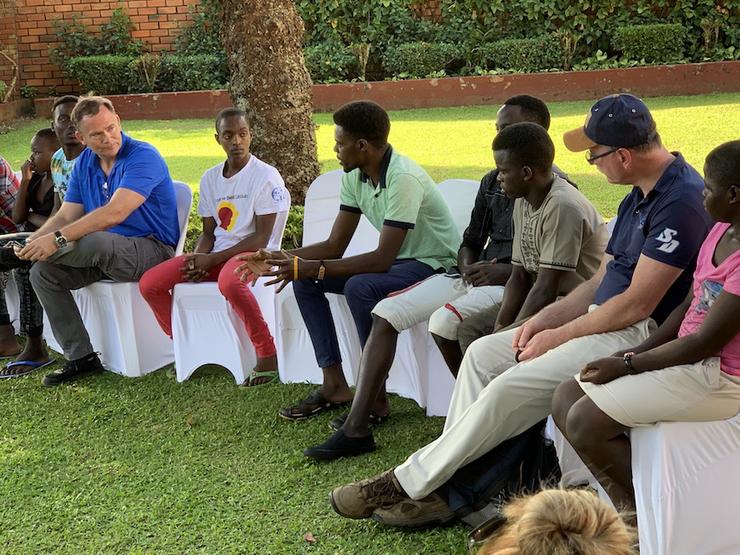 Editor's Note: A water quality research project in Uganda has the full attention of an interdisciplinary group — including USD faculty members, students, President James T. Harris and his wife, Mary — all of whom are excited to show what it means to make a difference in the world. Ryan T. Blystone, editor of the USD News Center, is in Uganda to document the trip.
The trip to Uganda is moving forward at full speed now. Three straight late-night trips to the Entebbe airport to pick up four professors, eight students, one alumna and USD President Jim Harris and his wife, Mary, and our team is (finally!) fully assembled.
The last few days have been enjoyable to learn more about the University of San Diego students represented on this special trip. Hearty daily meals at the Olive Gardens Hotel and Cafe in Kampala have been shared, lots of laughs, bonding excursions such as morning walks, a fantastic group visit feeding giraffes, elephants and more at the Entebbe Wildlife Education Center and a moving, community-connecting visit to the AidChild Leadership Institute run by USD SOLES 2014 doctoral alumnus and AidChild CEO Nathaniel Dunigan. The student group — representing three USD schools and comprised of both undergraduate and graduate students — shows a lot of poise, smarts, confidence, discipline and most of all, a passion for the vital role each has in this project. That's a win-win collaborative effort that has great potential for Mbarara, and could be modeled in other parts of the country.

Nurse practitioner students Cara Fratianni, Allison Bryden and Shaylyn White are, along with Professor Martha Fuller, representing the Hahn School of Nursing and Health Science. They will spend time sharing their knowledge with staff members at Holy Innocents Children's Hospital, a private facility that USD's nursing school has been involved with for a decade-plus. Fuller, though, says that she and her group will also spend time learning more about the water-quality aspects of project run by College of Arts and Sciences' Chemistry Professor James Bolender.
Bolender's group of students is a wonderful mix of seasoned travelers and eager first-timers. Natalie North-Cole and Marcela Strong both traveled to Uganda last year and have familiarity with the process and the elements to essentially run a make-shift lab in the conference room of the Monfort House in Mbarara. North-Cole, who graduated in May 2019, is a huge asset not just for her past experience, but also because she helped connect this group with the San Diego County-based Myron L Company (MLC), a water quality instrumentation business where her father is a graphics designer. When MLC learned of Natalie's trip, they were quick to donate key items such as water testing instruments for the team to use during their work.

Rounding out the chemistry student representation are juniors Molly Klein and Kendyl Maher. Christina Kozlovsky, a mechanical engineering senior, and Mechanical Engineering Professor Frank Jacobitz, represent the Shiley-Marcos School of Engineering's presence. Kozlovsky is doing research work in Uganda that could have a causal relationship with a project back in a USD engineering classroom lab. Jacobitz is here to aid Bolender's cause by developing a relationship with Mbarara University's engineering school.
President Harris will see all of the students in their respective research roles. He's also been actively chronicling our group's trip experiences on his Twitter account, and seems to be really enjoying the opprtunity to spend time with students and seeing them thrive in an international educational opportunity. In this particular case, Harris gets to see both faculty and students perform in an environment that strengthens what it means to be a Changemaker at USD. — Ryan T. Blystone