Athletics Roundup: Men's Basketball Falls to Stanford; Women Top CSUN; Fall Sports Awards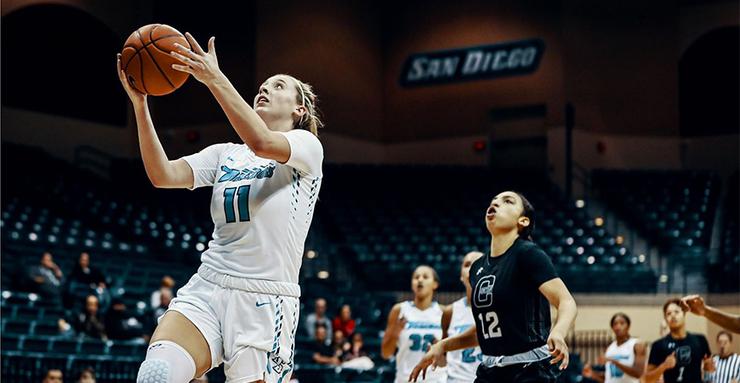 The University of San Diego's men's basketball team forced a season-high 20 turnovers, had three players score in double-figures, and nearly cleared a double-digit deficit in the final 90 seconds, but Stanford held off the Toreros, 62-59, in an Al Attles Classic game at the Chase Center in San Francisco.
The Toreros scored 15 of the game's final 21 points, including six by Braun Hartfield and five from James Jean-Marie, to close what had been a 12-point deficit. USD caused two turnovers and held the Cardinal (11-1) to just one field goal in the final four minutes.

Joey Calcaterra led the team in scoring with 17 points. Marion Humphrey was one point short of his season-high with 16 points on 54.5 percent shooting (6-of-11).

Hartfield scored nearly half of his points in the final minute-and-a-half to finish with 13. He also had nine rebounds, tying Yauhen Massalski for the team-lead.

The Toreros were within one with nine minutes left thanks to three straight baskets in a 9-2 run. USD also held Stanford without a field goal and forced five turnovers during the four-minute stretch to make it a 45-44 game.

Stanford jumped out to a double-digit lead, though, when a pull-up jumper by Daejon Davis at the 8:34 mark fueled an 11-0 run that made the score 56-44 with just over four minutes left. After only scoring on two free throws midway through the second half, the Cardinal made four of their next six baskets and forced USD into four turnovers to take the 12-point lead.
USD hosts Whittier on Dec. 29 — a 2 p.m. start in the Jenny Craig Pavilion — to close out nonconference play and the 2019 calendar. West Coast Conference play opens in 2020 on the road for the Toreros. San Diego plays at Loyola Marymount Jan. 2 at 7 p.m. and then plays at Santa Clara Jan. 4 at 2 p.m. San Diego's WCC home opener is Jan. 9 against Gonzaga in a 7 p.m. tip-off.
Men's Basketball Schedule: USD hosts Whittier College, Sunday, Dec. 29, 2 p.m., Jenny Craig Pavilion.
The final nonconference game before West Coast Conference play begins at the end of December saw the USD women's basketball team close out on a high note at home against Cal State Northridge on Dec. 21.
San Diego (6-5) grabbed an 18-16 first-quarter lead and never trailed again en route to a 59-40 victory over CSUN.

"They've been working really, really hard," said USD women's head coach Cindy Fisher. "Everything we asked them to do today they did, and they just worked hard and had fun doing it."

The Toreros had two players score in double figures, led by Madison Pollock, who had 16 points, team-high eight rebounds and two steals. Sydney Hunter tacked on 10 points and eight rebounds, while Jordyn Edwards had nine points, six assists and two steals.

San Diego outrebounded the Matadors, 34-17. The Toreros' defense was efficient, forcing 20 turnovers and converting them into 23 points.
The Toreros return to action Dec. 28 when WCC play begins on the road at Pepperdine and Dec. 30 at Loyola Marymount. USD's next home games are conference meetings Thursday, Jan. 2 against Portland at 6 p.m. and a noon start on Jan. 4 against Top 25-ranked Gonzaga.
Women's Basketball Schedule: USD at Pepperdine, Saturday, Dec. 28, 2 p.m., Malibu, Calif.; USD at Loyola Marymount, Monday, Dec. 30, 2 p.m., Los Angeles.
Torero Fall Sports Awards
Sophomore tight end Dalton Kincaid was named to the Associated Press FCS All-America Third Team. He was top-two among FCS tight ends in several major receiving categories, including yards per catch (1st, 18.98; 21st overall), receiving yards (2nd, 835), and receiving yards per game (2nd, 69.6). Kincaid had 44 receptions, 835 yards and eight touchdowns in 12 games … Senior wide receiver Michael Bandy became the Toreros' first two-time first team All-American in 12 years as he was named to the 2019 American Football Coaches Association (AFCA) All-America First Team. He was also a first-team AFCA selection in 2018 and earlier last week, Bandy was a 2019 STATS FCS All-America Third Team pick. These honors give him seven All-America honors in his career: twice from the AFCA, twice from STATS FCS, and once each from the AP, Walter Camp and FCS ADA. He was one of the nation's top receivers in 2019. At the end of the regular season, Bandy was top 10 in receiving touchdowns (eighth) and receiving yards (10th) while his 103.6 receiving yards per game made him only one of eight FCS players to average more than 100 yards per game in the regular season. ... Freshman USD volleyball player Grace Frohling, an opposite, has been chosen as an AVCA All-America honorable mention. It is the fifth consecutive season Toreros volleyball has had at least one player named an AVCA All-America honorable mention and ninth time in the past 12 years. … The USD football team held its end-of-the-season awards banquet on Dec. 14. Award winners: Team MVP: Michael Bandy; Offensive MVP: Reid Sinnett; Defensive MVP: Jacob Bergstrom; Kevin Briscoe Special Teams Player of the Year: Tanner Kuljian; Dave Adolph "Do You Love Football" Spirit Award: Alex Farina (Offense) & Marcus Vaivao (Defense); Strength Coaches Award: Michael Bandy; Strength Coaches Award, First-Year: Nicolas Bisogno; Outstanding Defensive Lineman: Jacob Bergstrom; Outstanding Offensive Lineman: Aidan Valencia, Luke LaCilento; Scholar-Athlete Award: Brandon Micale; Most Improved Defensive Player: David Tolbert; Most Improved Offensive Player: JoJo Binda, Jr.; Most Outstanding First-Year Player: Brandon Eickert; Offensive Scout Player of the Year: Devin Gitchuway; Defensive Scout Player of the Year: Carson Lewis. … Five women's soccer players — Sami Fairweather, Kelley Carusa, Michaela Foster, Madison Louderback, Halle Walls — were recent selections for the West Coast Conference's All-Academic Team. Fairweather was named to the main WCC team. Carusa, Foster, Louderback and Walls were honorable mentions. … Men's soccer player Miguel Berry became the first Torero to earn Scholar All-America First Team from the United Soccer Coaches while Henry Lander was a second-team selection as 22 student-athletes nationwide were selected for the organization's 2019 Scholar All-America honors. Berry is a finance major with a 3.36 GPA and Lander is a communication studies major with a 3.31 GPA. Furthermore, Berry, Lander and Ross Meldrum were each named to the United Soccer Coaches Scholar All-West Region Team. … In West Coast Conference All-Academic Team selections, Berry and goalkeeper Matt Wiher were first-team selections and Aaron Frey, Lander, Meldrum, Freddy Polzer, Jimmy Ryan, Til Stockmann, Chase Van Wey and George West were honorable mentions.
Spring Sports Schedules
Eager to see USD Athletics' spring sports teams in action? The 2020 season schedules for baseball, softball, golf, men's tennis, women's tennis, men's rowing and women's rowing are available now on the USD Athletics website. Women's Track is still to come. Women's Swim and Dive resumes its 2019-20 season Jan. 4.
Keep up with all USD Athletics news, scores and information on its website. Follow the Toreros on social media: Facebook, Twitter and Instagram.