Remediation Project for Hillside and Valley Field Nears Completion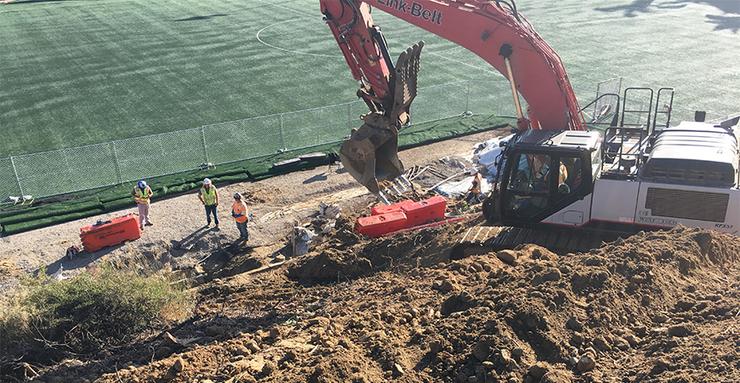 A remediation project for the hillside and Valley Field area commenced in mid-September when workers had to cap and plug existing hillside steel pipes and water jet the existing Valley Field concrete pipes.
The required work was due to the failure of the existing pipes, which caused silt and rock to plug 80 percent of all storm drain pipes along Alcala Park Way under the recreation and practice soccer field.
Trenches plugged and removed the steel pipes, which averaged 19 feet in depth, and clearing over 537 feet of concrete pipe required high pressure water jets and truck vacuums. Overall, 80 dump truck loads of silt and rock were removed. Some of the rocks weighed as much as 60 pounds.
The project's risk, hurdles and goals, according to University Operations officials, were to 1) return the soccer field to athletics as quickly as possible, 2) making the last pipe connection before anticipated rains. Both were accomplished on October 23.
Ongoing work, such as replacing the sod at the north end of the soccer field, reshaping the hillside slope, installing irrigation and plants, patching roadway asphalt and removal of all construction signs and barriers is expected to be completed by the first week of December.
University of San Diego's planning and construction for this project was done by Zachary Knipe, in coordination with civil engineers from Kettler Leweck Engineering and geotechnical services by NOVA Engineering. Field construction activities were managed by Andy Rogers of Rudolph and Sletten.
— USD News Center
Photos courtesy of University Operations
Although this particular project is not a part of USD's Renaissance Plan, it's important to keep the campus community informed about a variety of projects that can have an impact on their use and enjoyment. To learn more about current, future and past construction projects at USD, please visit the University Operations website.