First-Generation Alumni Lead Team Support for Today's First-Gen Student Population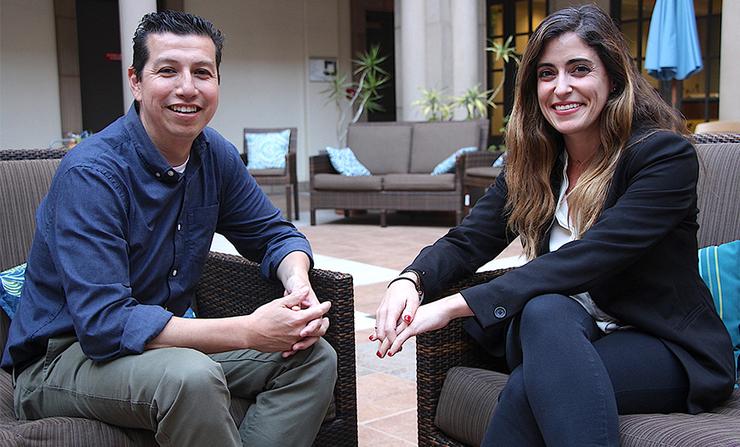 On their big day in May 2004, University of San Diego students Mariann Sanchez and Adan Sanchez (unrelated), sat next to each other in the Jenny Craig Pavilion and heard their names called. This action was easy — walk across the stage, shake then-USD President Mary E. Lyons' hand and wave to their respective cheering sections.
Mariann had earned a BA in international relations, Adan a BA in Spanish. This proud moment belonged to them and their families. Unbeknownst to most in the crowd, they were each first-generation college students. The term is defined by USD as "at the time you completed high school or high school equivalency, your custodial parent(s) or legal guardian(s) had not earned a bachelor's degree or higher."
While each of them lived in San Diego, they had come a long way to reach their big day. Mariann's parents moved to the U.S. from Mexico seeking a better life for their family. Her parents opened a restaurant, but importance of higher education was stressed to their children. Both she and her older brother earned college degrees. "I was lucky that my family pushed us to get our education," she says.
When Adan came to live on campus, he was only 20-25 minutes from home, "but to me it felt very far away." he recalls. His family also believed in the importance of higher education.
"There was always a reminder that we moved to San Diego for a better life and that education was a priority. There were always books in my parents' home. They loved to read, especially my dad who loved to read about Mexico's history and historical figures."
While Mariann and Adan were indeed first-generation college students, the label wasn't as pronounced as it is today. It's often treated as a statistical identifier, a blanket statement for a student's situation that may run deeper than a by-product of a parent's education level. Oftentimes, but not always, contributing factors might include coming from a low-income family, being a member of an underrepresented group or something beyond the individual's control.
Those looking for successful examples of first-generation graduates at USD can count among them President James T. Harris, Vice President and Provost Gail F. Baker and Student Affairs Vice President Carmen Vazquez. Mariann and Adan, now both veteran USD administrators, are equally committed to helping today's first-generation college students.
Student Support Services
Campus programs that reach first-generation students include Student Support Services (SSS), McNair Scholars and Upward Bound, which are under the Institute of College Initiatives and TRiO and USD's Academic Affairs. SSS is jointly funded by the U.S. Department of Education and USD to serve eligible undergraduates. The program provides opportunities for academic development, assists with college requirements, and serves to retain and motivate students towards the successful completion of their post-secondary education at USD.
SSS hosts a Summer Bridge program the week before USD's orientation to introduce students to the academic rigor, establish connections with faculty and students and provide a welcoming environment. Working with first-generation students often means understanding them individually and providing resources and support to meet them where they're at.
Ophelia Augustine, a 2013 USD alumna, is a SSS retention specialist. "The majority of our (SSS) student population is first-generation and low-income, but we treat our students the same in terms of access, support and advocacy. We try and anticipate future challenges or barriers. We pay close attention. What works for one may not work for all. It's about treating each student as an individual, letting them know they're not alone, but also not trivializing their experiences, and still letting them have a unique experience."
Growing Support Through an Action Team
Overall support for first-generation college students grew louder after Adan Sanchez attended the Summer Institute on First-Generation College Students in 2014. "It was a really good three-day institute on this specific student population. I came back to USD saying we needed to do better."
Three of the initial campus entities leading this collaboration, Graduate Student Life, SSS and United Front Multicultural Center, began hosting events. First-generation alumni — including Derek Abbey, Ray Khan and Diana Rodriguez-Agiss — shared stories and first-generation college students got to meet, connect and feel supported.
In Fall 2016, the First-Generation Action Team was created as a campus-wide initiative to "create and sustain collaborative efforts to proactively engage and support USD's first-generation college students and their USD experience." The action team is now fully supported. A First-Generation Student Association launched last fall. A USD first-generation student survey sought information, seeking student input in what they wanted in a first-generation student association.
It's been 15 years since Mariann and Adan graduated, side by side.. They're now at the forefront of the action team. Mariann is an assistant director for Graduate Student Life. Adan is associate director of the Center for Student Success. Action team representation comes from student leaders, Career Development Center, Copley Library, Financial Aid, McNair Scholars, Military and Veterans Program, Office of Ethical Development and Restorative Practices, One Stop Student Center, Residential Life, SSS, Student Wellness and Undergraduate Admissions.
A half-day spring 2019 summit, "Enhancing a Sense of Belonging for USD's First-Generation Students: Practical Strategies for Faculty and Staff" raised awareness. One speaker and First-Generation Action Team member, Associate Professor of Sociology Lisa Nunn, PhD, authored a book, 33 Simple Strategies for Faculty, a week-by-week resource for those who teach first-year and first-generation students.
First-generation students are "incredibly resilient, resourceful, creative problem-solvers and highly motivated to do well in school and stick it out," Nunn says. But extra pressure exists. Family obligations conflict with schoolwork needs and being a role model for younger siblings by going to college means a lot is riding on them to do what it take to earn their degree. Nunn's book suggests small yet effective actions that can make a difference, such as tailoring how information is shared in class and making office hours convenient and inviting.
The support that Mariann provides for graduate and law students is important. Graduate Student Life hosts dialogues and gatherings for first-generation grad students. She invites undergrads and encourages first-gen grad students to consider becoming mentors.
"I want them to know that this identification carries with you throughout your time at USD," she says. "These events provide a space for grad students to explore their identity. It's also important to shoulder-tap faculty and administrators who can explain their experience and share how they might still be managing and dealing with their imposter syndrome."
This work emboldens the action team, which earned recognition in the past year with the USD Division of Student Affairs' Powerful Partnership Award and USD has been named a 2019-20 First Forward Institution by the National Association of Student Personnel and Administrators' Center for First-Generation Student Success. USD hosted National First-Generation Student Week events in November and another summit will happen in February.
Helping first-generation students is a work in progress and it takes everybody, especially those with lived-experience, to take part. An anonymous current USD student puts it this way: "The dedication I have to higher education and helping those who come from similar backgrounds as I do is what motivates me to continue working hard. Once I graduate, I hope to work with first-generation and underrepresented students because I'd like to pay it forward and provide the same support I was fortunate to receive."
— Ryan T. Blystone