Athletics Roundup: Big Wins for Football, Volleyball; M&W Soccer, M&W Cross-Country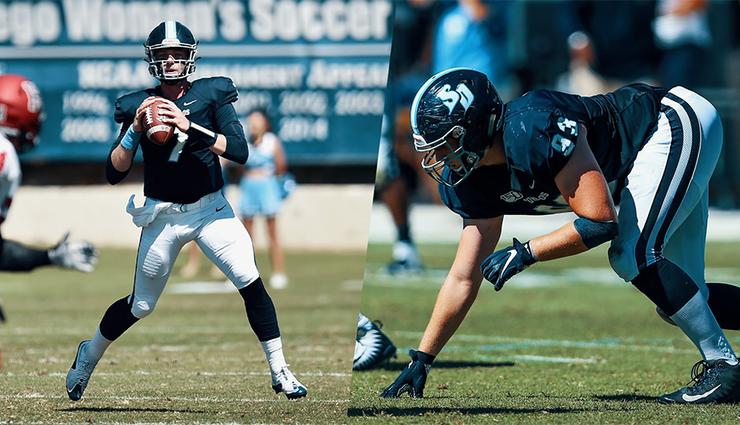 Quarterback Reid Sinnett threw for 384 yards and three touchdowns and a Daniel Tolbert interception with a minute left in the game helped the University of San Diego football team hold off Harvard for a 31-23 win Sept. 21 at Torero Stadium.
The Toreros (1-2), who secured their first win over Harvard in four tries and have won 22 of their last 23 home games, led by 24 points over the Crimson (0-1) entering the fourth quarter, but Harvard closed the gap with an air attack in the final minutes.
Sinnett showed why he is among the nation's top 10 in yards per game and completion percentage as he finished 22-of-30 (73.3%) with 384 yards. He got off to a fast start when he connected with senior wide receiver Michael Bandy on the Toreros' first play from scrimmage for a 65-yard touchdown pass. The two connected eight times as Bandy led the team in receptions and receiving yards (159).
Sinnett found three different receivers for his touchdown passes, working with Dalton Kincaid for 57 yards early in the second quarter and Alex Spadone for 18 yards shortly before halftime. The touchdown to Spadone gave the Toreros a 24-0 lead entering the break.
The USD defense bounced back from its first two games by shutting out Harvard through halftime and held it to 228 total yards after the first three quarters. The front seven proved to be most effective for the Toreros as they had 10 combined tackles for a loss, three sacks and four quarterback hurries.
Defensive end Kevin Glajchen was troublesome all day for Harvard as the redshirt junior led the Toreros with a season-high 10 tackles, including two sacks and four tackles for a loss. He also had two quarterback hurries. Six different Toreros had a tackle for a loss, including Chris Reese who added a sack.
Despite the constant pass rush, the Crimson narrowed the gap when they scored the game's final 16 points behind Jake Smith's passing attack. The Harvard quarterback threw for 139 yards and two touchdowns in the final quarter to help pull the game close.
USD was on the move in an attempt to put the game away midway through the fourth, but Harvard forced a fumble at its 36-yard line after Sinnett found Terrence Smith for a 19-yard pass.
After a Crimson field goal with 3:18 left and a subsequent three-and-out by the Toreros, Harvard started its final drive at its 44-yard line with 1:41 remaining. Facing third-and-four, the USD pass rush forced Smith to throw an errant pass that was intercepted by Tolbert.
On Sunday, Sinnett and Glajchen were named the offensive and defensive Pioneer Football League players of the week. The player of the week awards were the first of the scholar-athletes' careers.
Football Schedule: USD has a bye Sept. 28; USD hosts Marist (Homecoming/Brian Fogarty PFL Classic), 2 p.m., Torero Stadium (PFL opener).
The best possible confidence boost the USD women's volleyball team could get as it enters West Coast Conference play this week was to put together a three-match tournament performance versus Southern California competition as it did in the Jenny Craig Pavilion Sept. 19-21.
Wins over nationally ranked USC in a five-set match (25-18, 25-17, 19-25, 18-25, 15-13) on Thursday and sweeps of cross-town rival San Diego State on Friday (25-13, 25-15, 25-20) and against Long Beach State (25-8, 25-13, 25-23) on Saturday gives the team a five match win streak as it travels to the Pacific Northwest to play Thursday in Portland, Ore., and Saturday against Gonzaga in Spokane, Wash.
Against USC, whom USD beat in the second round of the NCAA Tournament last year at Galen Center, the Toreros won the first two games rather easily, but the Trojans, who entered the match as the No. 20 team in the nation, rallied to force the deciding game. USD, however, led start-to-finish in the fifth set. The final point came when USC's Khalia Lanier's serve went too long.
Grace Frohling had a career-high 17 kills, Katie Lukes had 13 and Roxie Wiblin had nine. Senior setter Anna Newsome tallied her third double-double of the season with 42 assists and 15 digs. It was a career night for sophomore libero Annie Benbow, who registered her first double-double by tying her career-high with 18 digs and having a career-high 10 assists. Payton Douglass had 12 digs.
In its match with San Diego State, Lukes and Thana Fayad reached double-digit kills with 13 and 10, respectively, for the Toreros. The team hit .323 in the match with seven aces and six team blocks to defeat the Aztecs. Frohling added eight kills for the Toreros, with four aces — all in the first set. The Toreros were strong on defense, too, limiting SDSU to a .124 hitting percentage.
Against Long Beach State, San Diego hit .315 and collected a season-high 15 team blocks to take down the 49ers in a sweep. Frohling hit .500 to pace USD offensively with nine kills, Lukes was second on the team, hitting .227 with seven kills, and Fayad added six. San Diego dominated at the net, with three Toreros — Frohling, Lauren Turner and Megan Jacobsen each having five blocks.
Volleyball Schedule: USD at Portland (WCC Opener), Thursday, 7 p.m.; USD at Gonzaga, Saturday, Noon.
A weekend trip to Utah for two nonconference matches, at Utah Valley on Friday and at Utah on Sunday, resulted in a tie and 1-0 loss, respectively, for the USD women's soccer team. These were the team's final games before West Coast Conference play begins on Oct. 5.
Against Utah Valley on Sept. 20, Bekah Valdez's first goal of the season in the 14th minute — assisted by Madison Louderback — held up for the Toreros until Utah Valley's Juliana Carter scored in the 71st minute. The teams then battled scoreless and missed a few strong chances, but also had to wait out a 30-minute delay due to rain and lightning in the Orem, Utah area. USD goalkeeper Amber Michel played all 110 minutes, making four saves on the 15 shots she faced.
Utah's Anna Escobedo scored the game's lone goal in the 43rd minute, but San Diego's defense had a solid showing otherwise in Sunday's defeat. The Toreros (4-4-1) committed only four fouls in the contest, one shy of its season low. After facing eight shots in the first period, the Toreros shut down the Utes in the second 45 holding them to two shots on goal. Michaela Foster, Kelley Carusa and Malia Walencewicz were solid in the backfield, stopping several Utah advances to regain possession for USD. Natalie Copenhaver and Halle Walls held Utah at midfield for a majority of the second half.
Women's Soccer Schedule: USD has no games this week. Next: USD at Gonzaga (WCC Opener), Saturday, Oct. 5, 7 p.m., Spokane, Wash.
Jimmy Ryan used a back heel flick to direct the game-winning goal in the 98th minute to give the USD men's soccer a 1-0 road win in overtime at UC Irvine on Sept. 20 at Anteater Stadium in Irvine, Calif.
Playing in their first overtime match of the season, the Toreros (6-1-0) staved off the Anteaters' (2-4-1) 17-shot attack throughout the night to force the game into extra time. Ryan's game-winner, his first goal of the season, came on a cross delivered by Benji Sorman and was seconds after George West's shot was turned away by UC Irvine keeper Ford Parker.
The goal for Ryan was his first since his freshman season in 2017. The assist by the freshman Sorman was the first point of his young career.
Redshirt sophomore Matt Wiher turned in his fifth shutout of the season for USD, making a season-high five saves. He was forced to make three of the five stops in the second half when UC Irvine recorded 10 shots.

The Toreros had 12 shots in the 98 minutes of play, led by six from senior Miguel Berry. The forward put two of those shots on goal.

The win was the Toreros' second in as many games on the road this season and its first ever win against UC Irvine. USD had entered Friday 0-4-2 all-time in the series.
Men's Soccer Schedule: USD at UC Riverside, Friday, 7 p.m.
Cross-Country: Men and Women's Teams
After a two-week meet drought, but plenty of practices and hard work put in, the USD men and women's cross-country teams will travel out of the state to compete in the Roy Griak Invitational meet, which is hosted by the University of Minnesota this Saturday.
The teams will compete at the Les Bolstad Golf Course, located in Falcon Heights, Minn. Top runners for the Torero teams, whose last meet was the USD-hosted invitational at Mission Bay, include juniors Hannah Rasmussen and Molly Klein and senior Cassidy Kuhn on the women's side and sophomore Ethan Steiner, senior Patrick Bruce and junior Jackson Pearce.
Following this weekend, the Toreros' next meet isn't until Oct. 19 at UC Riverside.
M&W Cross-Country Schedule: USD teams at Roy Griak Invitational, Saturday, Men's race at 9:30 a.m., Women's race at 10:20 a.m., Les Bolstad Golf Course, Falcon Heights, Minn.
Keep up with all USD Athletics news, scores and information on its website. Follow the Toreros on social media: Facebook, Twitter and Instagram.