Alumnus Jared Ruga's Film, Quiet Heroes, Wins Daytime Emmy Award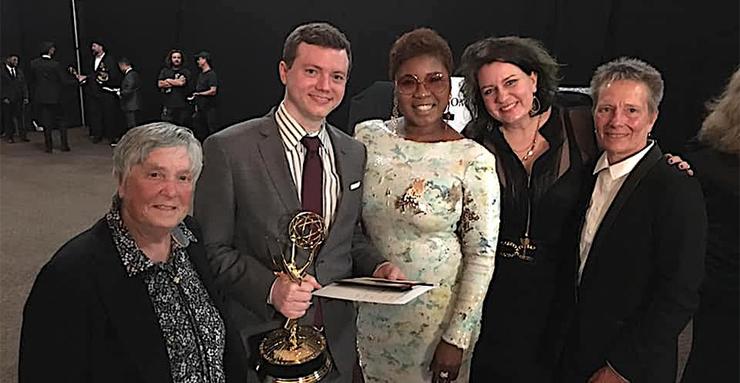 The career boundaries seem limitless for Jared Ruga, a 2011 Honors Program triple major undergraduate alumnus of the University of San Diego. The latest expansion came on May 3 when the 30-year-old founder and CEO of Salt Lake City-based Vavani Productions was in Los Angeles to attend the 46th Annual Daytime Creative Arts Emmy Awards ceremony. There, a film documentary he executive produced, Quiet Heroes, won a Daytime Emmy for Outstanding Special Class Special.
Quiet Heroes, which appeared on Logo TV to be eligible as a non-prime time nominee, beat out four others, including Oprah Winfrey's OWN network show special, Super Soul Sunday: Oprah's Book Club: Freedom After 30 Years on Death Row and NBC-TV's coverage of the 92nd annual Macy's Thanksgiving Day Parade. Other nominees were Logo TV's Light in the Water and Here TV's A Long Road to Freedom: The Advocate Celebrates 50 Years.
Until the film's name was called as the winner, Ruga admitted that any planned acceptance award speech was pretty much nonexistent. It was an honor to be nominated he thought. We have a 20 percent chance of winning, he stated, but Oprah is in this category. Everything changed when the category arrived and Ruga thought it was wise to make a few mental notes just in case. It was, indeed.
"There was fear and excitement in our eyes. When we won, I stood up, shouted out an expletive and I was saying to myself, 'Get to the stage and say things that will make them like you,'" he recalled during a phone interview.
It was the film's second big awards ceremony — Quiet Heroes was nominated for a GLAAD Award for Outstanding Documentary but lost to HBO's Believer in March — and it continued what has already been a big year. In January 2018 the film was selected and shown at the world-renowned Sundance Film Festival in Utah, which was a big deal given the documentary's focus is on the state.
Quiet Heroes offers a candid look at HIV/AIDS, a disease that caused fear and anxiety in society due to the unknown in the 1980s and 1990s. In Utah, the presence of HIV/AIDS heightened the fear and anxiety amongst residents, particularly those devoted to the Mormon faith.
The film focuses on the work of Dr. Kristen Ries, an infectious disease specialist and HIV/AIDS patients she treated after arriving in Salt Lake City in June 1981. She arrived at the same time that the Center for Disease Control first published a report on what would come to be known as AIDS. Within a year, Dr. Ries encountered her first patient with it. And, because of the stigma and fear surrounding both AIDS and homosexuality at the time, Ries and her eventual partner, physician assistant Maggie Snyder, were the only medical professionals in Utah willing to treat a growing number of people with HIV/AIDS. These patients, facing certain death in the earlier years, often had to keep their status a secret or risk ostracism from families, workplaces and religious communities.
The film has brought more awareness to HIV/AIDS. Ruga said Dr. Ries and Snyder were great to work with on the film and throughout their various public relations appearances to support it.
"When we first started talking to them about participating, they were very private people. But it was Kristen who said, 'let's help him with his career.' We cut a short from the film and played it at a local festival. It had 5,000 views in Salt Lake City. That was pretty good, but then, when it got to Sundance, everyone was floored. Both are retired and certainly have other things to do, but they do it all. They've never told me no."
Ries and Snyder accompanied Ruga and others to the awards show in L.A.
"They were honored to do it," Ruga said. "In the car on the way over to the auditorium, we told them that if we won, only one or two usually give an acceptance speech, but we want you up on stage with us. Kristen said, "Sure, as long as we don't have to talk.' I wanted them up there so they could see the crowd from the stage, have a different view, and when we won, it was very exciting."
Ruga's experiences through the success of the film are providing him with a new educational opportunity. His three degree subjects at USD — International Business, Communication Studies and Philosophy — as well as his post-graduate degrees, an MBA, MFA and JD from the University of Utah are each in some way contributing to his career path.
While Ruga lives and works in Salt Lake City, he looks back fondly on his time at USD as a formative chapter. In fact, he recently returned to USD's campus to do a special film screening of Quiet Heroes for the community, which included students, faculty, staff and administrators.
"It really felt like coming home for me," he said of the April 25 USD visit and film screening. "I had so many formative moments at USD. It might sound cliché, but young people, at 18, don't really understanding anything. You might think you have it all figured out, but I learned a lot from my experiences at USD — all of my courses, faculty, everyone who was so encouraging to me, my mentors. Everyone mentored me in some way. People I met had a vested interest in me. I'd work with them and it enriched my experience knowing they wanted to make sure that I developed while I also served the mission."
One of his mentors, USD Communication Studies Professor Roger Pace, PhD, who along with fellow Communication Studies Professor Eric Pierson, PhD, takes USD students to the Sundance Film Festival for an Intersession class each year. Ruga took the Sundance class as a student and last year attended as an alumnus when his film was being shown.
"I am really proud of Jared," Pace said. "He came to our Sundance class already well versed in film and, specifically, in the Sundance experience. He sort of 'co-taught' the course as I learned much from him. He was the first USD Honors Program student to make a film for his honors thesis. Even in this very student-like film, I could see both skill and heart. It's not surprising to me that his Emmy-winning film is full of both skill and heart. Jared has a great future ahead of him. I know this is not the last time USD will say, 'we are proud of you, Jared.'"
— Ryan T. Blystone
In January 2018, Ruga did a Q&A with USD News Center just prior to Quiet Heroes' debut at the Sundance Film Festival. View it here.
Photos courtesy of Jared Ruga