Athletics Roundup: Baseball Season Concludes May 14; Softball, Women's Track, Torero Tidbits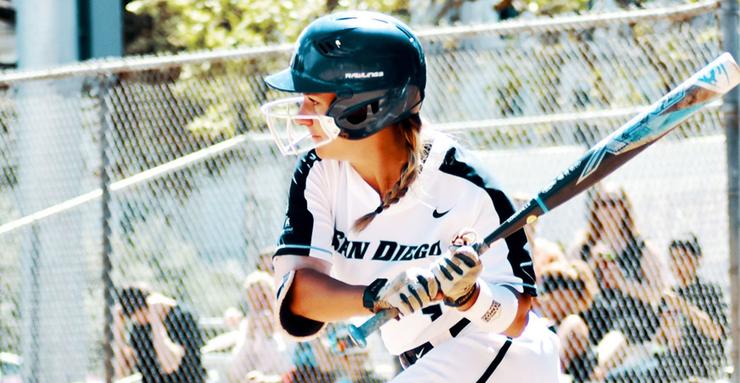 The University of San Diego baseball team is gearing up for its final regular-season game of the season, a 6 p.m. nonconference contest Tuesday against Riverside's California Baptist at Fowler Park. While it is a chance for the team to notch its 32nd victory of the season it will serve as the 2019 team's season finale, too.
The Toreros, 31-21 overall, finished West Coast Conference play at 14-13, which is not enough to advance to the upcoming four-team WCC Tournament in Stockton, Calif. The likelihood of earning an at-large berth into the NCAA Tournament is not helped by missing out on a conference tournament appearance.
This past week, however, was at least positive from the team's performance in four home games in which USD went 3-1. The Toreros defeated UC Irvine, 4-1, on May 7, then took two of three against Pacific in their WCC series finale. USD defeated Pacific 12-3 on May 10, lost to the Tigers 16-7 on May 11 and concluded with a 4-2 triumph on May 12.
Here are highlights from each of the games:
Against UCI, USD's Jeff Houghtby drove in all four runs with a three-run home run and a fielder's choice. In both instances, Ripken Reyes and Shane McGuire were on base ahead of him. Pitching wise, Louie Crow started and went three innings, allowing no runs, five hits and striking out three. Five pitchers were used by USD, including Nicola Mislinski, who got the win in relief, and Travis Kuhn who pitched the ninth inning and earned his fourth save.
In the series opener against Pacific, USD's Adam Kerner went 4-for-4 at the plate and Tora Otsuka hit a three-run homer as part of his five RBIs and Reyes and Chris McCready each had two hits and three RBIs. Chris Murphy was USD's starting pitcher, but Anthony Donatella's four innings of scoreless relief enabled him to pick up the win.
On Saturday, USD couldn't recover from Pacific's early offensive output as it was 8-0 after two innings and even after scoring five runs, including a two-run homer by Reyes, USD still trailed 13-5 after five innings. A Connor Doyle homer and a bases loaded single by Kerner in the ninth closed out the game.
Sunday, Pacific got two runs early, but USD got a McCready RBI single in the seventh inning, solo homers from Reyes and Houghtby and an RBI double from Kevin Collard in a three-run eighth to gain the victory. Kuhn got the win in relief, pitching 3.1 innings, allowing two hits and striking out four.
Next Game: USD hosts California Baptist, Tuesday, 6 p.m., Fowler Park.
The USD softball team collected its 20th win of the season and senior Taylor Spence tied the all-time USD softball record for most hits with 232, equaling Shaunna Collo (1997-2000), but the Toreros' 2019 season concluded with a weekend series at Saint Mary's.
The Toreros (20-29, 4-11 WCC) dropped the first game, 3-1 on May 10,and split a doubleheader May 11 with Saint Mary's taking Game 1, 2-0, and USD securing a 2-1 win in the season finale.
Complete game efforts pitching wise happened all weekend. Delaney Heller did it twice, on Friday and in Game 2 on Saturday, and Madison Earnshaw's was in the first game of the doubleheader.
Friday's opener was a tough loss, especially considering USD stranded runners in six of its seven innings, including with the bases loaded in the fourth and sixth innings. Spence had two hits and the lone RBI to put her within one of tying the career hits mark.
Saturday's loss was due in part to only having four hits, but Earnshaw's effort was strong except for giving up a two-run double in the sixth inning.
Sunday's game saw Heller pitch another complete game and Spence singled to tie the career hits mark. Spence finished 1-for-4, but Sara Silveyra delivered an RBI single for the go-ahead run, scoring Lauren Kane. USD's only other run came off a wild pitch by St. Mary's, enabling pinch-runner Savannah Shields to score.
Two USD runners posted school-record times in the 800 meters during a recent Titan Twilight meet hosted by California State University, Fullerton.
Cammy Manes broker her own record in the 800 by posting a two minute, 13.16 second mark in a heat race. Her old record had been 2:13.61. Teammate Jessica Ong, in the same heat, ran 2:13.35 to also break the old mark.
The team then concluded its season May 11 at the Occidential College Invitational in Eagle Rock, Calif.
Top performances were turned in by Ong, who ran a personal-best time of 4:41.46 in the 1,500 meters to win her heat race, and Hannah Rasmussen who set a personal best of 16:57.84 in the 5,000 meters to win her race.
Other top performances were turned in by Sera Parvin, Erin Duncan and Cammy Manes in the 800, Madison Lambros had a PR in the 5,000 and Kate Kohler had a season-best time in the 400.
The USD women's rowing team will compete for the West Coast Conference championship this Saturday at Lake Natoma in Northern California. … The men's rowing team will vie in the Western Sprints Championship in Sacramento this Saturday. … Individuals from the men and women's tennis teams are slated to compete in the NCAA Tournament May 20-25 in Florida. Gui Osorio will compete in the 64-man singles bracket while August Holmgren and Joel Gamerov will compete as a doubles team in the 32-team field. On the women's side, freshman Solymar Colling is in the 64-player draw.
Keep up with all USD Athletics news, scores and information at its website. Follow the Toreros on social media: Facebook, Twitter and Instagram. See videos on its YouTube channel.