Practicing Changemaking: Year-Long Fellowship Program Supports Faculty Learning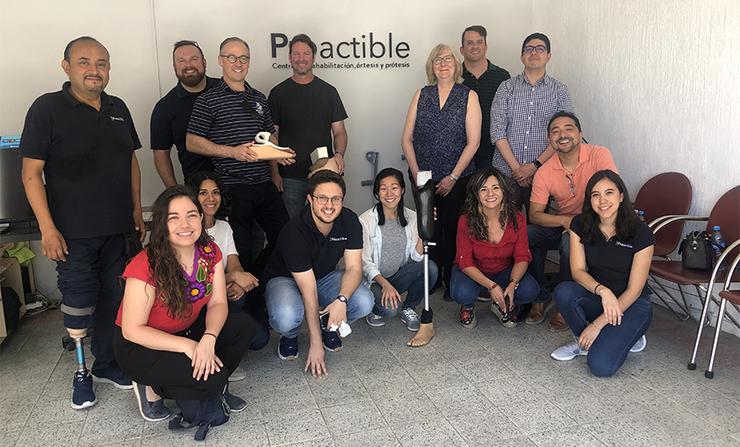 Practicing changemaking. It's an expected exercise of all University of San Diego students because it's an opportunity to grow, be out of one's comfort zone and a pursuit to find or enhance one's passion in life.
The USD Changemaker Hub embraces that sentiment, but its focus is not only on students' changemaking development, but also its faculty. This academic year the Hub is facilitating success of USD's strategic pathway of "Practicing Changemaking" through a one-year Changemaker Faculty Fellows Development Program.
The overarching goal is to equip faculty with resources to practice changemaking through their teaching, research, and community engagement activities. It can help faculty members develop professionally and personally and practice changemaking. The program brings together faculty from multiple schools on campus to building pathways across the USD community.
The Hub received more than 50 nominations and 20-plus applications and 12 faculty were chosen. Faculty attended seven workshops, received a small stipend and participated in an immersion trip to Guadalajara, Mexico to meet with faculty and change leaders at Tecnologico de Monterrey.
Throughout the year, workshops focused on team building, changemaking in the classroom, Human-Centered Design Thinking, a Chicano Park visit for changemaking in the community, and learning about changemaking research through social innovation. The Guadalajara trip was March 28-30. There was a reflection-feedback meeting in late April. This Friday, May 10, from 9 to 11 a.m. in Mother Rosalie Hill Hall's Room 145, the faculty fellows will present their work.
The 12 faculty members chosen were: College of Arts and Sciences — Dr. Jena Hales, Dr. Jonathan Bowman, Dr. Candice Price; School of Business — Dr. Mary Durkin, Dr. Ryan Ratcliff and Dr. Alison Sanchez; Shiley-Marcos School of Engineering — Dr. Diana Chen, Dr. Bryan Cornwall; School of Leadership and Education Sciences — Dr. Florencia Lebensohn-Chialvo and Dr. Kristopher Hall; Hahn School of Nursing and Health Science — Dr. Martha Fuller; and Joan B. Kroc School of Peace Studies: Dr. Philip Gamaghelyan.
Immersion Trip to Guadalajara
Professors Chen, Ratcliff, Cornwall, Bowman, Fuller, Alejandro Mejia (Engineering) and Aarti Ivanic (Business), as well as Changemaker Hub Director and USD Professor, Dr. Mike Williams, and Hub Associate Director Juan Rivas Espinosa, went on the Guadalajara trip. They took a campus tour of Tecnologico de Monterrey, visited it Change Center to see student team projects, had lunch with TdM professors and visited two changemaking business sites, Sarape Social and Proactible.
Faculty Trip Reflection: By Jonathan Bowman, PhD, Communication Studies Professor
Changemaking is more than making a difference in the world, it's about facilitating opportunities and experiences that make people think differently. During my recent trip to Tec de Monterrey in Guadalajara with the Changemaker Hub, I was fortunate to really spend time with some amazing USD Changemaker Faculty Fellows thinking about how the campus community can better promote different ways of thinking.
In my own discipline of Communication Studies, we often talk about various strategies associated with getting someone to make a short-term behavior change (we call this "compliance-gaining") and a long-term attitude change (known as "persuasion"). For example, if I want to encourage someone to skip tonight's dessert after dinner to save calories, that's a short-term solution that may prove relatively easy to encourage; much more difficult would be convincing someone to employ a new lifelong strategy of healthy eating. (For the record, I would never try to convince someone to do something as drastic as skipping dessert…)
By immersing ourselves in an international context, I was able to experience firsthand how faculty on the Tec de Monterrey campus practice changemaking in their classrooms, and how those changemaking principles have influenced not only their students but also the larger Guadalajara community. On our second day in Mexico, I saw how a collaborative campus research project had resulted in the creation of both a nonprofit and a small business that together focused on providing low-cost artificial limbs for amputees. At a larger casita in the downtown area of Guadalajara, I got to speak with a collective of strategic communication professionals who utilized Changemaking principles they learned in college to serve and promote socially-conscious businesses throughout greater Mexico.
The trip was inspiring, and also provided some practical guidance. This fall, the incoming transfer students in my Communication Research Methods class will conduct messaging research on how best to communicate the goals and activities associated with the Changemaking Hub here at USD, helping to increase student engagement with the Hub and also providing hands-on research consulting experience. Because I was able to spend a quick weekend in Guadalajara with a group of like-minded engaged faculty from USD and TDM, I am reinvigorated to push myself and my students toward increased engagement with the mission of USD. I also enjoyed the dense creamy flan dessert USD faculty shared during our last evening together, but then again convincing me to give up those calories might be a project for a different communication class to undertake.
Photos provided by the USD Changemaker Hub