USD's 2019 President for a Day: Tiffany Zhang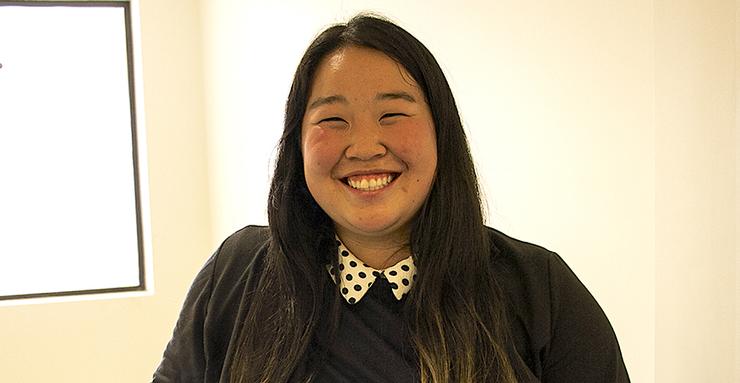 The University of San Diego has officially chosen a new president — the 2019 USD President for a Day. Tiffany Zhang, a graduating senior behavioral neuroscience major and minoring in communication studies and leadership studies, was selected among five finalists who gave a presentation in the Joan B. Kroc Institute for Peace and Justice's Manchester Boardroom on April 4.
Zhang will take over the reins of the USD presidency from USD President James T. Harris III on April 25. Her schedule for the day is still being assembled. Harris, meanwhile, will take on Zhang's student schedule for the day (sans test-taking) and will include working in the Outdoor Adventures office, attending a People of the Islands meeting, two class meetings and finishes with a club soccer practice.
After an application process with questions about extracurricular activities and student affiliations, being asked what's something you'd want to address at USD, why you should be selected and your thoughts on characteristics of leadership, Zhang presented her case before a judging panel that consisted of USD faculty and staff members from across campus.
On her extracurricular activities while attending USD, Zhang's list is lengthy: She's general manager/captain of the Women's Club Soccer Team; is a lead guide for Outdoor Adventures, is a general member of the People of the Islands student organization; is director of group development for the Torero Wellness Peer Educators; Vice President of the Nonprofit Student Association; Scholastic Assistant; Coaching Corps as a soccer coach; and participates in InterVarsity Christian Fellowship. Furthermore, she's in the USD Honors Program, the USD chapter of Mortar Board and Lambda Pi Eta (USD Communication Studies' National Honor Society).
On what she'd like to address on her day as USD President, Zhang believes the campus community is missing out on opportunities to engage with the local Linda Vista community and creating strong partnerships to solidify USD's role as an anchor institution.
"To align with one of the Envisioning 2024 goals to amplify local engagement and reputation, I believe one of our most promising opportunities to increase the USD brand identity starts in Linda Vista," she said on her application. "Recently in my Health Psychology course, we were tasked with immersing ourselves into the community and learning the history. Right up Linda Vista Road, within five miles of USD, there are seven schools: Linda Vista Elementary, Carson Elementary, Chesterton Elementary, Montgomery Middle School, Kearny Mesa High School, Thrive High School, and Francis Parker School. As a top educational institution, we have a responsibility to bridge the gap between USD and Linda Vista whether it be through programming or community conversations."
Zhang shared a Linda Vista-connected experience she did last year in her Clinical Neuroscience class. "We held a sheep brain lab at the Linda Vista Teen Center where we were able to share our passion for neuroscience with third graders and watch their curiosity and excitement grow. I am grateful to have spent time in the Linda Vista community and witness the relational impact that results from the meaningful engagements between USD students and local kids."
To encourage more awareness of what Linda Vista has to offer and an opportunity to engage with the community firsthand, Zhang reminded everyone during her presentation that the 34th annual Linda Vista Multicultural Fair and Parade takes place April 27, which is two days after her USD President for a Day stint. USD is typically well represented at this great community event, but the more Toreros present to connect, the better. Also, since the President for a Day gets to choose a viable organization to donate the $1,000 prize they receive, Zhang has earmarked it for the Linda Vista Multicultural Fair and Parade.
Offering a viable opportunity to all to participate falls in line with her leadership vision, too: "While it is an essential skill to have sound decision-making skills and the confidence to engage a group, from my own leadership opportunities and challenges in authority roles, I have found that the most impactful leaders are the ones who lead with their heart, act on the adaptive challenges and attend to others."
Making connections with other USD community members is what Zhang has done at the university. Meeting President Harris for the first time as a sophomore scholastic assistant gave her an appreciation for the presence he carries on campus and how intentional he is with every interaction, she said. "I've tried to carry that same heart while I walk the campus and it has truly brought more connection and joy to my USD experience."
Vast experiences as a USD student include the interdisciplinary study subjects she takes and, as a result, "has a greater curiosity for the world and how interconnected we all are." She has learned from each activity she participates in outside the classroom. She's done study abroad in Buenos Aires, Argentina and Florence, Italy. She's interned for AARP and Champions for Health.
"I have tried to take full advantage of every opportunity USD has offered and I think being President for the Day would be the ultimate way to culminate my experience as a Torero," she said.
But what might be the best perk of the job she'll now hold on April 25? Her wish before being selected was simple and seems reachable now: "I would be forever grateful for the chance to take Ruby and Penny (the Harris family's dogs) for a walk around campus."
— Ryan T. Blystone