Students Stump for Cal Grant Support at AICCU Day Trip
Students Stump for Cal Grant Support at AICCU Day Trip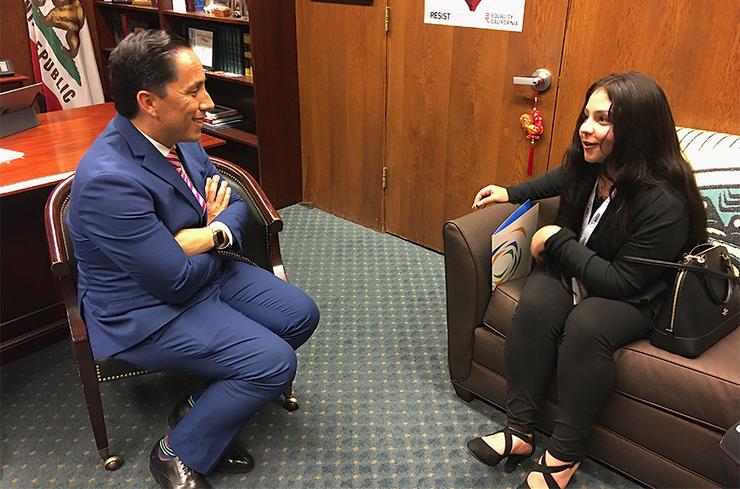 The 2019 Association of Independent California Colleges and Universities (AICCU) Day in the California State Capitol on Feb. 26 began with USD students Vicenta Martinez Govea '21 and Norma Guerra Alvarez '22 sharing and listening to student stories about the Cal Grant and its personal impact.
They thanked legislators for the role they play in making their college dreams possible and made the case for the benefits of funding Cal Grants for those attending nonprofit institutions, both for the students and the state.
"Something from this experience that I want to pass to other USD students is to not assume everyone's life is perfect because it isn't," Alvarez says. "We as students have many common struggles and we shouldn't feel like we are alone."
Cal Grants are awards given to students pursuing an undergraduate degree or vocational or career training based on demonstrated financial need and other requirements. They can be applied at any University of California, California State University or California Community College, as well as qualifying independent and career colleges in California.
Students in attendance had the opportunity to visit different senators' offices, advocating for the Cal Grant and also AB 1307, a newly proposed formula for the Cal Grant which will provide equity among students at all institution types, ensure a stable award amount and cause an unprecedented increase to the award.
"Attending the 2019 AICCU Day in the Capitol has allowed me to see the Cal Grant's major role in my attendance at USD and appreciate how much it has helped me," Govea says.
This day in Sacramento showed the power that students have in the legislative process when they share their perspectives on issues that affect them. As the proposed bill AB 1307 goes through the legislative process, students will have the opportunity to contact their representatives and voice their support.
"The highlight of my experience visiting the capitol was hearing all the different stories from students all over California," says Alvarez. "Knowing that I am not the only student that has significant barriers to educational success, brought to my attention the need of students like myself."
— Vayunamu Bawa '19