USD Hosts Continuums of Service Conference, March 6-8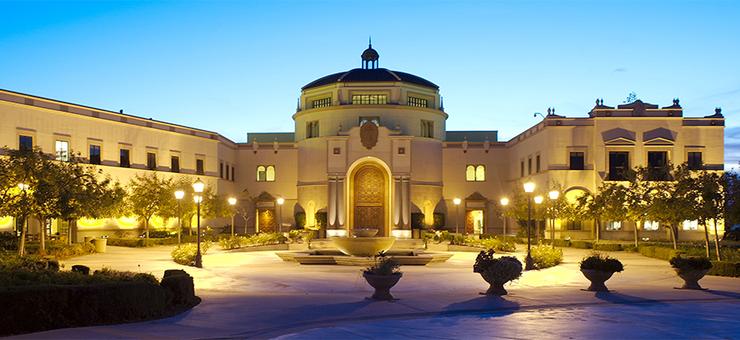 The University of San Diego will open its campus to one of the most important higher education conferences of the year and the theme, Beyond Borders: Embracing Multiple Ways of Knowing and Being, brings with it the anticipation of highly intellectual dialogue, knowledge sharing and rich content around community engagement practices.
The Western Region Campus Compact's 20th Continuums of Service conference will take over the Joan B. Kroc Institute for Peace and Justice and, at times, the Hahn University Center Forums, March 6-8.
"We're very excited to host this conference in San Diego. I'm excited to welcome colleagues and friends who have been expanding the field of community engagement for many years," said Chris Nayve, USD's associate vice president for community engagement and anchor initiatives.
In the conference program's theme statement, the university is honored to host an event where "we explore how we can reach out beyond borders of nations, neighborhoods, communities, ways of knowing and identities to think more inclusively about our work. We are excited to engage students, faculty, administrators and community partners in forward-thinking and inclusive dialogue designed to stimulate movement-building for a more just, equitable and sustainable future for all."
In addition to hosting the conference, the event is part of the scheduled 30th anniversary celebration for USD's Karen and Tom Mulvaney Center for Community Awareness and Social Action (formerly the Center for Community Service Learning in its infancy) at USD. it's also the 30-year anniversary for California Campus Compact.
"Without them, there's no way we could have grown in terms of what we do to support communities and to help faculty and students, in particular, to do this work," Nayve said. "We look forward to highlighting the regional expertise of a lot of campuses in San Diego who are connected to this and to highlight the work of faculty, staff, students and community partners of USD. They will be very involved with the conference at sessions and as featured speakers."
Prior to the start of the actual conference at 1 p.m. Wednesday, there will be a series of pre-conference sessions that take place earlier in the day from 8:30 a.m. to 1 p.m.
Topics and speakers are: "A Focus on Place: A New Paradigm for Community Engagement in Higher Education." Speakers: Karin Cotterman, Kent Koth, John Loggins, Jennifer Pigza, PhD, and Erica Yamamura; "Community Colleges as Civic Power Plants: Generating, Harnessing and Spreading Civic Power." Speaker: Verdis Robinson; "Connecting Indigenous and Western Knowledge Systems for Climate Mitigation and Resilience and for Student Success." Speakers: Robert Franco and Ulla Hassager; "Contemplating the Monumental Murals: Chicano Park as a Site of Disjuncture, Meaning, Reconciliation and Resistance." Speaker: Albert Lopez Pulido; "Dialogue Tools for Addressing Community Conflict and Transforming Relationships." Speaker: Michaela Grenier; and "Exploring the Nature of our Partnerships: Institution-Wide Data Collection on Community Engagement." Speakers: Barbara Holland, Lisa Keyne, Brenda Marsteller Kowalewski, Maria Silva, Lauren Wendling, and Emily Janke.
The conference features three keynote addresses, two on March 7 and one on March 8. From 8:45-9:45 a.m. Thursday in the KIPJ Theatre, USD Choral Scholars Director Emilie Amrein and Andre de Quadros will speak on "Finding Common Ground Building Community and Understanding Across Political, Demographic and Perceptual Borders." They will repeat their talk from 10-11:10 a.m. in the KIPJ Theatre. Later Thursday, after lunch in the Hahn University Center Forum Ballroom, from 1-2 p.m., Rhonda Magee's keynote is on "The Inner Work of Engagement for Justice: Embodied Mindfulness for Well-Being and for Being Well with Others." Friday's keynote from 8:30-9:15 a.m. in the KIPJ Theatre has Marisol Morales, Verdis Robinson and Stephanie Schooley discussing "The Compact in Focus: Return on Equity and Community College Engagement."
Concurrent sessions will run from 2:15-3:25 p.m. and 3:45-4:55 p.m. on Wednesday, 10-11:10 a.m., 11:30 a.m.-12:40 p.m., 2:30-3:40 p.m. and 4-5:10 p.m. on Thursday, and 9:30-10:40 a.m. and 11 a.m.-12:10 p.m. on Friday. There will be a Western Regional Campus Compact Engagement Awards presentation at 8:15 a.m. Friday in the KIPJ Theatre. There is an opening night reception from 5-7 p.m. Wednesday and an IARSCLE Reception from 5:15-6:30 p.m. Thursday. Both will take place at KIPJ's Garden of the Sea.
Through it all, Nayve, his Mulvaney Center colleagues and nearly 20 USD faculty/staff/student representatives, will be involved with a conference that deepens community engagement understanding for everyone.
"We're expanding the idea of our borders, literally and figuratively, and it's important for those coming to the conference that they are coming into a border region," Nayve said. "With all that has been happening around the border the last couple of years, including how we expand the meaning of borders and boundaries, it is a connected piece. Within that concept of borders, we'll have Perse Lewis, USD's Tribal Liaison, give a land acknowledgement and there will be a lot of workshops and speakers focused on what we do in terms of across the border and how we work across borders."
— Ryan T. Blystone