USD's Music Department Receives the 2019 Community Leader Award from the National City Chamber of Commerce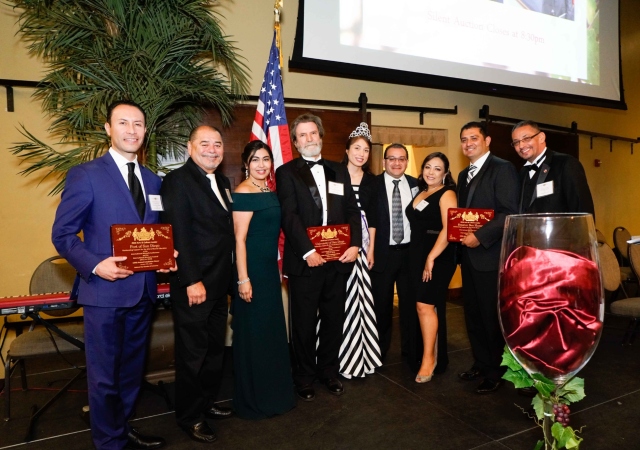 The University of San Diego was given the Community Leader Award for "Outstanding Support for the Arts and Musical Education" from the National City Chamber of Commerce (NCCC) at their 109th Annual Installation Dinner and Award Ceremony. USD was recognized for supporting and co-creating the annual International Mariachi Festival through the university's annual Mariachi Showcase. Professor Serafin Paredes and Professor David Harnish, PhD, chair of USD's Music Department, were brought up on stage to receive this prestigious award. Nearly 500 people, including San Diego's local politicians, attended this black-tie event.
USD's Mariachi Ensemble director, Professor Paredes, established two University of San Diego student mariachi ensembles, Mariachi Toreros de USD and Mariachi Juvenil de San Diego, in 2012. Three years later, a partnership between USD and the National City Chamber of Commerce was established. Professor Paredes not only brought these two mariachi ensembles and the Mariachi Showcase to USD, but expanded their reach to the greater San Diego community at the annual International Mariachi Festival.
The University's Mariachi Showcase brings 13 to 17 competing high school mariachi ensembles from Southern California, Arizona and Nevada to Shiley Theatre each year and is one of USD Music Department's outreach and recruiting events. The annual International Mariachi Festival is a one-day event in Chula Vista that attracts audiences from across San Diego County and beyond.
Together, USD and NCCC's partnership has brought thousands of people together to celebrate San Diego's Mexican heritage through mariachi music.
2019's Mariachi Showcase and International Mariachi Festival:
This year's Mariachi Showcase will be held March 7 through March 9. USD's Mariachi Toreros de USD, along with the best high school mariachi ensembles,will compete to perform in the Professional Mariachi Showcase on March 9. Tickets are available at www.usdmusic.eventbrite.com. The International Mariachi Festival will take place on March 10. For more information about the Festival, visit www.mariachifest.com.