Nonprofit Institute to Host 15th Annual Nonprofit Governance Symposium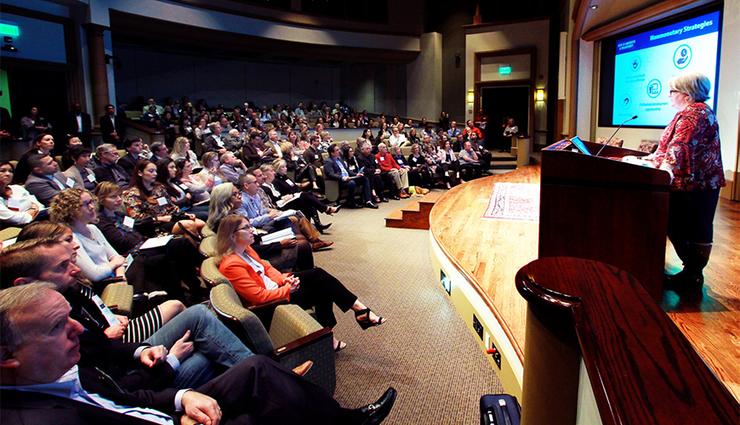 Wouldn't it be great to attend an event where a person could check out workshops, have keynote speakers and board members sharing their experience and advice, be inspired by organizations recognized for how they work better and smarter, then have networking opportunities and leave with meaningful information that can be put to good use right away?
If you're any size nonprofit organization in San Diego County, in California or anywhere in the United States, even internationally, there's only one place to be on January 24 and 25: the University of San Diego's Joan B. Kroc Institute for Peace and Justice is the site of the 15th annual Nonprofit Governance Symposium.
Hosted by the Nonprofit Institute in USD's School of Leadership and Education Sciences, attendees will be informed about current best practices, take in lessons learned from those in the field, and understand trends in effective nonprofit and philanthropic board leadership, as well as board recruitment and retention. By governing well nonprofits can work more efficiently and effectively to address critical needs in their communities.
By putting on its 15th symposium, it's a testament to the institute's impact and desire to support the ever-rising nonprofit community and to provide opportunities for the good of the community.
"This has really been a group effort by people at our university and people in our communities who really care about the welfare of our nonprofits, how they're doing and to make sure the sector is vital and well governed," says Laura Deitrick, associate director of the Nonprofit Institute and a professor of practice in SOLES' Department of Leadership Studies, who has been part of the symposium program since its inception.
This year's symposium theme is Leadership Matters and it is a mantra for the plenaries, seminars and workshops that are being organized around three modes of governance: fiduciary, strategic, and generative.
"Here at the Nonprofit Institute, we really believe in the vital importance of developing ethical and compassionate leaders who are providing the foundation for strong organizational leadership to ensure that nonprofits are best positioned to fulfill their mission with the greatest impact for social good," says Emily Young, executive director.
The symposium certainly programs its content to reach all nonprofit organization levels, from first-time and younger nonprofits to veteran, well-known organizations. Being its 15th year, the event is a fixture and one that continues to support this community and its needs.
"Our nonprofit community continues to grow and we see that because we are a very vibrant growing region and every year, new nonprofits form to address needs where individuals see things in their communities," Young says. "It's really important that we're bringing individuals who are coming in to serve on boards into the fold and giving them access to good training so they're able to effectively govern those organizations and provide the leadership that they need."
Added Deitrick: "Our community is changing and boards are seeking to bring in more young people, more people of color, more people that look like the communities they serve and have similar life experiences. We listen carefully to our audience every year and we shape our offerings accordingly. The framework and the make-up of the symposium hasn't changed too much in terms of the format, but topics and concerns of the day have evolved and they stay present and forward-looking."
Some seminars and workshops are always in vogue, Deitrick says, such as fundraising, finance and legal responsibilities. Leadership, engagement and advocacy, building more diverse boards and technology are steady topics. One symposium constant is the opportunity to recognize and celebrate San Diego regional nonprofits doing good governance by presenting the Kaleidoscope Award. This year's recipients will be announced in the afternoon on Jan. 24.
Engaging in good governance should be rewarded and one bona fide way to increase it is when organizations work well together.
"It really is essential to have a strong partnership between the board and the CEO of the organization. When they work well together they can do great things and that's part of what we teach at our governance symposium," Young says. "How can you build effective board-staff relationships, what's the unique role of the board chair, how can you work in partnership to really ensure that the board is providing the kind of leadership that's going to orient that organization to be the very best it can."
Nonprofit governance will get a two-day spotlight at USD and Young, Deitrick and the institute want to give those in the field — most of whom do so in a voluntary capacity — an educational forum to help them grow and help their organizations prosper. After USD President James T. Harris welcomes attendees on Jan. 24, keynote speaker Tides Advocacy CEO Amanda Keton, a USD School of Law alumna, will share her thoughts on "Key Trends and What They Mean for Nonprofit Boards." On Jan. 25, Chet Hewitt, president and CEO of Sierra Health Foundation, will discuss "Courageous Leadership in Nonprofit Governance." After the keynote talks, participants can explore what suits their needs best.
"We know people have to walk away with practical tools, with information they can implement in their organization's next board meeting," Deitrick says. "At the same time, we want them to be inspired. Opportunities through our keynote speakers, presentations, awards, reception and things like that inspire them and gives us a chance to thank them for their service."
Registration for one or both days of the symposium is still open. To register and for more information, see the symposium's Eventbrite.com webpage.
— Ryan T. Blystone