Athletics Roundup: Basketball Teams Each Split Two; Fall Athletes Honored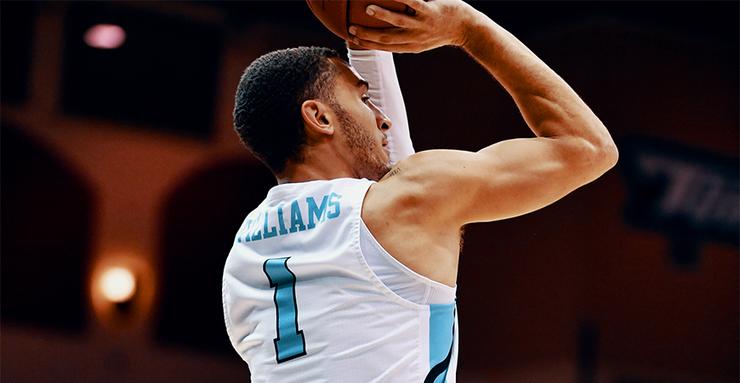 The University of San Diego men's basketball team split its two games this past week, taking a 65-55 road loss Dec. 12 against its third Pac-12 Conference opponent so far this season, Oregon, before bouncing back and handily defeating Northern Colorado, 85-65, at home on Dec. 15.
The loss to Oregon gives USD a 1-2 record against Pac-12 Conference teams — a 66-63 loss at Washington, a 70-64 win at home against Colorado and now the setback to Oregon — with one more to go, a Dec. 22 meeting with Washington State in the first game of the Continental Tire Las Vegas Classic at The Orleans Arena.
Against the Ducks, the Toreros suffered their worst 3-point percentage of the season (25 percent), their second-lowest shooting percentage from the field (41 percent) and had a season-high 16 turnovers while being held to a season-low 55 points. Oregon capitalized on the turnovers to erase a strong start for USD, which had early leads of eight and nine points before turnovers helped Oregon make a run, but USD clinged to a 32-31 halftime lead.
USD's nine second-half turnovers helped Oregon outscore the visitors, 34-23, marking USD's fewest points in a second half this season.
Isaiah Pineiro led USD with 14 points, Olin Carter III had 12 and Tyler Williams finished with 11.
In the home win over Northern Colorado, a game result that helped USD avenge its 86-75 CIT quarterfinal playoff loss last season to the Bears, USD improved its home record this season to 7-0 and 9-3 overall. Five Toreros scored in double figures in the 2018 game: Carter III led with 18 points, followed by Pineiro (17), Williams (16), Alex Floresca (12) and Isaiah Wright (10). Furthermore, Pineiro hauled in 10 rebounds for a double-double performance.
Next Games (through December): USD plays in the Continental Tire Las Vegas Classic at The Orleans Arena, Dec. 22-23. USD vs. Washington State, Saturday, 7 p.m.; USD-Washington State winner/loser vs. Drake/New Mexico State winner/loser, Sunday, game time to be determined; USD hosts Grand Canyon, Saturday, Dec. 29, 7 p.m., Jenny Craig Pavilion.
The USD women's team split a pair of nonconference games this past week, collecting a 76-58 home win Dec. 10 against Cal State San Bernardino, but having the team's four-game win streak snapped in an 87-77 road loss against University of Texas-San Antonio on Dec. 15.
The Toreros' record is now 6-4 with only one more nonconference game before the West Coast Conference schedule kicks in during the final days of December.
Against CS San Bernardino, USD secured its fourth straight victory by utilizing Patricia Brossmann's double-double, 19 points and 10 rebounds. Brossmann scored 15 of USD's 36 first-half points. Myah Pace finished the game with 13 points, dished out nine assists and had seven rebounds. Leticia Soares had 12 points and Sydney Hunter finished with 10 for USD. The Torero bench players combined for 24 points, USD outrebounded CSSB 46-39 and grabbed 13 steals.
In the loss to UTSA, senior Sydney Shepard scored a career-high 26 points, including six 3-pointers she made while scoring 22 in the first half. The Roadrunners, however, kept up the pace and eventually pulled away for the victory. USD's other top game performers were Hunter with 13 points and Pace had team-highs for rebounds (eight), assists (five) and steals (three).
Next Games (through December): USD hosts San Jose State, Friday, 5 p.m., Jenny Craig Pavilion; USD opens West Coast Conference play: USD at San Francisco, Sat. Dec. 29, 2 p.m.; USD at Santa Clara, Monday, Dec. 31, 2 p.m.
Fall Sports Postseason Recognition
Michael Bandy, junior wide receiver, Associated Press FCS All-America First Team, STATS FCS All-America First Team, Walter Camp FCS All-America, First Team; Daniel Cooney, senior offensive lineman, Associated Press FCS All-America Second Team, STATS FCS All-American Third Team.
Addie Picha, senior middle blocker, AVCA All-America Honorable Mention and AVCA Pacific South All-Region Team.
Miguel Berry, junior forward, United Soccer Coaches All-West Region Second Team.
Summer Mason, senior forward, United Soccer Coaches All-West Region Second Team.
More USD Athletics Information
Keep up with all USD Athletics news, scores and information at its newly redesigned website. Follow the Toreros on social media: Facebook, Twitter and Instagram.