Athletics Roundup: Men's Basketball Matches best Start; Women's Basketball, Volleyball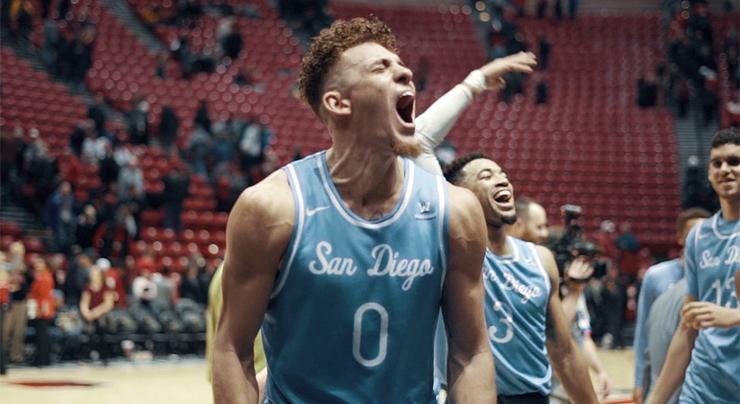 The nonconference portion of the University of San Diego men's basketball schedule is providing a great foundation for what's still to come when conference play opens in a few weeks. On Sunday afternoon, the Toreros knocked off Cal State Northridge, 82-68, to improve their home record to 6-0 and the overall record to 8-2, which matches the program's best-ever record to start a season.
The win over Northridge was a balanced effort, but the end result merely added to what was already a big week. On Dec. 5, USD did something it had not done since 2000 ­— beat San Diego State at SDSU's place. It happened and USD didn't win it on a buzzer-beater shot or last-second free throws. USD won, 73-61, beating the Aztecs by 12 with a 47-28 second-half surge that erased a poor first half and a seven-point halftime deficit.
The Toreros shot 56 percent from the field (14-25) and 54 percent (7-13) from 3-point range during the second half. For the game, Isaiah Pineiro led USD with 21 points, followed by Isaiah Wright's 18 and Olin Carter III's 10. USD outrebounded SDSU 32-30, led by Finn Sullivan's seven and Pineiro's five.
The win gave USD its second win in the last four years of meetings with the cross-town rival. The last Torero victory over the Aztecs was in 2015 when USD defeated SDSU on a neutral court — outside at Petco Park.
In the win over Northridge four days later, USD got contributions from all five starters as Alex Floresca and Pineiro each had 16 points, Wright had 15, Carter III 13 and Tyler Williams added 12.
Next Games: USD at Oregon, Wednesday, 7 p.m., Eugene, Ore.; Northern Colorado at USD, Saturday, 7 p.m.
The lone game last week for the women's basketball team, against Long Beach State on Dec. 6, was a 60-56 victory for the Toreros. It was significant in that it is USD's first road win of the season in three attempts. It also gave USD a three-game win streak.
Patricia Brossmann led the way for USD (5-3) with 17 points, a career-high 11 rebounds and five steals. Myah Pace, Sydney Hunter and Madison Pollock also finished in double digits for scoring with 13, 11 and 10 points, respectively.
USD controlled the boards throughout the contest, outrebounding the 49ers 42-30, including 28-19 for offensive rebounds. After Brossmann, Pollock had six rebounds and Hunter had five.
The team will now gear up for a pair of games this week, beginning with tonight's home game against Cal State San Bernardino at 5 p.m. in the Jenny Craig Pavilion.
Next Games: USD hosts Cal State San Bernardino, Monday, 5 p.m.; USD at University of Texas-San Antonio, Saturday, noon (Pacific).
The women's volleyball team played in its fourth-ever Round of 16 in the NCAA Tournament last Friday, but the end result — a 3-0 sweep by Wisconsin over USD, 25-13, 25-16 25-10 — was dampened by a pair of injuries that left USD short-handed.
The Toreros played without starting libero, Kelli Barry, who suffered an injury during practice the day before the match and then senior Lauren Fuller was injured early in the third set when she landed awkwardly after an attack attempt.
Wisconsin was already going to be a tough test, but those were difficult obstacles for the Toreros, whose season ended with a 18-13 record. It was USD's first Sweet 16 appearance since 2013 (2006 and 2004 are the other seasons). This year's team finished third in the West Coast Conference, was one of five WCC teams to reach the NCAA Tournament and USD's signature postseason win was a second-round sweep of USC.
Addie Picha led USD with a .556 hitting percentage, five kills and two blocks. Katie Lukes paced the Toreros with seven kills, while Roxie Wiblin and Fuller added four apiece. Anna Newsome provided a team-high 16 assists.
More USD Athletics Information
Keep up with all USD Athletics news, scores and information at its newly redesigned website. Follow the Toreros on social media: Facebook, Twitter and Instagram.