Volleyball's Success and Senior Addie Picha are the Real Deal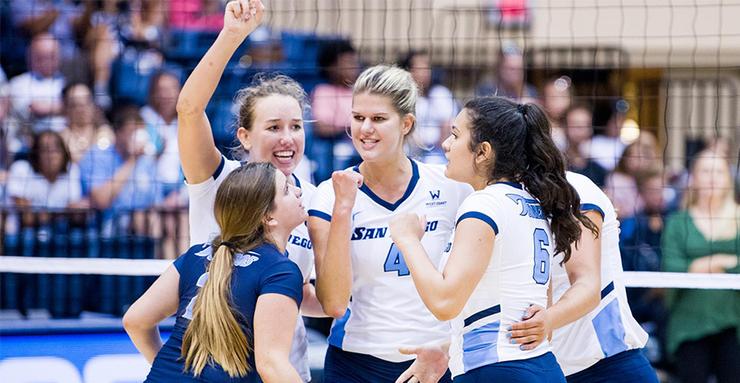 The real deal. The genuine article. When something is exactly what it is, what someone sees, feels or understands to be right, the natural instinct is to pursue it with everything you've got.
That's exactly what both sides, Addie Picha and the University of San Diego women's volleyball program's coaches who recruited her, sensed when their paths crossed.
Picha, who played tennis, basketball and volleyball at Puyallup (Wash.) High School, was tall and had a strong upside because of her athleticism and defensive capabilities. USD volleyball coaches saw it when they recruited her. They knew she had something and, with some polish, could really be something special. When Picha visited potential college destinations, she got her fill of programs that didn't seem real to her, that she was just another number or it just wasn't a good fit. Her visit to USD, however, caught her attention and passed the test.
"When I came here and met with the coaches at USD, it wasn't an act," she said. "They were genuinely nice people, they cared about me, cared about the program, treated me as a human, not like it's a job. That in itself, I remember as I was leaving campus with my dad and he asked me, 'So, how do you like it here?' and I said, 'this is it. This is the one.'"
San Diego isn't the biggest school. Yes, it is a Division I athletics program, but it wasn't the big hype. Yes, it had the warmer weather — certainly not as much rain as her native Washington — but it was a small school that played big in the West Coast Conference and didn't shy away from playing bigger schools in preseason play. It not only took on the big schools, it competed hard and often took them to the limit, sometimes even beating them. It's a consistently solid program in a respected conference, one that has had nationally ranked teams and has been to the NCAA Tournament 22 times and has produced conference players of the year and All-America-level talent.
Today, four years after her arrival, Picha, is a senior all-WCC middle blocker for the Toreros, and her teammates are preparing for Friday's NCAA Tournament Sweet 16 match-up against No. 6 Wisconsin in Champaign, Ill. The program, playing its fourth third round match in program history and first since 2013, is once again showing its true self. It is also showing that the mutual investment USD and Picha sought has happened as promised.
"She's the complete package," USD Head Coach Jennifer Petrie said. "She's vocal, emotional, works really hard and she's gained a lot of respect, not only for her work ethic and her volleyball skills, which speak for themselves, but she's worked hard to get there. She'll tell everyone that she was not this player four years ago. It's a process. From a freshman perspective, they only see a senior all-conference first-team player leading our team. But there are growing pains, even for those who are great. Addie has worked very hard to get where she is now and I'm super proud of her."
Picha, a psychology major who will take four classes next semester and graduate in May, currently ranks 11th in the country in blocks per set (1.50), 12th in total blocks (164) and 19th in hitting percentage (.388). She led all WCC players in total blocks (151) and was second in blocks per set and hitting percentage. She's among the Top 10 in several USD career marks, including fourth in hitting percentage (.364), total blocks (450), block assists (344) and seventh in solo blocks (106).
Picha has played all four years at USD. She's been a contributor on each team, recording 82 blocks in only 72 sets her freshman year. She had 88 in 82 sets her sophomore year and last year made 28 starts and finished with 127 blocks. The Toreros have reached the NCAA Tournament each year as part of their current nine-season streak.
Turning into a Season to Remember
But just last week, Picha was part of a breakthrough for the program. When the NCAA Tournament bracket was announced on Nov. 25, the Toreros (18-12) were once again assigned to Los Angeles. More specifically, to USC. The Toreros had never advanced past the second round of the opening regional weekend when they were at USC. The record was 0-7 in postseason play against the Trojans. But after knocking off Cal Poly in the first round, USD and USC met again last Saturday night. Picha, the seasoned veteran now, knew the hurt that has plagued many a USD team, including two of her own.
"My seniors last year, when I was a junior, their careers ended there. My seniors my freshman year, their careers ended there," she said.
Then came as real a result as one could ever hope for if you've played in the USD volleyball program. This time, on Dec. 1, 2018 and inside the Galen Center, it was Picha's turn as a senior. Only it didn't end the same way. This time, the Toreros prevailed. USD pulled off a three-set sweep of USC and this one left a different kind of mark.
"I don't think a smile left my face the entire night," she said. "It was the most incredible feeling and all of my teammates felt the exact the same way. This win wasn't just for this team, but every other team in the past. Personally, it was for the seniors while I've been in this program, but I know there are so many more alumni whose careers ended at USC. This year, there was just a different vibe on this team."
Picha and her fellow seniors knew it when the season started. The 2018 team had six freshmen on the roster and the coaching staff knew this year would be different. It could easily have been just a season of development and, while admittedly optimistic and always determined, a lot had to go right to maintain the success USD had grown accustomed.
"We basically gained half a new team," Picha said of the first-year players. "That was the first goal this season, getting six new players integrated into the team, make them feel welcome and feel like we were one unit. It was hard and you could see it during preseason and in conference, it was hard getting everyone integrated, but we hit a curve and we're on an upward swing that shows we're really integrated."
A few of those freshmen, outside hitter Katie Lukes, setter Laura Madill and libero-defensive specialist Kelli Barry, as well as sophomore Roxie Wiblin, junior Megan Jacobsen, Penn State transfer Cami May and junior Anna Newsome, have been major reasons why the Toreros are where they are in the postseason.
"It speaks to the leadership that Addie and our seniors that they've been able to acclimate so many new people into a team setting," Petrie said. "One team goal was for them to go on weekly dates. They'd go for a hike or do something away from the volleyball court to get to know each other on a personal level so they'd play better together when they would get back in the gym. They worked really hard to get it to a level of comfort."
But Petrie, and Associate Head Coach Brent Hilliard, knew that if this team was going to gel that thankfully they had Picha.
"One thing Addie has always been is very grateful and that's contributed to her success here. She's not a look-at-me type of individual. Our whole team is like that, they haven't had the limelight, there hasn't been a kid who is an ultra-superstar, who is untouchable. We've changed our lineup around a lot this year, all the way into the NCAA Tournament, but it has never mattered which six players we've had on the court, everyone has handled their role with maturity and poise."
Growing and Succeeding
Picha's presence has never been in doubt. Growing up the youngest of three siblings with two older brothers who were taller and bigger instilled a competitive attitude when sports became her passion.
"They wrecked me when we were younger and it helped make me extremely competitive, so I thank them for that. My dad, too, he always pushed that competitiveness and for me to be confident. I think it shows in the way I've always played." she said.
Competitiveness is a necessity in Division I volleyball, but Picha credits USD's coaching staff for shaping her strength into a more effective tool in her toolbox.
"The secret to my play is being extremely competitive and confident. I'm hard on myself, definitely, and I think that's important, but I was too hard on myself when I first came in. Jen always pushed, saying, 'you can be hard on yourself, you can be critical, but you have to get over it and use it in the next play to make it better. You can't let it affect you in a negative way.'"
She gained an aggressiveness that has not only shown in her blocking prowess, but also in her offensive output. Picha's willingness to trust and listen to her coaches has been huge. She came in as a defensive standout, but she's really going to leave USD as a better all-around volleyball player.
"Addie has always been a good blocker, but her biggest improvement has been on offense. She's very athletic for her size, quick and she has very good volleyball knowledge," Petrie said. "But the thing that makes Addie so good, and we always talk about it as a staff, is that on the court she's always in the right spot. She picks up on stuff, can set a second ball, she's got nice hands, good ball control. This year she was put into a serving role, plays some defense and when a ball gets ricocheted, Addie comes up with it. She is always making plays, always keeping balls alive."
And Picha the person?
"Addie would bend over backwards for anyone of her teammates," Petrie said. "She's there to support them, push them and she cares immensely about them. She's just real. I've had freshmen who've come in and they don't talk to the seniors because they're scared. It's never been like that with Addie. She's welcoming, approachable. She's going to be sorely missed, and not just by the coaching staff, but by these younger kids. I think she's paved a path for them where they can see the future for themselves. That's all we ask for in our program, that seniors always leave it better than when they got here."
The real deal is evident when Picha the leader is asked what she wants her teammates to do in Friday's Sweet 16 match against Wisconsin: "Just believe. You have to believe. You can't let the name on the other side of the court affect how we play. We have to believe we're good enough, believe we can win, believe we can go far in this tournament. With that belief, comes confidence and with confidence, we just play sooo well. Believe. Believe. Believe."
The real deal is also what she's received by deciding to choose USD.
"I'm super thankful for my time at USD, the coaches, the players on the team, everyone I've played with," she said. "Brent and Jen, they find a lot of hidden people. If you'd asked me my freshman, sophomore or junior year of high school if I'd ever go to a program this successful in Division I volleyball, I'd have said you were crazy. I was athletic, but I wasn't a strong hitter. I was tall and I could move on defense and Brent found that, thankfully, and they liked it. Coming here, Brent and Jen absolutely created and made me the player I am today."
Real. Genuine. Success.
— Ryan T. Blystone
Photos, video courtesy of USD Athletics