Association for Catholic Colleges and Universities Blog Q&A with President Harris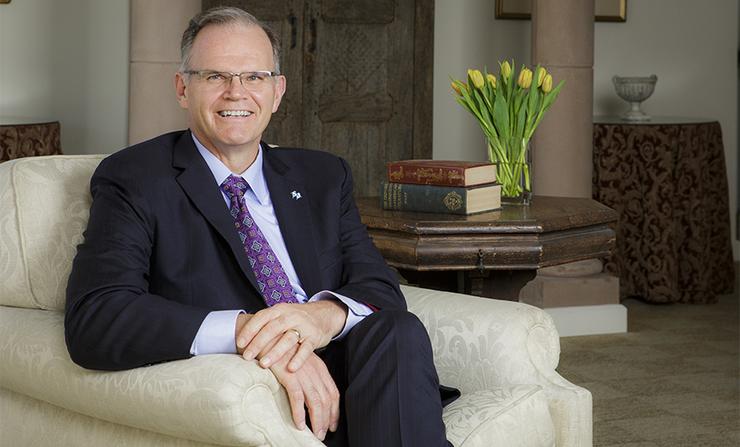 University of San Diego President James T. Harris III, DEd, is a board member for the Association of Catholic Colleges and Universities (ACCU). He recently did a Q&A interview with Judith Mbuya for the ACCU Leadership Blog, @ the Helm. The full Q&A can be accessed here.
The University of San Diego is one of only 45 universities in the world designated as an Ashoka Changemaker, which essentially is proof of your institution's commitment to Catholic Social Teaching. Please expound on its significance.
Harris: I would say what the Ashoka Changemaker designation has done for the campus is that it's allowed another level of conversation about how to prepare students to be engaged in the community, and how they are going to make that change themselves. It is the responsibility of both the university – how it will be a change maker and its work in the community – as well as the individual students. Plus, the faculty have bought into the idea of being a Changemaker campus. What it has done is elevated our conversations around our Catholic mission and the values that we hold dear; and given us a network of institutions – both Catholic and non-Catholic, public and private – that really hold very similar values to what Catholic institutions do. So, for us, it was a natural part of who we were and who we are today. But I think it's elevated the conversation to a global conversation and with other institutions outside of our Catholic network.
What are specific ways USD incorporates Catholic values into classroom learning to train ethical leaders of tomorrow?
Harris: I think the obvious one is the commitment to social justice, to civic engagement, and to treating individuals with dignity. The pieces that we have – the parts that you would think about with the Catholic Intellectual Tradition – align very well with Catholic values of critical thinking, problem solving, and communication skills that help students develop. And think about how the institution might be able to contribute to that, working within the system. All those are typically what Catholic institutions are attempting to achieve. It's within our mission; it's within the broader scope of Catholic higher education. But here we have the Catholic network and other institutions that think like us, but come at it from different perspectives, different faith traditions, in different ways of viewing the world.
I think all politics are local. The manifestation of our mission is local. And I think for all Catholic institutions it probably is the same. For us, the local is that we sit on an international border that is quite controversial. In every one of our schools – and in the College of Arts and Sciences – faculty are designing classes and experiences for our students that have direct impact on some of the societal issues facing the greater San Diego community, and the community that we include within that is Tijuana. In our School of Peace Studies, they're doing work on border issues around criminal activity, the criminal justice system, and trying to work with government officials in Mexico. Our students are engaged and working in clinics in Tijuana on every international issue. We work in AIDS clinics; we work directly on commitments to things that are germane to the border, for example, people who are deported from the United States. Our students are doing work with people who were in the United States illegally and are now placed on the border in Mexico. That's part of our mission as a Catholic institution.
In terms of the city of San Diego proper, we're working locally with the homeless. I think we have the fourth largest homeless population in the United States. There are different disciplines, different majors, and different faculty members and students who are working in a variety of ways to address the issue. As a university, we bring together leaders in the community every two months in what we're now calling, "the Homelessness Symposiums." We're talking about affordable housing; we're talking about the different elements of homelessness. And we have other community leaders – the mayor comes often, city council. We're becoming the space where people convene to talk about a very serious issue that would have application around the world. So, we're living out our Catholic values through the classroom work and in the community by taking on some of humanity's most urgent challenges. It's not enough to ask our faculty and students to be engaged. As an institution, we must be engaged in that work, which is part of our vision statement.
This past year, you raised more than $300 million for your Leading Change campaign, which I understand capped off the most successful year in fundraising ever for the university. What is your end goal?
Harris: Our vision statement is to set the standard as an engaged contemporary Catholic university where innovative change makers confront humanity's most urgent challenges. We have a strategic plan that includes five goals that we're seeking to achieve, and then six pathways to get there. Our fundraising goals align perfectly well with that over the campaign, which was an eight-year effort. It went public when I arrived in 2015, and it has helped us with scholarships and support for enhancing student learning and success, which is one of our goals.
We now have the most diverse freshman class we've ever had in our history. And one of our goals is to strengthen diversity, inclusion, and social justice. The money that was raised through the campaign has enabled us to help low-income students afford USD. We have a higher percentage of Pell Grant-eligible students than we've had in the past. We've made a very concerted effort to diversify the class in every way possible. And we've been successful. It was the fundraising and the ability to attract resources for financial aid that really helped us move in that direction.
When you think about an institution that was only founded in 1949, the fundraising and the endowment growth has been significant to help us do some of this work. One of our goals was also to elevate faculty and staff engagement. We've endowed faculty chairs, faculty professorships, and faculty fellows. We've created the "Diversity Postdoctoral Faculty Program," where we bring faculty members who have just completed their doctorate – they have a two-year postdoc rather than one year – for the opportunity to get into a tenure-track line. That has helped us in just the last three years to elevate the number of faculty from underrepresented groups.