Kroc School Professor Ev Meade Explains the Migrant Caravan and How We Can Help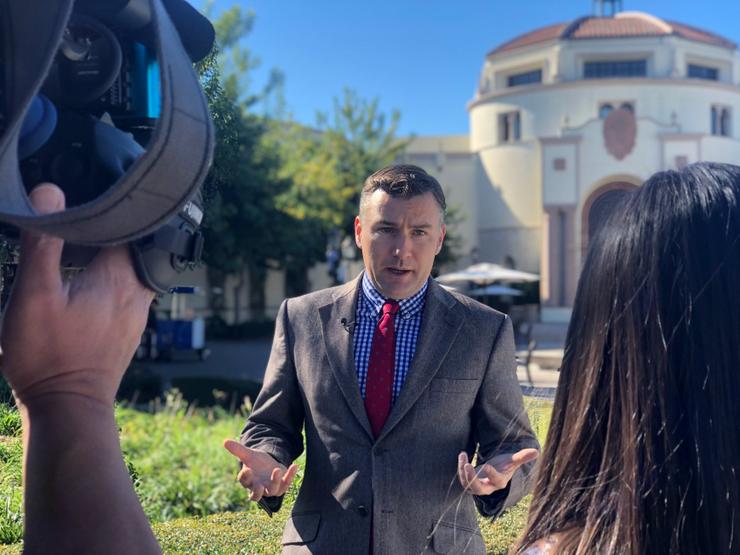 The Kroc School and the USD community are on the frontlines of a humanitarian crisis on the border. In the span of less than a week, nearly 6,000 Central American migrants and refugees have arrived in Tijuana, most seeking asylum in the United States. The political situation is tense and humanitarian conditions are abysmal. Men, women, and children who need food, clothing, shelter, healthcare, and the opportunity to be heard face hostility from the U.S. and Tijuana governments, extreme uncertainty, and a barrage of false information.
The information part of the equation might not light up the headlines like barbed wire, tear gas, and angry protestors, or flooded refugee camps, bread lines, and crying children. But information (and false informarion in particular) has played a critical role in the unfolding of the present crisis, and it must play a critical role in any sustainable solution. Caustic language and symbolic gestures from the U.S. government, inflated numbers from media outlets, and heart-rending photographs of small children caught in the maelstrom have fueled overheated reactions — military mobilizations, anti-immigrant protests, a huge decline in cross-border business, etc. Inflamatory rumors have spread like wildfire among the migrants as well — murder, kidnapping, and mass deportation carried out by U.S. and Mexican law enforcement.
In this environment, Kroc School Professor and Trans-Border Institute Director Ev Meade has tried to speak to local, national, and international media across the political spectrum in order to bring better facts and greater context to the debate. The following links should take you to a number of recent examples:
TBI in the News
Crackdown at U.S.-Mexico border shows asylum system in crisis
Migrants met with fear, disdain in Tijuana, Mexico
How Border Activity Impacts Local Politics
5 things to know about what's behind anti-migrant protests in Tijuana
Dozens of migrants caught storming border in San Ysidro won't face charges
Questions And Answers About Trump's New Immigration Ban
NBC: Revelan que hay infiltrados dentro de la caravana migrante (en español)
Tremendismo en San Diego (en español)
Led by Professor Meade, Kroc School students and faculty have decided to actively accompany a small group of Central American families. Our goal is to listen to their specific needs, provide them with funds to help them get out of temporary shelters, clothing and other necessary supplies, and the opportunity to tell their stories such that they will be shared in an effective but ethical way, linking them to the kinds of legal, social, and other services providers best able to assist them.
The work is difficult and often harrowing. You can read about our most recent visit to caravan members in Tijuana on TBI's Facebook page. (Please be warned: the narrative is graphic.)