Founding L.A. Catholic Worker Member Jeff Dietrich Recalls Dorothy Day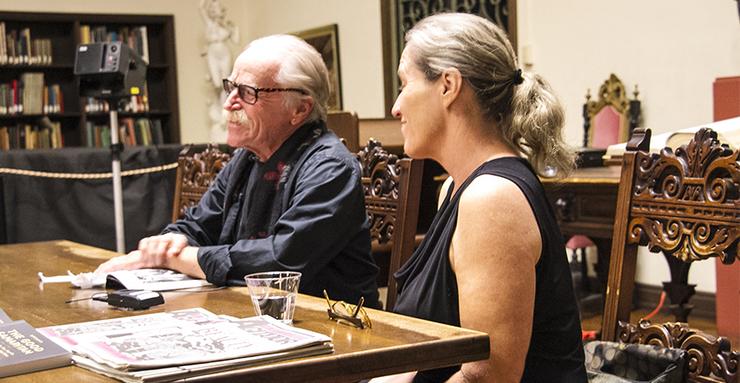 A photography exhibit on display at the University of San Diego's Joan B. Kroc Institute for Peace and Justice Fine Art Galleries, "Love is the Measure: Photos of Dorothy Day and the Catholic Worker Movement," by Vivian Cherry, brought another interesting storyteller to campus.
On November 6, the Frances G. Harpst Center for Catholic Thought and Culture hosted a talk by Jeff Dietrich, a founding member of the Los Angeles Catholic Worker and a man who has served the community for more than 40 years, in Copley Library's Mother Rosalie Hill Reading Room.
Dietrich is the longtime editor of The Catholic Agitator, the Los Angeles Catholic Worker's newspaper. He has several published books to his credit, including The Good Samaritan: Stories from the Los Angeles Catholic Worker on Skid Row (2014), Broken and Shared: Food Dignity, and the Poor on Los Angeles' Skid Row (2011), and Reluctant Resister (1983).
Dietrich read excerpts from The Good Samaritan that connected to some of his memories of Dorothy Day. Separately, he talked about having a few meetings with Day, including one in which she was in Los Angeles to serve as a character witness for another acquaintance because he was on trial for resisting the draft.
Dietrich interviewed Day in 1970 and also had a great experience when he was asked to drive Day to Central California's La Paz, the home base for longtime United Farm Workers leader Cesar Chavez. Dietrich was able to sit in on their meeting and said it truly was a moment that endures for him.
During his interviews and on occasions when he was with Day, Dietrich spoke of his great appreciation for her as a "consummate storyteller."
"I was very fond of Dorothy and was very grateful to have the time I did with her," Dietrich said. "There's a lot of gratitude for her and the work she did through the (New York) Catholic Worker and her compassion for the poor."
Dietrich's talk follows previous campus events this fall in which multiple people express how they were inspired by Day and their observations of her significance to the Catholic faith. A discussion with Day's granddaughters, Kate and Martha Hennessy took place at the opening of the exhibit Oct. 11. Since then, USD Sociology Chair and Professor Tom Reifer, PhD, did a Solidarity on Tap talk at O'Tooles Pub on Oct. 30.
Two more talks will take place prior to the Dec. 14 closing of the exhibit. Patrick Jordan, the former managing editor of the Catholic Worker and former managing editor of Commonweal, will give a talk at 5 p.m. on Wednesday, Dec. 5, in the Mother Hill Reading Room in Copley Library. There's also a dialogue event scheduled but at a yet to be determined date between Susan Dietrich and Patty Burns-Lynch who is with the Philadelphia Catholic Worker.
The photo exhibit, a collaboration between the Frances G. Harpst Center for Catholic Thought and Culture and University Galleries, can be seen Monday through Friday, noon to 5 p.m. It is closed on university holidays. Admission is free and the exhibit is open to the public.
— Ryan T. Blystone