USD Recycling Center Offers Home for E-Waste With Nowhere to Go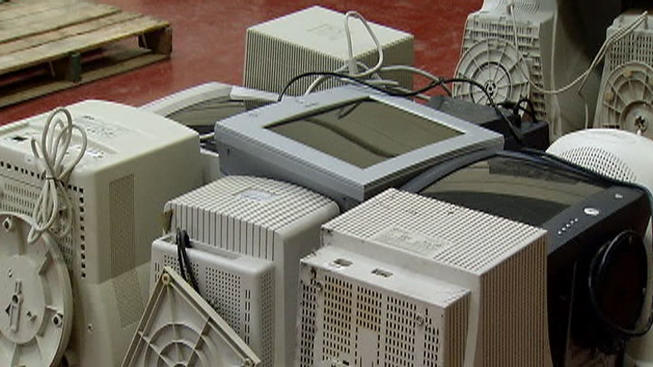 By Melissa Adan | NBC San Diego
A San Diego-area university is working on the nationwide problem of recycled materials with nowhere to go.
San Diego historically had exported 80 percent of its curbside material, with 60 percent of it sent to China, according to the city's Environmental Services Department.
Recently, China stopped imports of recycled materials, making this problem worse. That's where the USD Electronics Recycling Center comes into play.
They opened in 2011 to the community and take in electronics of every kind to be either recycled or resold.
The facility accepts gizmos and gadgets like calculators, blenders, computers and video games.
"Even the broken ones," said Matt Dahlman with the ERC.
The facility sells the e-waste and uses the money to fund the center and campus sustainability projects. Recently, a vintage computer was sold to a Seattle museum for $13,000.
"We have real clever customers that want to reimagine components from a computer or microwave and build something completely unique," Dahlman explained.
According to USD Facilities Management, the ERC is self-funded, they use the proceeds to support the operation of the ERC such as salaries, overhead, supplies, etc., and to establish a reserve for slow revenue months and warehouse improvements or maintenance.
"Once the reserve is reached, anything leftover would be used to support campus sustainability projects related to our CAP (Climate Action Plan) goals, and possibly for student scholarships," said Melissa Plaskonos, USD Facilities Management Assistant Vice President.
The center lists the items it accepts on its website. While they will dispose of most items for free, there is a charge for some items.
The center is open Tuesday through Saturday.
About the University of San Diego
The University of San Diego sets the standard for an engaged, contemporary Catholic university where innovative Changemakers confront humanity's urgent challenges. With more than 8,000 students from 75 countries and 44 states, USD is the youngest independent institution on the U.S. News & World Report list of top 100 universities in the United States. USD's eight academic divisions include the College of Arts and Sciences, the School of Business, the Shiley-Marcos School of Engineering, the School of Law, the School of Leadership and Education Sciences, the Hahn School of Nursing and Health Science, the Joan B. Kroc School of Peace Studies, and the Division of Professional and Continuing Education. USD recently concluded our successful $317M Leading Change: The Campaign for USD, which represented the most ambitious fundraising effort in the history of the university. In September 2016, USD introduced Envisioning 2024, a strategic plan that capitalizes on the university's recent progress and aligns new strategic goals with current strengths to help shape a vision for the future as the university looks ahead to its 75th anniversary in the year 2024.