Torero Spirit in Full Force for Oct. 11-14 Homecoming and Family Weekend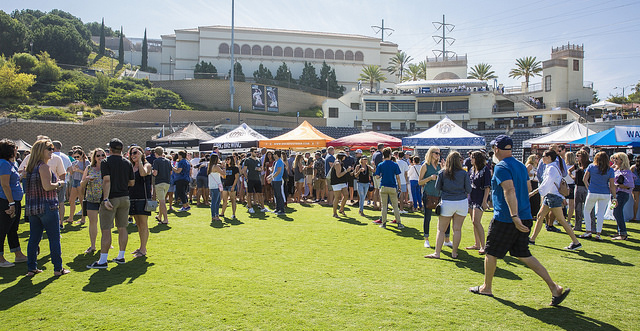 The University of San Diego campus will be buzzing with activity as the annual Homecoming and Family Weekend runs Oct. 11-14 with a multitude of alumni and family/student events. There's the Big Blue Bash, Torero Casino Night, Fowler Park tailgate party, a big football game, a weekend of celebration for 1968 alumni who are our newest Golden Toreros, and opportunities for all Torero alumni to reconnect and rekindle fond memories throughout the weekend.
One thing's for sure, they, along with the university, take pride in the liberal arts education in the Catholic intellectual tradition that's helped nearly 70,000 alumni make an impact and to help shape a better world.
Take, for instance, 2013 alumna Sophia Carrillo. She recently shared a LinkedIn post, a little tongue-in-cheek, about her upcoming visit to San Diego.
"Excited to be returning to my alma mater, University of San Diego, for Homecoming this year. I did not fully appreciate how useful my liberal arts education was until I needed to use those pesky logic, religious studies, humanities and language class for my work with asylum seekers and in human rights advocacy. #GoToreros," Carrillo said. While at USD, she earned BA degrees in political science and sociology and was a student leader in Associated Students. She also did a Fulbright summer program in London, participated in Model United Nations, Mortar Board, Honor Council and more to nurture her career path.
Carrillo, now a judicial law clerk in the U.S. District Court in Sacramento after graduating from Stanford University law school, returns to USD's campus five years later to see friends, classmates and faculty.
She's one of many alumni coming back to Alcala Park. Whether enjoying a milestone reunion as a class member from years ending in 3 or 8 — the 1993 and 1968 classes are celebrating 25 and 50 years, respectively — returning to pass knowledge on to current students from their post-college careers, being a student-athlete seeing former teammates and coaches, or families reconnecting with their student six weeks after orientation weekend, Homecoming and Family Weekend has activities for all Toreros.
"Homecoming 2018 is bound to be the best in university history! With nearly 60 events for alumni, families, students, faculty, staff and guests, there's something for everyone at every turn," said Kara Marsh Proffitt '04, director of alumni operations and engagement. "I can't wait to welcome everyone back to campus this weekend to celebrate the Torero spirit!"
New events include a School of Business reception on Thursday afternoon, which leads into the seventh annual Legacy Entrepreneurship Conference in the Joan B. Kroc Institute for Peace and Justice Theatre; Friday's Torero Casino Night from 8-11 p.m. in the Hahn University Center Forum rooms with amazing raffle prizes; the Hahn School of Nursing and Health Science hosting its first Saturday morning brunch with new dean Dr. Jane Georges; Copley Library inviting all Toreros to the Mother Rosalie Hill Reading Room Saturday morning to learn about the library's renovation plans and to view important items from the university's archives; there is a Knowledge Transfer event in UC Forum A at 10 a.m. to hear USD parent Joseph Bradley discuss "Questioneering"; Fowler Park hosts the big Saturday tailgate party from 11 a.m. to 2 p.m. with something for the whole family, including food, drinks, games, entertainment and the Torero Amazing Race finals. The annual Homecoming football game pits USD (3-2 overall, 2-0 in Pioneer Football League) against PFL rival Dayton (3-3, 2-1) in a 2 p.m. game on Walter J. Zable Field in Torero Stadium.
Class and affinity reunions take place all day and night Saturday and some will happen off campus, from National City to Pacific Beach and La Jolla, but the Golden Toreros of 1968 will be feted Saturday night in Copley Library's Mother Rosalie Hill Reading Room when they'll dine with USD President James T. Harris and receive their medallions.
Toreros can complete the weekend Sunday by attending the Closing Alumni and Family Mass at 10:30 a.m. in Founders Chapel. A VIP Shopping Experience at Fashion Valley Mall, starting at 12:30 p.m., is a final weekend-ending option.
Online registration to attend Homecoming concludes today, Oct. 9, at 10 p.m. Walk-up registration is available. Learn more about Homecoming and Family Weekend by visiting the website. There are links to events for Alumni and also for Parents/Students.
We look forward to seeing our alumni, families, students, faculty, administrators and friends on the USD campus this weekend.
— Compiled by Ryan T. Blystone, USD News Center