Athletics Roundup: USD Hosts Dayton in Key Homecoming Game; Volleyball, Soccer, Notes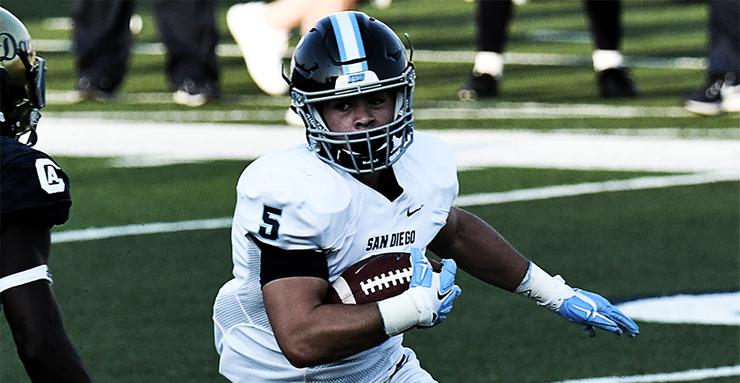 Two games into the Pioneer Football League portion of the University of San Diego football team's 2018 schedule and it appears that some things don't change.
The Toreros last week traveled to Kentucky to face Morehead State and the result was a 51-34 USD victory to improve to 2-0 in PFL play (3-2 overall). USD, winners of six of the last seven PFL titles and four in a row, remain a juggernaut in league play. Last Saturday's win means the Toreros have already scored 100 points in two PFL games — USD's PFL opener Sept. 29 was a 49-10 win at home against Stetson.
Last Saturday's triumph over Morehead State marked USD's 23rd consecutive PFL win. This week, the Toreros can extend that streak as well as two others. USD seeks its 19th straight home victory overall and 32nd consecutive home PFL game win.
But USD's foe for this Saturday's 2 p.m. Homecoming and Family Weekend game on Walter J. Zable Field at Torero Stadium, is not just another PFL team. Playing the Dayton Flyers is different — and the Toreros know it. They understand who they face this week and know the history in this matchup. This might not be a typical Homecoming game.
Dayton has a 3-3 overall record and is 2-1 in the PFL so far, this year, but the Flyers have won the most PFL titles in the 26-year history of the FCS Division I non-scholarship league. Dayton has won outright or shared 12 titles, including the league's first in 1993. Dayton's last title came as co-champ in 2015 with San Diego. The Toreros have won or shared nine PFL championships (2005-07, 2011-12, 2014-17) since entering the league in 1992.
Dayton holds a 16-9 head-to-head record against San Diego and the Flyers handed the Toreros their last PFL loss, 13-12, at Dayton on Oct. 10, 2015. The Toreros have won the last two meetings, 34-22 in 2016 at USD and 23-7 at Dayton last year.
This season, Dayton defeated Davidson 42-21 to open league Sept. 22, lost to Marist 28-17 on Sept. 29 and then crushed Valparaiso, 53-20, Oct. 6. They've also defeated Robert Morris and lost to SE Missouri State and Duquesne.
Meanwhile, against Morehead State last week, USD's offense once again turned up the heat. Six different Toreros reached the end zone as senior quarterback Anthony Lawrence threw five touchdowns to five different receivers: Michael Bandy, Christian Brooks, Cooper Hagmaier, Emilio Martinez and Dalton Kincaid. Lawrence finished the game completing 19 of 30 attempts for 354 yards, which moved his career passing yards above the 10,000 mark.
Martinez also had a 10-yard touchdown run and Terrence Smith added a 3-yard TD run for the Toreros. Martinez finished with 13 carries for 64 yards and two catches for 96 yards, giving him 160 total all-purpose yards.
Special teams play was also important for USD. Daniel Cooney blocked a Morehead field goal attempt, Zeke Downs disrupted an extra-point attempt, Anthony Ellison blocked a punt and USD recovered, leading to an early score.
Next Game: USD hosts Dayton, Homecoming and Family Weekend Game, Saturday, 2 p.m., Torero Stadium.
The USD women's volleyball team looks to rebound after a tough time on the court this past week. The Toreros' record fell to 7-9 overall and 3-2 in West Coast Conference play with a pair of losses — a nonconference road sweep (25-15, 25-19, 25-23) by crosstown rival San Diego State on Oct. 2, followed by a four-set loss at home to the nation's No. 1 team and defending co-WCC champion, BYU (25-21, 24-26, 25-16, 25-10) on Oct. 5.
A slow start against San Diego State kept the Toreros from overcoming the Aztecs. The Toreros were held to their second-lowest hitting percentage of the season (.125) compared to the SDSU offense, which hit at a .410 clip for its best performance of the year. Roxie Wiblin and Megan Jacobsen each had eight kills to lead the Toreros.
The loss snapped a five-match win streak against SDSU -- the last was Nov. 14, 2012 -- and it was the first time USD has been swept by an unranked opponent since Nov. 24, 2015. It's SDSU's first sweep of USD since Aug. 31, 1996.
Jacobsen and Wiblin again led the Toreros in their WCC match against BYU, each with 10 kills, but the Cougars (16-0, 5-0) kept to their winning ways this season. Roni Jones-Perry had 23 kills and McKenna Miller had 15 to lead BYU.
Addie Picha had eight kills and four blocks and led USD in hitting percentage with .467. Anna Newsome led USD with 23 assists and added seven digs.
Next Matches: USD at Santa Clara, Thursday, 7 p.m.; USD at San Francisco, Saturday, noon.
BYU edged USD in women's soccer Oct. 6, 2-1 in overtime at Torero Stadium.
USD goalkeeper Amber Michel, who recorded nine saves in the game, was unable to stop Elise Flake's shot in the 98th minute as the Cougars secured the West Coast Conference victory. Flake battled past several USD defenders to secure a clear shot attempt from the top of the box to the left post, just out of the reach of Michel.
Summer Mason scored USD's lone goal in the 30th minute to give the Toreros the early 1-0 lead. It was Mason's fourth goal of the season. The 1-0 USD lead held up until BYU tied it in the 59th minute when Madie Gates scored off assists by Flake and Rachel Lyman.
Both teams had more scoring chances in regulation, but ran out of time, sending the game to overtime. BYU outshot USD 23-13 with USD having an advantage in saves, 9-4.
The loss dropped USD to 4-7-1 overall, 0-3 in WCC play. BYU is now 8-3-1, 3-0.
Next Game: USD at Loyola Marymount, Saturday, 7 p.m., Los Angeles.
The USD men's soccer team's West Coast Conference opener, on the road against San Francisco, resulted in a 2-1 loss on Oct. 7.
The Dons scored their two goals in the sixth and 58th minutes to seize a lead they wouldn't relinquish. USD cut USF's led in half in the 60th minute on a penalty kick by Miguel Berry. His third goal of the season came when he shot to the top right corner of the net past USF goalie Ruben Stulver.
USD had a strong first half despite trailing as it was aggressive offensively in the opening minutes of the game and had an 8-5 shot advantage in the first half. USD remained aggressive with a 10-5 shots edge in the second half. Goalie Matt Wiher was busy, too, though as he made eight saves for USD.
Next Games: USD at Gonzaga, Friday, 7 p.m., Spokane, Wash.; USD at Portland, Ore., Sunday, 2:30 p.m.
Torero Tidbits (includes Homecoming activities): The men and women's cross-country teams compete at the UC Riverside-hosted Highlander Invitational on Saturday starting at 8:45 a.m. ... The women's swimming and diving team will conduct its annual Homecoming swim meet against USD alumni at 10 a.m. Saturday at the Sports Center pool. Breakfast, coffee and racing together ... Other sports-related Homecoming and Family Weekend events this week: Thursday, men's basketball's "Sixth Man Night - Building Champions" dinner and program takes place at 5:30 p.m. in the Hahn University Center's Forums A, B and C. Former head coach Brad Holland and his era will be honored and the 2018-19 men's basketball team will be introduced to the audience. Tickets are $175 per person, young alumni (2008-18) are $75 tickets. Information: Linda Coppa (619) 260-5917. ... Friday, 5 p.m., Men and Women's Rowing reunion at the Mission Bay Boathouse. Learn to row, enjoy a boat parade and unlimited tacos at the Taco Bar. Cost is $20 per person. Information: Linda Coppa at lcoppa@sandiego.edu ... Friday-Saturday-Sunday, the Dave Wodynski USD Men's Lacrosse Homecoming Game, Old Navy vs. New Blue, will take place at 4 p.m. Saturday at Manchester Field, but there will also be a Happy Hour alumni gathering at 7 p.m. Friday at The Pennant and Sunday's 10:30 a.m. Homecoming and Family Weekend Closing Mass in Founders Chapel to complete the weekend. There is a donation cost to play in the alumni game and a fee for spectators. All proceeds support the USD men's lacrosse program ... Saturday, 2 p.m., Manchester Field, there will be a USD vs. USD alumni rugby match. There will be a post-match party at Tio Leo's restaurant down the hill from campus. Information: Kevin Eaton, kevinceaton@sandiego.edu ... Saturday, 5 p.m., Student Life Pavilion Rooftop, there will be a Women's Basketball reunion reception. Free to attend ($25 donation to the program is suggested) and meet the 2018-19 team, reconnect with former teammates and hear from veteran coach Cindy Fisher. Learn, too, about the Power Forward Club. Happy Hour fare will be available. Information: Trevor Olson, tolson@sandiego.edu.
For More USD Athletics Information
Keep up with all USD Athletics news, scores and information at its newly redesigned website. Follow the Toreros on social media: Facebook, Twitter and Instagram.