New Kroc School Master's Degree Tackles Conflict Management, Resolution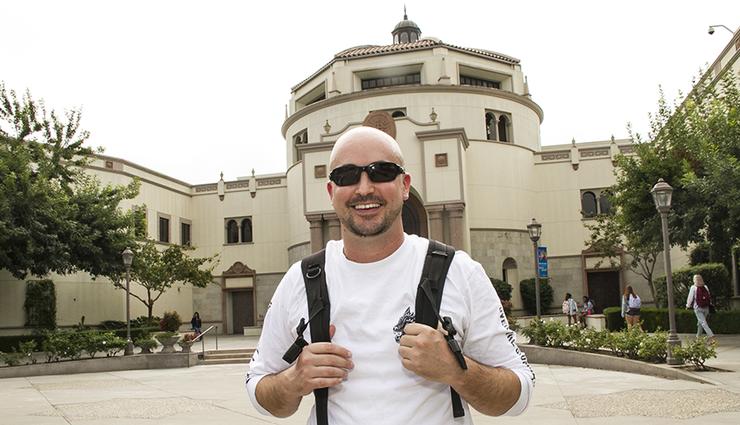 When Glenn Hyzak's physical therapist suggested he try yoga to help with military-related injuries, he didn't balk at the request. He did it and has proven to be some of the best advice he's taken — not just to feel healthier, but because it also started what is now a strong connection to the University of San Diego's Joan B. Kroc School of Peace Studies (Kroc School).
While doing yoga at a neighborhood studio, the U.S. Coast Guard member met and talked with USD double alumna, Navy Officer Elizabeth Spangenberg, who earned an undergraduate psychology degree and her master's in the peace and justice studies program in 2016.
"I learned all about the Kroc School from her. She was awesome to talk to and she spoke very highly of the school, so I checked out the website and I really dug what they were doing. I soon turned into a Kroc School groupie because I tried to attend every event I could," Hyzak said.
His first foray was a Border Film Festival hosted by Ev Meade. Impressed with Meade, who is a Kroc School professor of practice, and by other programming by the Kroc School and its Trans-Border institute, and by professors and staff, Hyzak knew he wanted to take the next logical step.
This fall, he's one of 12 students enrolled in the Kroc School's newest degree program, the Master of Science in Conflict Management and Resolution.
"It's a great tool for the toolbox," said Hyzak about choosing the program.
The degree, which can be completed in nine months and has a 30-unit curriculum, "mainly targets working professionals in different fields (health, education, police, military, etc.), who want to gain an understanding of conflict analysis as well as the tools for conflict management and resolution, including mediation, negotiation, facilitation and dialogue," says Necla Tschirgi, the Kroc School's associate dean and a distinguished professor, and among those who helped shape the development of the degree program.
Hyzak, because he's still active duty as well as being a husband and father, said he's taking only nine units this semester and expects to graduate within two years.
The inaugural cohort is comprised of individuals with a range of life experiences, but who want to fortify it with teachings from USD's knowledgeable and high-quality professors, many of whom have practiced, studied and researched what they teach in the field.
"I really enjoy what they have to say, where they go, and they want to engage every stakeholder," Hyzak said. "They get military, law enforcement, academia types, everyone who is in the game. They have them there and they want to hear what they have to say and get that dialogue going."
Hyzak is one of three members with military experience. Another one, James Centeno of Oahu, Hawai'i, spent 10 years traveling the globe while serving in the Army. During that decade, he saw that global diplomacy was possible through continued dialogue.
"The military gave me the ethos of personal courage and selfless service which influenced my decision in pursuit of the MS Conflict Management and Resolution," Centeno said. "When you validate human voice, you also validate their own existence where the theory and learning from the Kroc School of Peace and Justice will create a dovetail effect on an active practice being an agent of social change and voice of the people."
Hyzak is in an occupation where conflict resolution or management of conflict has or will come into play. "They want to have someone who is already entry-level or midstream like myself so you can take your foundation, your bachelor's degree (Hyzak's is in criminal justice) and your work experience and apply it all here. You come here having some direction and having some ideas of where you want to resolve conflict."
Currently, Hyzak is a Maritime Law Enforcement Specialist, conducting interdictions in areas rife with unlawful activities and smuggling. As Deployable Specialized Forces, he's served with Maritime Safety and Security teams in San Francisco and Los Angeles. His experiences include law enforcement, boarding subject matter expert and coalition building with Iraq training and advisory missions. He's assisted in supervising Law Enforcement Detachments regarding governmental policy and training. He has been recognized multiple times for his work that has taken him to West Africa, Iraq and to assist with Deepwater Horizon in the Gulf of Mexico.
Although the first semester is only a few weeks in, Hyzak's belief in what he's learning is already paying dividends. He communicated with Kroc School Associate Professor Ami Carpenter, who is teaching a Conflict Analysis Prevention Resolution course, about connecting a person he knows to the San Diego Police Department. Hyzak, who has done volunteer experiences within the San Diego Police Department's Gang Unit, told Carpenter, an adviser for the San Diego Commission on Gang Prevention and Intervention, of this possibility.
"I was interested for the person to have a dialogue with the police department. When I asked him, he said he couldn't see the value in it and I think it takes someone in the Conflict Management and Resolution program to see the value of two parties talking and having a good dialogue."
Centeno likes the degree program's ability to leave an impact the cohort. "The class offerings, fellow scholars in the cohort have shared differences from their background, both personal and professional. However, the differences we shared gave me an opportunity to share the same commonality in the consuming passion of social change where people, process and the position in our era of negative rhetoric can extend our resilience in presenting future generations a better place than we found them."
The new degree is part of the vision that Kroc School Dean, Dr. Patricia Marquez, sees to sharpen the skillset for those in the workforce where conflict is at the forefront.
"We have to focus on generating the skills for the effective management and transformation of conflict across our global society," Marquez said. "Creatively managing conflict in all of its complexities to build positive solutions at scale is essential to the mission of the Kroc School."
She believes the inaugural cohort can set a tone for those who follow. "This cohort seeks to grow as professionals committed to managing conflict effectively in groups, communities and organizations operating in a wide range of sectors."
Having the support of professors, including Carpenter, Meade, and a new faculty member, Assistant Professor Philip Gamaghelyan, PhD, who is focused on conflict analysis and resolution, is a valuable resource.
"The professors really do make every attempt to get to know their students here. They really want to help build you out and build you up," Hyzak said.
And don't forget the Kroc School alumni who've been through the coursework, the capstone, the research and the readings, and are now using their degree to make a difference.
Hyzak might have learned about the Kroc School while doing yoga, but he also, recently, took special interest in listening to a Navy Chaplain and Kroc School alumnus.
"He talked about what he had learned here and how he's now used it when he advises JOs (junior officers). I will be in a similar position in the Coast Guard. I still have opportunities to be deployed abroad, maybe back to Africa or the Middle East, so having these kinds of things and these experiences really help because it gives you a platform to speak from."
— Ryan T. Blystone