New Master's in Business Analytics Offers Professionals Sharper Insights for Smarter Business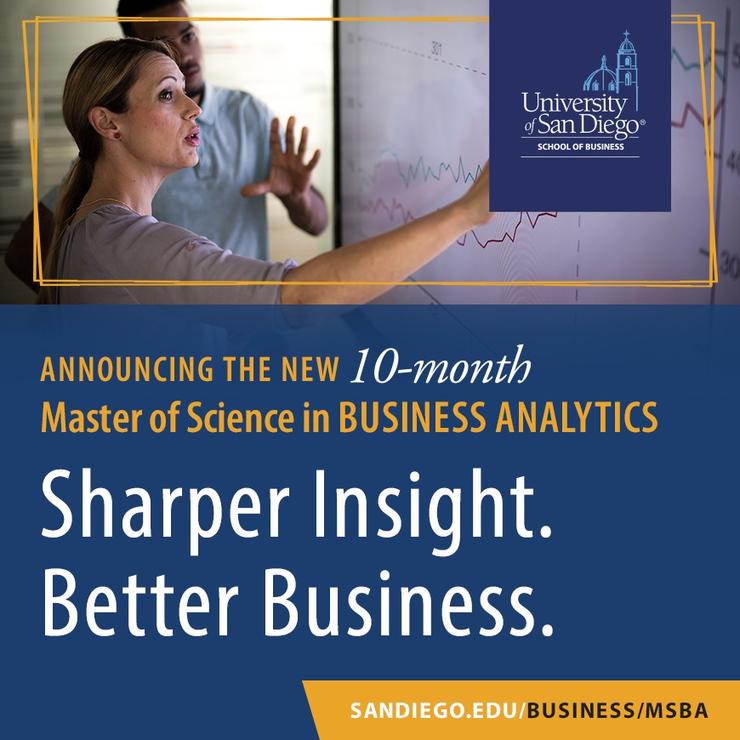 To succeed in today's marketplace, businesses and organizations need professionals who are well-versed in both data analytics and business acumen. A new STEM certified Master's in Business Analytics program offered by the University of San Diego School of Business can equip professionals with those skills.
"Whether you need to make a business run more efficiently, provide suggestions for policymakers on how a government agency could reduce its environmental waste or guide a nonprofit toward new operations that broaden its impact, our new master's in business analytics will empower you to use business data and information in the smartest way possible," said USD School of Business Dean Jaime Gómez.
Accounting, finance, marketing and supply chain management are all areas in which analytics skills to innovate and solve critical problems are in high demand. According to the California Employment Development Department, the number of professionals employed as "market research analysts and specialists" is projected to grow by 40 percent or 29,000 jobs by 2022.
"We have worked closely with business leaders to create a program that will teach professionals to understand and communicate easily with both management and statisticians, clients and programmers," said Gómez.
USD's program is holistic, offering professionals solid analytics skills as well as the soft skills required for problem-solving in the workplace, including communication, creativity and collaboration.
Applications are now being accepted for the STEM-certified program that begins in August 2019 and can be completed in 10 months. The program also includes a consulting project abroad during USD's January intersession. To learn more, including information about scholarships and financial aid available, go to www.sandiego.edu/msba.