USD Athletics Roundup: Volleyball, Football, Women and Men's Soccer, Cross Country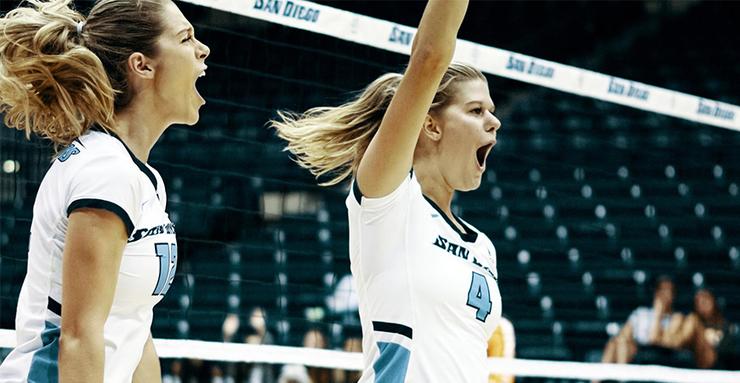 The University of San Diego women's volleyball team's record reached the .500 mark overall at 7-7 and improved to 4-1 in West Coast Conference play by winning three WCC matches, including two at home, in a span of five days.
The victories, coming in five days, consisted of a four-set road win against Loyola Marymount on Sept. 25 and a pair of home sweeps against Portland and Gonzaga on Sept. 27 and 29, respectively. The 3-0 week served as a crucial boost for the Toreros. This week, USD plays at crosstown rival San Diego State, 6 p.m. on Tuesday, and then hosts the nation's No. 1 team and WCC title favorite, BYU (15-0, 5-0 WCC), Friday night at 7 in the Jenny Craig Pavilion. Last season, USD and BYU were WCC co-champions.
The win against LMU, with scores of 25-22, 19-25, 25-21, 25-20, was highlighted by a career-high blocks night for Addie Picha. The 6-foot-2 middle blocker earned 12 of USD's 13 blocks in the match. Three Toreros had double-digit kill totals, too. Lauren Fuller led the way with 12 and Roxie Wiblin and Katie Lukes each had 10.
Two days later, inside the JCP, the Toreros defeated Portland easily, 25-19, 25-19 and 25-10. Fuller again led the Toreros with 15 kills. Megan Jacobsen and Lukes each had eight kills and three blocks. Picha had six blocks to lead USD.
The week closed with USD trouncing Gonzaga 25-12, 25-22 and 25-11 in the JCP. Jacobsen and Lukes each had 10 kills to lead the Toreros. Fuller had seven kills and five blocks while Wilbin had seven kills.
Next Matches: USD at San Diego State, Tuesday, 6 p.m.; USD hosts No. 1 BYU, Friday, 7 p.m., Jenny Craig Pavilion.
The Torero football team snapped a two-game losing streak thanks to a return to a place of dominance as Pioneer Football League play opened successfully for USD in a 49-10 home victory over the visiting Stetson Hatters.
Quarterback Anthony Lawrence directed the Torero offense, accounting for 450 offensive yards, including 425 passing yards, four passing touchdowns and a run for another score. Lawrence, who completed 27 of 32 passes, moved into second place all-time in the USD record book for passing yards with 9,772 yards. His total moved him past Josh Johnson (2004-07) who had 9,699. Lawrence was named the PFL's Offensive Player of the Week.
Against Stetson, Lawrence threw touchdown passes to Michael Bandy (two), Christian Brooks and Dalton Kincaid. Lawrence's rushing touchdown came in the first quarter. Terrence Smith also had two rushing touchdowns.
USD led 28-0 in the second quarter before Stetson scored its lone touchdown. It was 42-7 before Stetson added a field goal early in the fourth quarter.
The victory kept three streaks alive for the Toreros: USD has now won 18 straight home games, 22 straight PFL wins and 31 straight home PFL victories.
Next Game: USD at Morehead State, Saturday, 9:05 a.m. (Pacific), Morehead, Ky.
West Coast Conference play opened this past Thursday and Sunday for the USD women's soccer team and while there were positives accomplished in a home match against Portland and then against Gonzaga, the Toreros came up empty in the win column.
The tough Portland Pilots came into their match with USD having not given up a goal over a span of nearly 300 minutes. While Portland scored the game's first goal two minutes in, USD's leading scorer, Milan Moses notched her eighth goal of the season, this time on a penalty kick in the 63rd minute. The goal snapped Portland's shutout streak at 347 minutes.
Tied 1-1, USD, however, gave up three second-half goals, including two after USD's Kelley Carusa earned a red card, forcing USD to play a player down the rest of the contest. Portland was able to secure a 4-1 win in the WCC opener for both teams.
A 3-2 double-overtime loss to Gonzaga occurred on Sunday at Torero Stadium. Gonzaga scored first, followed by USD's Moses tallying her ninth goal of the year in the 59th minute. Gonzaga regained the lead in the 76th minute, but Katie Lapomarda's goal to tie the game at 2 happened in the 80th minute.
The teams battled in overtime until Gonzaga's Jodi Ulkekul's second goal of the game occurred in the 103rd minute to send USD's record to 4-6-1 overall and 0-2 in WCC play.
Next Matches: USD hosts BYU, Saturday, 7 p.m., Torero Stadium.
The lone match of the week for the USD men's soccer team was the nonconference schedule-closing meeting on Sept. 28 against UC Riverside.
The Toreros fell, 2-0, to the Highlanders in a tough, physical game at Torero Stadium. UC Riverside scored goals in the 20th and 70th minute, but both came after USD's Chris Tobler was issued a red card in the 19th minute, thus leaving USD short a player for the rest of the game.
UC Riverside outshot USD 10-5 in the game, including 7-1 in the first half. USD's record fell to 4-5-2 as West Coast Conference play begins next weekend.
Next match: USD at San Francisco, Sunday, 2 p.m., San Francisco (WCC Opener)
Cross Country — Men and Women
The men's cross country team finished 16th out of 44 teams in the 8K Brown race at the Paul Short Invitational held in muddy conditions in Bethlehem, Pa., and hosted by Lehigh University.
Nic Dinsdale led the way with a time of 26 minutes, 7 seconds, finishing 56th out of 360 runners. Jackson Pearce was the next USD finisher in 26:36 and Ethan Steiner followed with a time of 26:41. Isaiah Quiambao was next at 26:42 and Marcus O'Leary was USD's fifth runner to cross the finish line.
Meanwhile, the women's 6K Gold cross country race saw USD finish 22nd out of 45 teams. Leading the Toreros was Hannah Rasmussen who finished in a time of 21:36 for a 34th-place finish among 400 runners. The next three USD runners finished only eight seconds apart. Natalie North-Cole finished in 22:23, followed by Madison Lambros in 22:26 and Zani Moore in 22:31.
Next Race: USD teams run at UC Riverside Highlander Invitational, Oct. 13, Riverside.
For More USD Athletics Information
Keep up with all USD Athletics news, scores and information at its newly redesigned website. Follow the Toreros on social media: Facebook, Twitter and Instagram.