Humanities Center, Brian Clack Receive $1.5 Million A. Vassiliadis Directorship Gift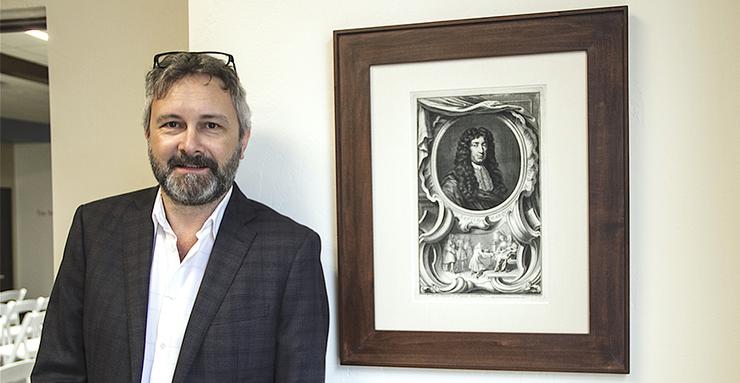 The Humanities Center, which in just two short years has made quite an impact on the University of San Diego campus community through its varied programming, has received a generous $1.5 million gift by way of the College of Arts and Sciences to establish the A. Vassiliadis Director of the Humanities Center.
The gift, given by Carol Vassiliadis, ensures that funding for the Humanities Center, and for the center's director, Brian Clack, PhD, is fully supported.
"The gift from Mrs. Vassiliadis is a testament to the excellent and expansive programming our Humanities Center offers faculty, staff, students and the community," College of Arts and Sciences Dean, Noelle Norton, PhD, said. "The Center only opened on October 13, 2016 and it is already a vital part of campus life. This gift will assure that the Center continues to operate in perpetuity."
As a result, Clack, a USD philosophy professor since 2007 and the center's inaugural director, has been chosen by Norton as the directorship's inaugural recipient.
"As its founding director, Dr. Clack has done a remarkable job developing a thriving center for faculty, students and staff. His work over the past two years will be appropriately recognized by offering him the first distinguished directorship," she said.
Clack, deeply appreciative for Vassiliadis' gift and critical support of humanities education and the work that's been done through the center, feels validated.
"It's a total delight for all sorts of reasons," he said. "It's such an affirmation, a vote of confidence in what we've done. A lot of people appreciate and recognize what's been achieved by the center and the team of us who've been working on it. To have the work recognized by Carol with another donation is a way of saying, 'Yeah, you got this right.' Looking forward, those funds coming off the endowment can be used to extend our programming, deepen things, keep things going. It gives us an extraordinary permanence on campus."
The center, located in Serra Hall 200, has hosted and sponsored hundreds of events in its first two years. It has provided a number of faculty members the chance to share their expertise on a wide variety of academic and cultural topics as well as a forum to offer programming around current events.
One of the most significant series currently is the center's focus on "beauty, goodness and truth," traits dear to university co-founder Mother Rosalie Hill, and used to describe her vision of education. A semester series on beauty took place last spring. This fall, at 4 p.m. each Tuesday beginning Sept. 25, there will be a series that examines goodness through multiple lens. Other event highlights include a once-a-month live storytelling/podcast series called "More Human," faculty and guest speaker lectures, art exhibitions and digital humanities classes and events.
"I had dinner with a parent just last week and she recounted how her son called and was overjoyed about two Humanities Center lectures he had attended with the first week of the semester," Norton said. "It is delightful to know that even the newest members of our community find sparkling ideas in Serra 200."
The new gift is the second Humanities Center-focused gift provided by Mrs. Vassiliadis. In 2016, she donated $500,000 to assure construction of the center and to name its open space as the Vassiliadis Family Salon.
Upon presenting the initial gift, Vassiliadis stated her reasons for giving. "I am a great believer in a classical approach. The humanities are the core of every fine university and round out the student experience, putting everything they've learned into perspective."
Clack's vision for the center in 2016 had four primary thrusts: collaborative research; digital humanities; interdisciplinary curriculum development and public humanities. He saw the center as a way to support unique opportunities for faculty engagement with undergraduate students and to have San Diego community members engage with the center.
"It's been such a patented, vibrant program of events, projects, opportunities for students, outreach into the community and the exhibitions have been astonishing, breathtaking, really," said Clack.
The endowment agreement specifies that the director will work with the Dean of the College of Arts and Sciences to further develop and extend the center's mission. Among other responsibilities, the agreement outlines that the director will seek collaborations with on- and off-campus partners, advocate for the humanities, and oversee administrative personnel. The directorship is a six-year term that begins Fall 2019. After this term ends, the CAS Dean will be responsible for either reappointing or filling the position.
The gift, in Norton's view, supports the pathway goal when the center first opened.
"We believe an understanding of history, art, philosophy, literature and language is relevant for all citizens. In order to make reasonable, ethical and informed life choices as individuals and members of local and global communities, we need to think broadly and inclusively about our place in the universe," Norton said in 2016. "Our plan is to help our students connect the liberal arts: past, present and future."
— Ryan T. Blystone