USD Athletics: Volleyball, Soccer, Football, Cross Country, Swimming, Basketball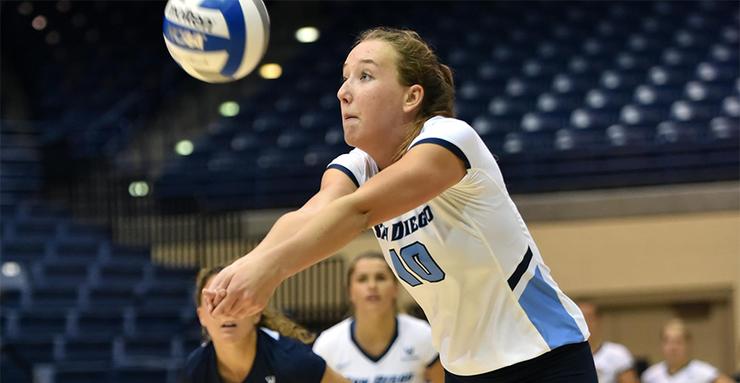 West Coast Conference play is where the University of San Diego women's volleyball team has typically done some of its best work. They've won 10 WCC titles, been to the NCAA postseason 21 times and they always play a strong nonconference schedule to test themselves against some of the nation's best. The tradition and the experience the program has under longtime head coach Jen Petrie helps when they enter WCC play.
But on Sept. 20 in their WCC opener at the Jenny Craig Pavilion, USD lost to Saint Mary's in five sets, 25-22, 20-25, 22-25, 25-20, 16-14. Roxie Wilbin had a career-high 20 kills, 12 digs and two blocks, Megan Jacobsen had 13 kills, Lauren Fuller had 11 and Addie Picha had 10 kills and five blocks in the marathon match. But it wasn't enough against the Gaels. Three Saint Mary's players, Lindsey Calvin, Sienna Young and Lindsey Knudsen accounted for 46 of 61 match kills.
Two days later, USD did regroup and cruised to a 3-0 sweep at home against Pacific. In that match, the Toreros won 25-17, 25-22, 25-19. Leading them was Fuller with 13 kills, Picha with 10 and Katie Lukes had seven. Jacobsen had a team-high five blocks and Picha had three.
The WCC split results gave USD a 4-7 overall record and 1-1 in the WCC. The Toreros, defending co-WCC champs, are entering the tough stretch of their 2018 schedule. They play three WCC matches in six days this week (one road, two at home), then play at crosstown rival San Diego State Oct. 2. USD's first meeting with conference favorite BYU is Oct. 5 at home.
Next Matches: USD at Loyola Marymount, 7 p.m. Tuesday, Los Angeles; USD hosts Portland, 7 p.m. Thursday, Jenny Craig Pavilion; USD hosts Gonzaga, noon Saturday, JCP.
The women's soccer team split its final two nonconference games as it prepares for West Coast Conference play Thursday.
USD got a hat trick from standout redshirt junior forward Milan Moses in a 3-1 home win over Cal State Fullerton on Sept. 21. On Sept. 23, the Toreros rallied for a second-half goal by Summer Mason, but host UC Irvine prevailed 2-1.
Mason's goal, her third of the season, came in the 76th minute when she took a shot, collected the rebound and then scored. UCI scored its two goals in the 24th and 27th minute. The Irvine result gave USD a 4-4-1 record in nonconference play.
The win over Fullerton was fueled by Moses, who leads the Toreros with seven goals and 16 points in her first season with USD after transferring from San Diego State. Fullerton scored the first goal in the 21st minute, but Moses scored twice in the first half — at the 23rd minute on a penalty kick and then off an assist by Lauren Foehr in the 42nd minute. Moses closed out the scoring in the 69th minute on an assist from Emma Barrow.
Next Games: USD hosts Portland, 7 p.m. Thursday, Torero Stadium; USD hosts Gonzaga, 1 p.m. Sunday, Torero Stadium.
What began as a tough week when the USD men's soccer team dropped a 4-0 nonconference decision at home on Sept. 19 to visiting Seattle University, ended on a positive note when USD edged Cal State Northridge, 1-0, on Sept. 23.
Miguel Berry's second goal of the season came in the 82nd minute against Northridge when he threaded a pass by Reuben Dass through three defenders off the left post and into the net. It was a game in which USD was outshot 17-6, but the defense did its job. Goalie Matt Wiher had a career-high eight saves, including two in the game's final 10 minutes to preserve the win for USD (4-4-2).
In the loss to Seattle, the Redhawks scored two goals each half and outshot USD, 19-3.
Next Game: USD hosts UC Riverside, 7 p.m. Friday, Torero Stadium.
The USD football team begins defense of its Pioneer Football League title, one they've earned four times in a row and six of the past seven years. In each of the last two seasons, USD has gone 8-0 in PFL play.
The team kicks off PFL action at home in the Brian Fogerty PFL Classic against Stetson at 2 p.m. Saturday in Torero Stadium. The Fogerty game honors USD's retired and winningest head football coach.
Current head coach Dale Lindsey will bring his team into this week's game looking to break a two-game losing streak and improve on its 1-2 overall record. USD, which had a bye last week, won its Sept. 1 opener at home against Western New Mexico, but the team suffered back-to-back road losses Sept. 8 at UC Davis and Sept. 15 at Harvard.
Saturday's game is also a chance to extend two amazing streaks: USD has won 21 consecutive PFL games and has a 31-game league win streak at home. Lindsey has not lost a PFL game at home as head coach.
Next Game: USD hosts Stetson, 2 p.m., Saturday, Torero Stadium.
The USD men and women's cross country teams travel east this week to compete in Saturday's annual Paul Short Invitational meet in Bethlehem, PA, which is hosted by Lehigh University.
"It's one of the elite races in the nation and it gives us a chance to take a group out there, compete against some of the best, showcase our talent and it gives our athletes a completely different look," says head coach Will Guarino.
The USD teams are coming off a strong performance at its own USD Invitational on Sept. 15 where the women won the team title and Hannah Rasmussen won the 6K race. The men's team finished third in it 8K race.
Guarino saw that race and this week's race as opportunities for growth. He said the teams put in "10 days of hard training" heading into the Pennsylvania race.
Next Meet: USD teams at Paul Short Invitational, 6:30 a.m. (Pacific time), Bethlehem, PA.
The USD swim team received strong efforts from Danielle Taylor and Alex Hubel, but visiting Washington State edged the Toreros, 129-122, in a Sept. 22 meet at USD's Sports Center pool.
Hubel took first in two butterfly events, the 100 fly and 200 fly, and was out-touched by just eight one-hundredths of a second to finish second place in the 50 freestyle. Taylor had three top three finishes, including a win in the 200 free. She was second in the 100 fly and 100 free.
In the 400-free relay, USD's "A" relay team was second as Hubel, Maeve Murdoch, Mackenna Briggs and Taylor were edged by WSU, 3 minutes, 32.88 seconds to USD's 3:33.30.
Isabel Busyn of USD won two diving events to contribute 18 points to USD's team point total.
Next Meets: USD vs. USD Alumni Homecoming Meet, Saturday, Oct. 13, 10 a.m., Sports Center pool; USD hosts UC Davis, Saturday, Oct. 20, Sports Center pool.
Men's Basketball, Women's Basketball
The complete nonconference schedules for USD men and women's basketball teams have been revealed. Both programs will have stellar competition prior to the always tough West Coast Conference game slate.
Men's Basketball: There will be 15 games, eight at home, seven on the road for Coach Sam Scholl's team. The schedule: Nov. 6 USD vs. Weber State; Nov. 9 USD at UC Davis; Nov. 12 USD at Washington; Nov. 15 USD hosts San Diego Christian; Nov. 20 USD hosts Colorado; Nov. 24 USD hosts Jackson State; Nov. 28 USD at Ole Miss; Dec. 1 USD hosts Long Beach State; Dec. 5 USD at San Diego State; Dec. 9 USD hosts Cal State Northridge; Dec. 12 USD at Oregon; Dec. 15 USD hosts Northern Colorado; Dec. 22 USD vs. Washington State (Las Vegas); Dec. 23 USD vs. New Mexico State/Drake winner/loser; Dec. 29 USD hosts Grand Canyon. The men's team opens WCC play Jan. 3 at Santa Clara.
Women's Basketball: The team will play 11 nonconference games, seven at home and four on the road, prior to WCC play beginning Dec. 29 at the University of San Francisco. The schedule: Nov. 11 USD hosts Hawai'i; Nov. 17 USD at Minnesota; Nov. 23 USD hosts Cleveland State; Nov. 24 USD hosts Cal; Nov. 28 USD hosts San Diego State; Dec. 1 USD hosts Dartmouth; Dec. 6 USD at Long Beach State; Dec. 10 USD hosts Cal State San Bernardino; Dec. 15 USD at Univ. of Texas San Antonio; Dec. 21 USD hosts San Jose State.
For More USD Athletics Information
Keep up with all USD Athletics news, scores and information at its newly redesigned website. Follow the Toreros on social media: Facebook, Twitter and Instagram.