Mass of the Holy Spirit Serves an Important Purpose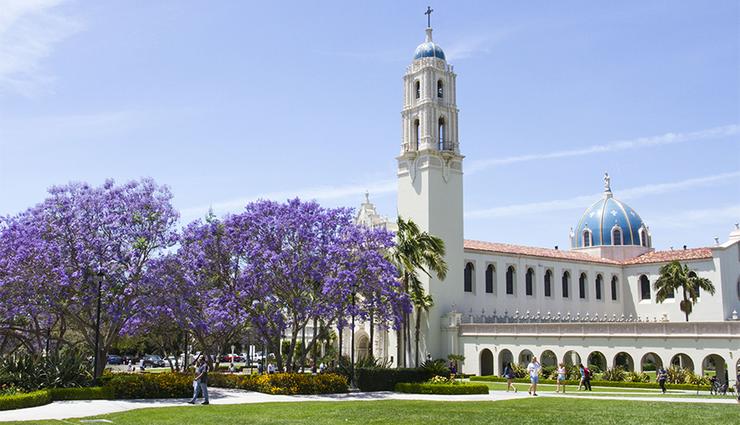 The traditional last event to usher in the realization of a new academic year took place inside The Immaculata Catholic Church on the University of San Diego campus Thursday.
The annual Mass of the Holy Spirit, this time presided over by San Diego Catholic Diocese Auxiliary Bishop and USD alumnus, Most Rev. John P. Dolan, enabled a campus community of students, staff, faculty, administrators and alumni to center themselves for the new academic year and to take to heart the importance of the "spirit of truth, love and mercy."
The mass offered a reading from Rick Virgin, USD's new vice president of University Advancement and a gospel reading by Deacon Jeffrey Burns, USD's director of the Frances G. Harpst Center for Catholic Thought and Culture. Following Bishop Dolan's homily, USD students Austin Juarez and Katherine Hawkyard, both graduating seniors in the class of 2019, spoke the prayers of the faithful. Throughout the mass, the Annette Welsh-directed Founders Chapel Cantor Ensemble played beautifully. The inclusive nature of Mass of the Holy Spirit included the Liturgy of the Eucharist with three USD employees, Joel Contreras in building maintenance, Jaime Juarez from grounds maintenance and Giselle Sanchez from facilities management, serving as gift bearers.
Thursday's mass was also unique in that part of its tradition is to have USD administrators introduce and to encourage the campus community to bless the new academic year's undergraduate student government leaders in Associated Students and graduate student representatives from their respective schools.
The student leader blessing tradition was welcomed warmly by graduating senior Natasha Salgado, who is serving as 2018-19 AS President.
"The Mass of the Holy Spirit is a great celebration of solidarity of the community, not just for acknowledging students, but to be with the staff and faculty who have helped get us to where we are right now," Salgado said. "It's a beautiful celebration. As a Catholic, I always enjoy coming to Mass and enjoy the ability to just enjoy ourselves and the time, to be thankful and full of joy as we come together in community."
Salgado felt the message of the Holy Spirit was important and believed it was embraced by her fellow student leaders.
"The message of the Holy Spirit is about the identity of love and mercy that comes with understanding empathy, especially in the role of student leader," she said. "There's a mixing of identities, because being a leader is being in a hierarchy position, but at this mass, the message it brings us is to understand that as a leader you are there to be with your community, to stand in solidarity with your community and you're no higher than your community. Being embedded with the community, you're there to advocate and act as a vehicle for change for students, staff and faculty who want to see something different, to see something intentionally. Being able to have the characteristics and to act on the love, mercy and forgiveness is what I and what I hope our student leaders took away from the mass."
— Ryan T. Blystone
Prayer to the Holy Spirit (spoken by all during the mass)
Breathe in me, Holy Spirit,
so that throughout this academic year,
my thoughts may be guided by your wisdom.
Act in me, Holy Spirit,
so that my life may further God's reign.
Fill my heart, Holy Spirit,
so that I may love with great compassion.
Strengthen me, Holy Spirit,
so that I may defend the poor and vulnerable.
Embolden me, Holy Spirit,
so that my life may be a witness to your truth.
Preserve me, Holy Spirit,
so that I may always remain receptive to your
energizing, transforming grace.
Amen.
Adapted from a prayer by St. Augustine.