Undergraduate Students Present Projects at Aug. 9 Summer Research Colloquium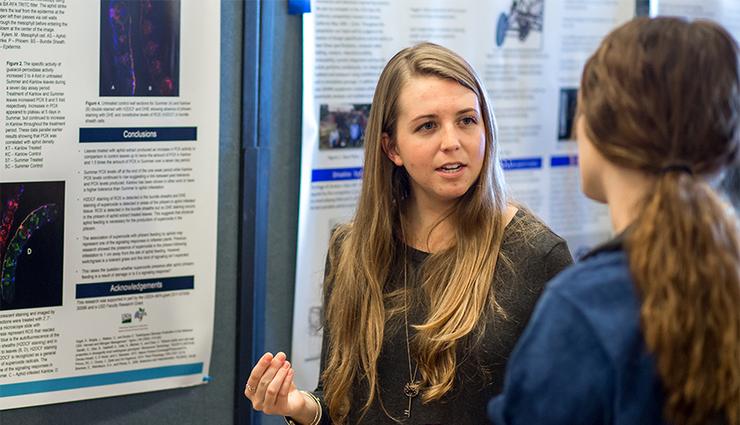 One hundred thirty-two University of San Diego undergraduate students this summer have been spending much less time at the beach and more of it in faculty-led campus labs and spaces, devoting themselves to research projects that run the academic gamut.
From 9 a.m. to 3 p.m. on Thursday, August 9 in the Joan B. Kroc Institute for Peace and Justice, 56 projects on subjects such as life, physical and social sciences, humanities and creative works, engineering, math and computer science will be presented at the 2018 Summer Research Colloquium, an event that is co-sponsored by USD's Office of Undergraduate Research, USD McNair Scholars and USD Associated Students.
Following a short welcome and introduction program in the KIPJ Peace and Justice Theatre, current USD students who are McNair Scholars, recipient of a Summer Undergraduate Research Experience (SURE) grant, are a Beckman Scholar, a National Science Foundation-funded recipient, are visiting undergraduate research students or are incoming USD students through the Pre-Undergraduate Research Experience (PURE) program will present their respective research projects in KIPJ's A, B, C or D conference rooms throughout the day. All presentations are free to attend and are open to the public.
There is a lunch break from noon to 1:15 p.m. and there is a student-only end-of-summer reception will take place for all Summer Scholars in the KIPJ's Garden of the Sea area at the conclusion of the presentation schedule.
Project presentation rooms are broken down by subject. Conference Room A features students presenting on Life and Physical Science topics; Room B is for Social Sciences; Room C is for Humanities and Creative Works; and Room D is for Engineering, Math and Computer Science and additional Life and Physical Sciences projects.
The Summer Research Colloquium will give some USD students a chance to hone their research talk if they are also presenting at the annual UC San Diego Summer Research Conference, taking place this year on Aug. 16-17 at the UCSD Price Center.
— USD News Center