"Take it Easy Ted" Gosen Retires from USD Athletics after 37 Years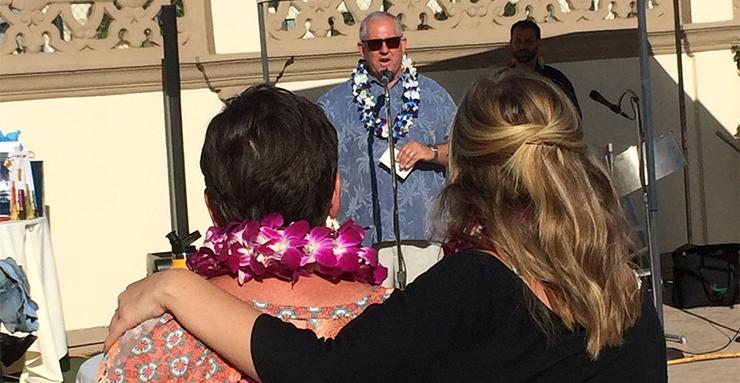 Ted Gosen is one of nine children. "A good Catholic family," he jokes.
So when Gosen, at the age of 23, was offered a job at Roman Catholic University of San Diego, the opportunity extended by Father Patrick Cahill, you can imagine the joy his parents felt.
"To be offered a job by a Catholic priest, at a Catholic university," says Gosen, "to my parents it was like I'd been ordained in the priesthood."
Gosen is 60 years old now and after 37 years of working in athletics at USD, of writing press releases, hopping on planes, watching thousands of baseball, basketball and football games, golf matches and every sport USD offered, he's retiring from an athletics communication job that was never a job.
Over a recent lunch, Gosen says, "I can honestly say this. I never had an argument with a coach in 37 years."
Hence, Gosen's nickname: "Take It Easy Ted."
The athletic department tossed a retirement party for Gosen and it was fittingly held on the USD pool deck, about a corner kick from the offices that Gosen holed up in throughout his USD career. For most of Gosen's tenure he shared an office with his staff next to the stage in the 1950s-vintage Sports Center.
Marcy Lanoue, barely into her second year as Senior Associate Director of Athletics for External Affairs/SWA, joked that it took her a week on the new job to find Gosen's office. And that's how the humble man from Fremont, California, preferred his role at USD — behind the scenes.
The dress code for Gosen's retirement party was Friday casual, specifically Hawaiian-print shirts. A two-person band played Calypso music. About 100 people showed up on a sun-splashed afternoon. Gosen was joined by his wife of nearly 32 years, Terri, and three of their four daughters: Colleen, Claire and Erin. The Gosens' oldest daughter, Katie, couldn't attend. She works at Our Lady of Peace, a girls' Catholic high school, and was working with students on a trip to Peru. Terri and all four daughters are USD graduates.
There was food and drink and cake at the party. And stories.
Former USD Athletic Director Ky Snyder, now Vice President of University Operations, relayed well wishes and playful digs from numerous coaches who couldn't attend. Among those Snyder quoted were:
• Former USD basketball player and assistant coach David Fizdale, who was recently named head coach of the New York Knicks, said, "I never in all my time at USD ever saw Ted have a bad day. You are the embodiment of what a Torero is."
• Former USD head basketball coach Bernie Bickerstaff praised Ted and Terri, saying "They represented what was best about the university - loyalty, fairness, work ethic and character."
• Former Toreros head basketball coach Bill Grier, jokingly highlighting Gosen's never-fluster style, relayed, "I was surprised to hear there was a retirement party for Ted. I thought he retired 15 years ago. At his most stressed moment of a deadline there is no way his heart rate was higher than 60 beats per minute." Turning serious, Grier added, "I doubt I've ever come across a more positive person, no matter the situation."
• Former Toreros head football coach, Ron Caragher, said, "In six years of working with Ted at USD, I never saw him once get rattled. It is safe to conclude that he is the calmest man in the world."
Gosen modeled his calm demeanor after his late father, Jack Gosen, who was a cartographer for the U.S. Geological Survey.
"I just watched him every day go to work, put in a good day's work, take care of his family, go to church every Sunday, respect everyone," says Gosen. "He was so kind to everyone. I got that ingrained in me, seeing it every day."
Jack Gosen retired at 58 while four children still lived at home. "He had a longer retirement than his work career," says Ted. "That's my goal."
In 1967, the Gosens loaded all nine children in a station wagon, pulled a family tent trailer and embarked on a five-week vacation. They visited family in Missouri and Minnesota, then played tourists on the drive home.
"We stopped at everything," Ted recalls. Stops included Mount Rushmore and Yellowstone National Park. The family pulled off the side of highways and Ted's late mother, Adaline, whipped together sandwiches. Soft drinks were pulled out of a cooler.
"You talk about a calm guy," Gosen says of his father. "I do not remember him once yelling at us (on the vacation). I asked him about that. He said, `I'm not going to spend my vacation getting mad at you kids. I can do that at the house.'"
Jack Gosen passed away last September, the day after his 93rd birthday. Adaline Gosen died in February. She was 89.
Years later, Ted and Terri replicated that vacation with their four daughters, using the same tent trailer Ted shared with his eight brothers and sisters.
Ted and Terri's four daughters not only graduated from USD, there were times when they were virtually raised on the picturesque campus overlooking Mission Bay and the Pacific Ocean.
During summers Ted often brought the girls with him to work early in the morning, letting them play in the gym, swim in the pool and cruise about campus on the tram.
"It's not like I sent them off and said, `Be back by 5,'" says Gosen in his self-deprecating style. "I fed them lunch."
Gosen played basketball at Ohlone Community College in Fremont. Owing to that sports backdrop, some of his favorite USD memories involve Toreros basketball. Jim Brovelli taking the men's team to its first NCAA Tournament appearance in 1984 against Princeton at the Palestra in Philadelphia. Upsetting UConn in the 2008 NCAA Tournament in Tampa. Taking daughters Katie and Colleen to South Bend, Indiana, when the women's team played Notre Dame.
"To be able to experience that with them," Gosen said, "was pretty cool."
Gosen's last day on the job will be June 15. That same day, Terri retires as a teacher at Garden Road Elementary, the school barely a five-minute walk from their home in Poway.
He says they plan to ease into retirement. He wants to hike and lose a few pounds. There's the annual summer camping trip, family to visit up and down the coast. Terri wants to see New England in the fall.
The man has been loyal to USD. He loathes clothes shopping and solved the wardrobe dilemma by wearing a Toreros polo to work nearly every day. He forbid one daughter's boyfriend, a San Diego State grad, from wearing red and black in their home.
He will not make himself a stranger, promising to attend some USD home games. "I'm looking forward to being a fan," he says.
No doubt, come late afternoon on the 15th, "Take It Easy Ted" will get a lump in his throat, maybe tears will well in his eyes, as he fiddles about his office, saying goodbye to the place and people that have been a second home.
"One thing about USD, from the administration on down, the university always just had great people," says Gosen. "The administrators hired great coaches, who recruited outstanding kids. It made my job easy."
Pausing for a moment, he adds, "I'm just so blessed that I was able to work there for so many years."
— USD Athletics