Torero Athletics: Class of 2018 Student-Athletes Honored; Roundup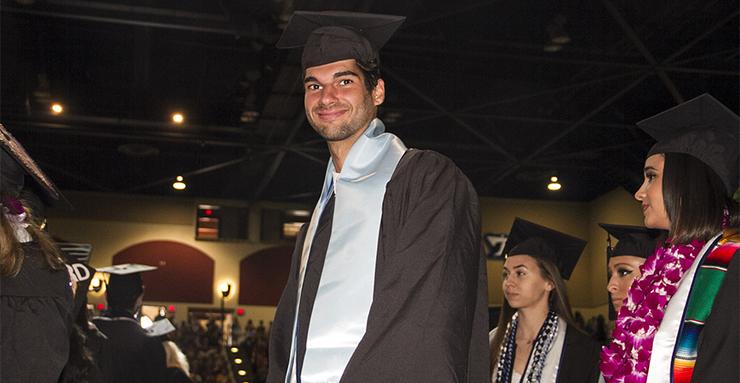 One of, if not the, best days in all University of San Diego students' lives is graduation day. This past Friday night, two days before 85 student-athletes walk across the Jenny Craig Pavilion stage, USD Athletics honored all graduating seniors — including Maya Hood, who graduated May 20 with a master's degree from School of Leadership and Education Sciences — during a special ceremony held in Shiley Theatre.
All graduating student-athletes — some completed their degree requirements after the fall semester, most finished this spring and still others will finish over the summer — received a special graduation stole from their coaches as well as a senior class ring.
Among the student-athletes who graduated during Sunday's undergraduate ceremonies were football's Max Michaels and Jonathan Petersen, volleyball's Kristen Gengenbacher and Jayden Kennedy, men's basketball's Cameron Neubauer, women's basketball's Aubrey Ward-El, men's tennis' Alex Araouzos and baseball's Daniel Gardner.
Hood, who earned her BA in 2017, received an NCAA medical redshirt for a sixth year of playing in the 2017-18 season. She started the graduate degree while she healed last season and completed her master's in leadership studies.
USD men's tennis freshman player August Holmgren's 6-4, 6-4 first-round loss to North Carolina's William Blumberg eliminated the Torero from the NCAA National Championship Singles Tournament, but there was plenty to be excited about in the eyes of USD's head coach, Ryan Keckley.
"August competed extremely well," Keckley said. "It took him some time to fight off the nerves of playing in the NCAA individual tournament as a freshman, but after a few games into the set, he settled into the match. He showed that he could go toe-to-toe with one of the nation's best. That's a big statement for a young player."
Holmgren was ranked 60th in the nation entering the NCAA tournament while Blumberg was ranked third and was the second seed in the tournament. The loss gave Holmgren a 22-9 singles record. Holmgren was an All-West Coast Conference first team selection and was named the WCC Men's Tennis Freshman of the Year.
"To be at this event and to gain this experience is invaluable to his career at USD and beyond," Keckley said. "August has a bright future ahead of him and we are excited to see what another year of hard work can do for his game and for this team."
Holmgren's efforts throughout the season helped the tennis team win the WCC regular-season title, the WCC Tournament title and USD reached the second round of the NCAA Team Championship Tournament.
The men's rowing team will compete in one race category, the Varsity Heavyweight Eight at the Intercollegiate Rowing Association national championships June 1-3 on Lake Natoma, Calif. This is the first time since 2014 that USD's men's crew has competed in the national. ... As summer arrives, so too, do USD sports camps for most any sport and for girls and boys ages 7 to high school played on campus. Go to the website for more information about all USD Sports Camps, call (619) 260-2999 or email sportscamps@sandiego.edu
For all USD Athletics news, scores, features and information, visit their website and follow the Toreros on social media platforms: Facebook, Twitter and Instagram.