Tipping Our Hats
USD's Operation Hat Trick Program Supports Wounded Warriors, USD Student Veterans and Now the Travis Manion Foundation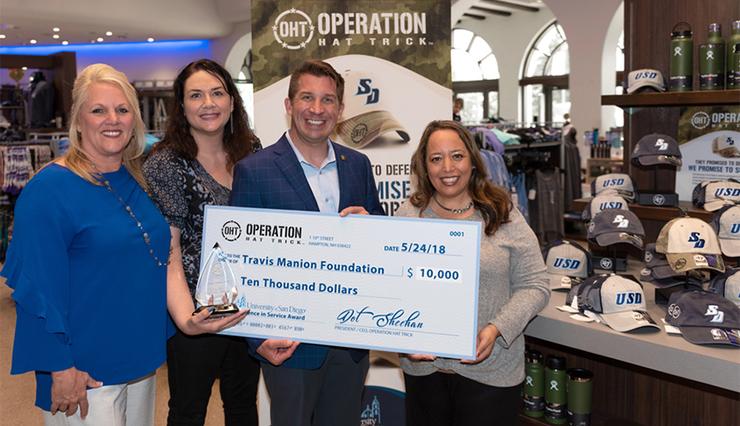 The University of San Diego is proud to announce that it won the national 2018 Operation Hat Trick Service Award, which recognized USD's outstanding efforts to support the recovery of wounded U.S. combat service members and veterans through its sale of USD hats that are co-branded by Operation Hat Trick. In recognition for the award, Operation Hat Trick donated $10,000 to the Travis Manion Foundation on behalf of USD.
The Travis Manion Foundation was established to honor the memory of 1st Lt. Travis Manion, who on April 29, 2007, was ambushed along with his fellow Marines and their Iraqi Army counterparts. Manion was fatally wounded by an enemy sniper while aiding and drawing fire away from wounded members of his team. For his actions, Manion was awarded the Silver Star and Bronze Star with Valor and his legacy continues to grow through the work of the foundation, which inspires people to live with character and make an impact by serving others.
"The Travis Manion Foundation works to unite America's community to strengthen our national character," says West Coast Director Derek Abbey '11 (MA), '19 (PhD), a former director of USD's Veterans Center. "We're going to use this money to support local programming in San Diego and to help our veterans facilitate our character program and strengthen America's national character programs for youth in the San Diego area."
USD launched its partnership with Operation Hat Trick exactly a year ago, on Memorial Day Weekend 2017, to help build momentum for the Founders Gala, which was slated for Nov. 11, 2017 — Veterans Day. The gala raised a record-breaking $1.3 million in net proceeds to support the Founders Endowed Scholarship Fund, as well as establish a new endowed scholarship fund for USD's student veterans. USD's Operation Hat Trick initiative also made it possible to provide $15,000 to USD's Veterans Center to support the needs of its student veterans.
"The University of San Diego is honored to be part of the Operation Hat Trick family. We understand the sacrifices the military makes on a daily basis to keep us safe and free," says Coreen Petti, USD associate vice president for Advancement Marketing and Strategic Partnerships. "So, we join OHT in making a difference in the lives of wounded and recovering service members and veterans. We're proud to help fill some critical gaps in care."
USD offers three OHT-branded hats, which are available at USD's Torero Store. Purchase yours today!