Two Teams Emerge as USD's Global Social Innovation Challenge Finalists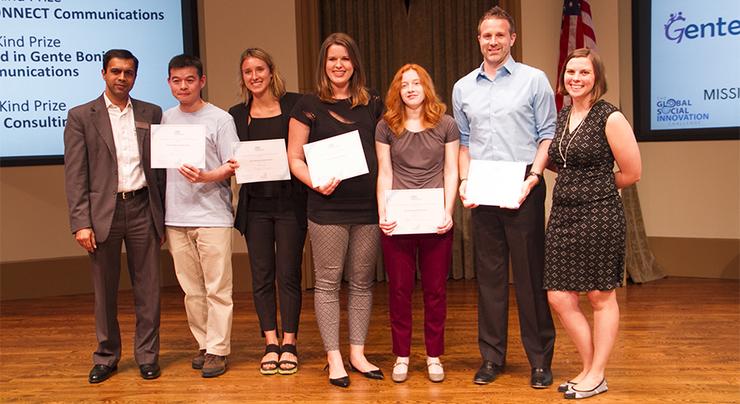 Nineteen semifinalists sought to earn one of only two finalist positions in the USD Center for Peace and Commerce's Social Innovation Challenge Showcase on April 25. It may have been the toughest competition to date in the event's eight-year history, but two teams seeking solutions to issues that affect society — clean water and the safety and support for refugees — ultimately advanced to USD's inaugural Global Social Innovation Challenge to be held on June 23.
Refugees Illuminated, a team with three graduate students in the Kroc School of Peace Studies and two undergraduates who'll graduate in May, and Water Sensei, which features a current graduate student in the cyber security master's program and a double Torero alumnus, including a graduate degree in 2017, stood out.
Both teams expressed their good fortune to advance and both are excited to be working on such important issues. Refugee Illuminated, comprised of Kroc School Peace and Justice master's students Wachira Chotirosseranee, Brittney Ochira and Erica Wright, along with undergrads Patricia Cosulich and Carly Lutz, are deeply committed to what Chotirosseranee is passionate about: Thailand people who, living as refugees on the border of Myanmar, continue to grapple with dangerously prevalent shelter fires.
"I came to school for peace and justice, to make change and to make things happen," said Wright, who gave the team's 90-second final pitch at the April 25 SIC event. "Wachira came here and wanted to help refugees and now we really get to do it. By winning these competitions, we really do have a platform to make this possible."
Wright indeed says competitions, plural. Earlier in April, Refugees Illuminated emerged from a 10-team USD field of entrepreneurial ideas to advance to Oxford University's Map the System global competition June 1-3.
"Wachira came to us and said (the fires) are a problem I'm really passionate about," Ochira explained. "We all got passionate about it and wondered what could we do? Through the process of Map the System, getting in really deep to find the roots of the problem and then, from there, build up to the Social Innovation Challenge to come up with a viable solution for context and doing the research with people who know the context has been very impactful."
Chotirosseranee, who has past governmental experience with refugee populations in Thailand, said he's appreciated the support needed to make a difference. "I've found very good friends who also care about refugee problems. I've talked to many people, but it is not easy to make people understand where I was before I was here. These friends of mine understand and they are helping me, trying to search for a better way to solve this problem. These opportunities (Map the System, GSIC) will enhance our ability to do something better. We need to remind people that these are refugees and to please not forget them."
The idea of refugee safety as a project came to light in an Engineering Peace class co-taught by Gordon Hoople and Austin Choi Fitzpatrick, professors in the Shiley-Marcos School of Engineering and Kroc School, respectively.
Meanwhile, David Vesey, a 2008 undergraduate alumnus and a recent graduate of USD's MS in Healthcare Informatics program in the Hahn School of Nursing and Health Science, and Tanya Arora, who graduates with a master's degree in cyber security in May, are partnering on Water Sensei.
Vesey and Arora, both Information Technology Services employees at USD, are working together on this new monitoring IOT (internet of things) device that provides information about water quality to protect people's health.
"It sits in your home and records the water quality. If there are any issues, it sends a notice directly to your phone and then pushes that data to the cloud so everyone can see if there's a water issue in their area," Vesey said.
Vesey had the concept for the device and when he learned that Arora was in USD's cyber security program, he brought her onboard to help with the security aspect.
"It's a device that's constantly connected to the Bluetooth on your phone," he explains. "When it pushes the information to the internet, there's potential for hackers to access it, get your data and use it in nefarious ways, so cyber security was very important to me."
Both Global Social Innovation Challenge finalists benefitted from teamwork and both know that to have a shot at winning some of the $50,000 available prize money, they'll need to work together continue to fine-tune in the months ahead.
But the USD SIC semifinals did provide a sense of accomplishment and a boost for all participants. All 19 semifinalists received at least one, and in some cases multiple, in-kind services ranging from additional mentoring, office space, subscriptions and memberships connected to entrepreneurial software and publications to aid in continued development of their ideas. The audience also listened to keynote speaker Enrique Lomnitz, founder of Isla Urbana and an Ashoka Fellow. He shared his story about his rainwater harvesting system in Mexico City to aid residents fearful of future water scarcity.
The 17 semifinalists who did not advance were: Baja Urban, BE Sisterly Inc., Energy Poverty, Enlightened, Generations, Gigs for Change, Intersections for Innovation, Knowledge to College, MOVE (Mobility, Opportunity, Versatility, Empowerment), Peace on Purpose, Puente y Coma, Race 4 Good, MEG (Mobile Education Garden), Truth of Love, Vehicle Amber Alert, Vincii and T.R.Z. (Xenophobia).
One SIC company, Generations, did have good news 24 hours later. Janaira Quigley, a Master of Science in Global Leadership student who gave a 90-second pitch at the SIC event, was also a finalist in USD's other entrepreneurial event, the Venture Vetting (V2) Pitch Competition. Generations earned $19,000 from angel investors, a sum Quigley said would enable her business idea — a web-based service platform to give stay-at-home parents a chance to build a business and gain income providing caretaking and companionship services to seniors — to launch.
It is a testament to all participants, in V2 and the Social Innovation Challenge and everywhere else on the USD campus where students are "planting the seeds of innovation," as School of Business Dean, Jaime Alonso Gomez, states it — that the work is sustainable. With USD students committed to entrepreneurship and innovative ways of helping others in need, whether it be through refugee safety, water quality or other ideas to inspire and make change, there is great interest in what's ahead. The Global Social Innovation Challenge will be USD's worldwide contribution to this exciting dynamic.
— Ryan T. Blystone