Knowledge for a New Age of Customer Service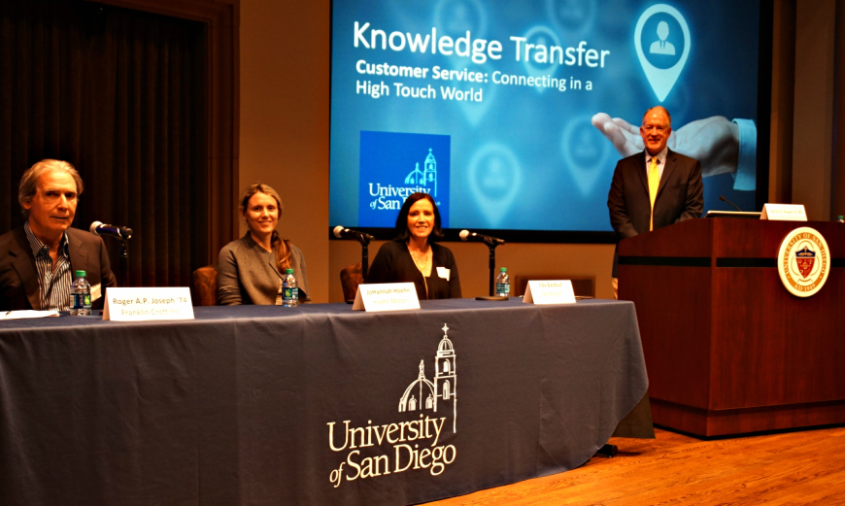 Excellent customer service is key for any firm or organization. But providing it in the digital age has become increasingly challenging.
On Tuesday, April 10, the university's latest Knowledge Transfer event gave members of the USD community the opportunity to hear from experts on the subject.
Connecting with customers armed with information who often prefer to buy online, their evolving needs and expectations, and the importance of hiring the right employees were a few of the issues discussed in the wide-ranging forum led by Jamey Power '85, a USD trustee and parent, and managing director of Power Family Enterprises.
"We're kind of at a crossroads," Power said. "Customer relationships are really key to customer service and in this day and age with Twitter and social media and mobile phones for everything it's gotten more difficult to figure out how to have a high touch experience in this high-tech world."
Eda Baldauf, who has been general manager of Nordstrom Escondido for 27 years and is the parent of a USD student, recalled how the store's goal used to be to "keep customers in the fitting room as long as possible" to drive sales. Today, shoppers don't have time for that. "It's about time, speed and convenience."
At the same time, managers also have to realize that some activities, such as buying a car, take a certain amount of time. Cars today are complex and explaining them properly to buyers shouldn't be rushed, noted Jo Hannah Hoehn, general manager of Hoehn Motors Jaguar Land Rover dealership and part of a fourth generation of family owners. "You have to be able to meet expectations when you can and set expectations when you can't."
A big part of customer satisfaction these days is knowing when customers want the personal touch and when they don't. Many hotel guests, for example, want to "check in themselves" and aren't looking to interface with the front desk or the concierge, said Roger A. P. Joseph '74, also a USD trustee, who is President and CEO of Franklin Croft Inc., a real estate firm active in the hospitality industry. "The question is how do you mold an experience that is geared toward that new customer."
Employee satisfaction is also at the core of customer satisfaction, added Hoehn. "It's hard to have happy customers if you have unhappy employees," that are not properly coached and supported.
But choosing the right employees is also key. She said she largely agrees with her father, Robert Hoehn's philosophy, that "you don't hire employees and transform them into your culture. You hire them because they fit your culture."
With many students about to graduate in the audience, panelists also offered advice on how to succeed as they enter the workforce.
"Act like you're a business owner," suggested Baldauf. "Be prepared to work hard and give it your all no matter what the job is."
Constant learning and improvement are also important but so is following your heart, added Joseph.
"Don't be overly influenced by the curriculum, or parents, or peers, follow your dream. Keep that in front of you. You won't necessarily be able to jump right into that, but that doesn't mean you can't gain other experiences along the way and then keep that focus and go back to that dream of what's in your heart. Because then whatever you do, as long as you are willing to work for it you'll get it."
USE Credit Union was the lead sponsor for the Knowledge Transfer event also supported by USD's Alumni and Parent Associations, Career Development Center, and the Alpha Kappa Psi business fraternity. For information on upcoming events, go to www.sandiego.edu/parents
— Carleen Syth '18