Sam Scholl to be Introduced as New USD Men's Basketball Head Coach Tuesday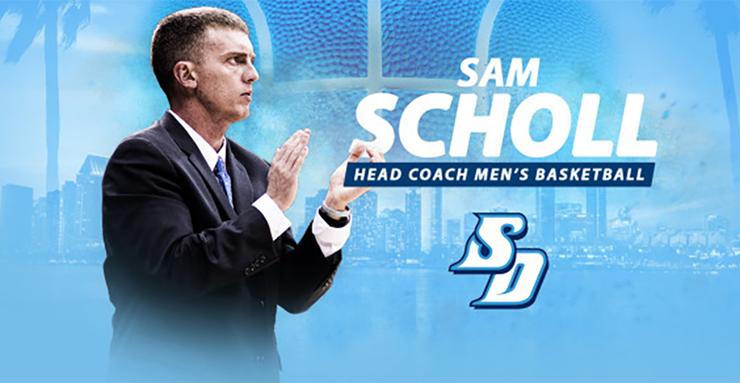 The University of San Diego will introduce Sam Scholl, 40, as its new head coach for men's basketball at a press conference and celebration on April 3 at 12:30 p.m. in the University Center's Forum A on campus. Scholl, who was elevated to acting head coach on February 26, becomes the Toreros' 13th head coach in program history and just the sixth head coach since USD moved to NCAA Division I in 1979-80.
"I am thrilled to announce the appointment of Sam Scholl as our new Head Men's Basketball Coach at the University of San Diego," said Bill McGillis, USD Executive Director of Athletics. "Coach Scholl embodies everything we are looking for in a head coach — tremendous character, integrity and values that match USD; the expertise and experience necessary to teach the game, and compete, at a championship level against some of the nation's very best coaches; and a true servant-leadership heart that will positively impact the student-athletes in our program for rest of their lives. I am very confident that Coach Scholl is the right leader for our program in 2018 and beyond and the right leader to seize on the immediate opportunity in front of us.
"I believe Coach Scholl, and the other members of our coaching staff, will take this talented roster of outstanding young men and win at a very high level next season, while also cementing a strong foundation for long-term success," McGillis continued. "We have great momentum in our program right now, and the trajectory of the program is obvious having gone from nine wins, to 13 wins to 20 wins over the last three years. Coach Scholl has made immense contributions in our recent success, and, as importantly, has played an integral role in building a really special culture within our locker room."
Scholl, led the Toreros to a 2-2 record at the end of the 2017-18 season, including a run to the quarterfinals of the CollegeInsider.com Postseason Tournament. In the postseason, USD earned wins over Hartford (88-72) and Portland State (67-64) before falling to Northern Colorado (86-75). The Toreros finished with an overall record of 20-14, marking just the fourth time for the program to reach 20 or more wins at the Division I level. Fifteen of this season's 16 players return next year including Isaiah Pineiro (All-WCC First Team, 15.7 points per game, 6.2 rebounds per game), Isaiah Wright (All-WCC Second Team, 13.4 points per game, 5.3 assists per game) and Olin Carter III (All-WCC Honorable Mention, 12.4 points per game).
"I am extremely humbled and honored to be the next Head Men's Basketball Coach at this very prestigious university," said Sam Scholl. "I deeply appreciate this tremendous opportunity that has been given to me by our President, Dr. James. T. Harris, and our Executive Director of Athletics, Bill McGillis. I have learned so much from them and can't wait to play a role in the tremendous campus community they have built here at USD. I am thrilled to continue this journey with the tremendous group of young men that are in our program. They are an absolute joy to work with every day and we can't wait to continue working towards the great success that is ahead of them. Gig Harbor, Washington set the foundation for me, but the University of San Diego made me who I am today. We are going to strive to be champions everyday on and off the floor and I can't wait to play a role in leading our players and future Toreros to be champions in the future."
With 18 years of coaching experience in the West Coast Conference, Scholl ranks fourth in years of service for active WCC coaches behind Gonzaga's Mark Few (29 years, 19 as head coach), Saint Mary's Randy Bennett (29 years, 17 as head coach at SMC) and San Francisco's Kyle Smith (19 years, two as head coach at USF). Additionally, Scholl played two seasons in the WCC at USD (1998-2000). He was the Toreros' lone senior on the team's 20-9 squad from the 1999-2000 campaign and USD posted a 38-18 two-year record during Scholl's playing career.
Added McGillis, "Coach Scholl has played and coached in the West Coast Conference for 20 years and has an acute understanding of what it will take to be champions in this great league. He is a product of the University of San Diego, and he will continue to build this program the Torero Way."
Scholl spent seven seasons on the USD coaching staff under former head coach Brad Holland, including helping lead the 2002-03 team to the WCC Basketball Championship and the first round of the 2003 NCAA Division I Tournament for the third time in program history. The Toreros finished with winning records in six of Scholl's seven seasons on staff, including three seasons with 18 victories. He also played an integral role in the recruitment of 16 Torero players, including four first-team All-WCC performers, one WCC Newcomer of the Year, and two WCC All-Freshman Team players.
For eight seasons Scholl was on the Santa Clara University staff, and in September 2013 was promoted to Associate Coach under head coach Kerry Keating. At SCU, Scholl helped the Broncos to 26 wins in 2012-13 and 24 victories in 2010-11. The Broncos won the College Basketball Invitational postseason tournament in 2013 and the CollegeInsider.com Postseason Tournament in 2011.
A native of Gig Harbor, Wash., Scholl completed his undergraduate degree in Sociology at USD in 2001. Prior to arriving at USD, he played two seasons at Tacoma Community College in Tacoma, Wash., and was the point guard on the 1996 2A Washington State championship team for Gig Harbor High School. Sam and his wife, Heather, have three daughters — Riley, Reese and Regan.
— USD Athletics