Torero Athletics: Women, Men Rowers Compete at SD Crew Classic; Spring Roundup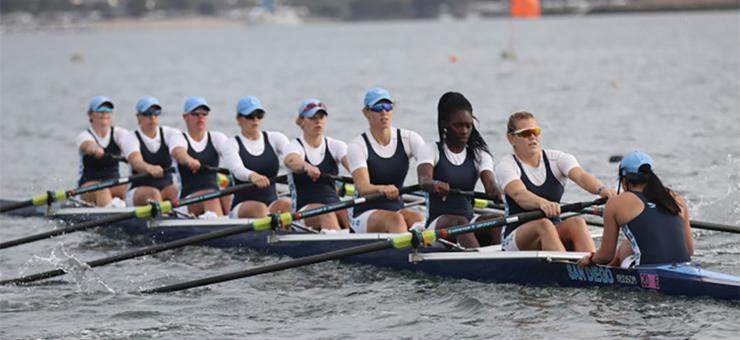 While the 40th anniversary of the University of San Diego's men and women's rowing program was celebrated all weekend, the 2018 teams' focus was on competing in the 45th San Diego Crew Classic last Saturday and Sunday. Both Torero teams competed on the 2,000-meter course off of Crown Point on Mission Bay.
The women's V8+, 2V8+ and V4+ raced in heats on Saturday morning to qualify for their finals.
The Varsity 8+, with cox Sarah Goh and crew Chloe Williams, Kadee Sylla, Saskia Schneider, Lizzie Bader, Clare Adams, Kelly Hulsing, Jane Bird and Kira McPolin raced against Texas, USC, UCLA, Stanford Lightweights and Tennessee on Saturday. The first- through third-place finishers moved on to Sunday's grand final while fourth through sixth raced in the petite. The Toreros battled a cross head wind and finished sixth with a time of 7 minutes, 17 seconds. On Sunday they raced Stanford Lightweights, Gonzaga, Tennessee, Oklahoma, and UC Santa Barbara. USD placed sixth with a time of 7:28.

The Second Varsity 8+, with Hailey Freitag, Courtney Cureton, Maya Krah, Isla Blake. Nikki Moore, Sam Ahlman, Gillian Duncan, Dory Goodrich, and Kathryn Brady raced against California, Oklahoma, Gonzaga, San Diego State and Portland in their heat Saturday morning. They defeated Portland to finish fifth in 7:16. Their placement sent them to the third final later in the afternoon. The women crossed the finish line first and defeated Southern Methodist, Loyola Marymount, Portland, Saint Mary's and UC Santa Barbara in 6:59.

The Varsity 4+ raced against California, Oklahoma, Tennessee and SMU. They earned a fifth-place finish to move on to the third final. In the final Saturday afternoon, the crew defeated Saint Mary's and placed third.
Next Race: USD at Lake Natoma (Calif.) Invitational, April 14-15.

Men's Rowing
The men's crew team raced in V8+, 2V8+ and 3V8+ heats on Saturday morning to qualify for their finals.

The V8+ took second place in their heat Saturday morning. Their showing earned them a spot in the grand final Sunday against Temple, British Columbia, Orange Coast College, Gonzaga and UC Santa Barbara. They placed fifth, ahead of UCSB, with a time of 6:32. Will Graf coxed Sam Jones, Owen Chase, Connor Olson, Brennan McManus, Ben Thibeau, Max O'toole, Travis Heft and Eric Hoster.

The 2V8+, with Grady Koepele, Simon Finnie, Sam Stephens, Jerome Yankey, Jack Orr, Lucas Walbeck, Evan Ferree, Evan Nassar and Charlotte Harrison as cox, took third place in their heat against Northeastern, Penn, and OCC. It earned them a spot in the petite final on Sunday. The men placed third, ahead of UCSB, OCC and Purdue in 6:40.

The 3V8+ event raced on Sunday in a straight final. Alejandro Armenta coxed Cade Kirschman, Michael Darby, Sammy Foglio, Terence Gourmelen, Casey Donovan, Harrison Badawi, Hunter Pflueger, and Reid Salamack to a fifth-place finish. They defeated UC Davis in 7:06.
Next Race: USD at Kerr Cup, April 14, Philadelphia.
The Toreros welcomed scouts from 13 National Football League teams to campus last week to participate in USD's Pro Day featuring tight end Ross Dwelley, defensive end Jonathan Petersen, wide receiver Justin Priest and punter Jack Flatau. Former Heisman Trophy winner and NFL quarterback, Johnny Manziel, made a guest appearance to throw passes to Dwelley and Priest.
Northern California has been pretty good to the USD baseball team so far on its current seven-game road trip. Over the past weekend, USD took two of three West Coast Conference games against Pacific in Stockton.
On Friday, Kevin Collard's three-run home run to right field in the eighth inning led the USD Toreros to a 7-4 win. Junior right-handed starter Paul Richan picked up the win, giving up seven hits and four runs and striking out nine over seven-plus innings.
In Saturday's game, Toreros starting sophomore pitcher Chris Murphy struck out 11 batters and scattered seven hits in 7.2 innings of USD's 9-0 win. In his last two starts, the left-hander has 25 strikeouts (he had 14 in a win over Santa Clara). Murphy, for his effort, was named March 26 as the WCC Rawlings Baseball Pitcher of the Week.
Pacific topped USD in a 9-7 win in Sunday's series finale. The host Tigers scored six runs in the third inning to take control. USD's Paul Kunst went 4-for-5 for the Toreros with two doubles and two runs scored.
USD is now 12-12 overall and 3-3 in WCC play.
Next Games: USD at No. 3 Stanford, Tuesday, 6 p.m.; USD at San Francisco, Thursday-Saturday, 3 p.m., 3 p.m. and 1 p.m.
The USD softball team has won four of its last five games after taking two of three in a nonconference road series against UC Riverside this past weekend to improve to 19-15 on the season.
Saturday, the Toreros swept a doubleheader, 6-4 and 8-1. In the opener, USD only had four hits, but they were a two-run homer by Kailey Hill, a three-run blast by Sara Silveyra, an RBI single by Halle Kyler and Katie Vretzos had the only other hit. Kyler, the starting pitcher, got the win. Delaney Heller picked up a save. In the second game, Hannah Boos tossed a complete game, allowing seven hits, a walk and striking out two. It was her fourth complete game of the season. Offensively, USD had eight hits, keyed by Vretzos and Shelbi Evans each getting two hits and combining for three RBI. Lindsay Clare also drove in two runs.
Sunday, Riverside rallied with a three-run home run in the bottom of the seventh to walk off the field with a 6-4 victory over USD. The Toreros had scored two runs in the top of the seventh on a double by Clare for a 4-3 lead.
Next Games: USD at San Diego State, Tuesday, 6 p.m.; USD hosts UC Santa Barbara, Wednesday, 12 p.m.
The USD women's tennis team split a pair of West Coast Conference matches in the Pacific Northwest to see its overall record fall to .500 (7-7) and to 1-2 in WCC play.
In a 4-3 victory over host Portland on March 23, the Toreros won the doubles point and then got singles wins from Maria-Paula Torres, Gemma Garcia and, finally, Carolin Nonnenmacher, to secure the win.
USD then traveled to Gonzaga where the host swept USD 4-0. Garcia and Nonnenmacher won their No. 3 doubles match, but it was to no avail as Gonzaga earned the doubles point with wins at No. 1 and No.2.
Next Matches: USD hosts San Jose State, Wednesday, 11 a.m., USD's Skip and Cindy Hogan Tennis Center; USD at BYU, Saturday, 12 p.m.
The USD men's tennis team, following a recent three-match losing streak, ended the weekend with back-to-back victories, including a home sweep of one West Coast Conference opponent, to improve to 8-7 overall and 2-0 in WCC play.
A 4-2 loss to Washington last Wednesday gave way to a weekend in which USD knocked off the University of Denver, 6-1, on Saturday and then swept WCC foe Portland, 4-0, on Sunday.
Joel Gamerov led the way for USD in the win against Portland. He and August Holmgren teamed at No. 1 doubles for a victory and then Gamerov made quick work of his singles competition at the No. 3 spot. Other Torero winners were Nico Borter and Pratt Keerasuntonpong in doubles to secure the first point of the match. Borter and Alex Araouzos joined Gamerov with singles wins to clinch the match.
Next match: USD hosts BYU, March 31, 2 p.m. at USD's Skip and Cindy Hogan Tennis Center.
The USD men's golf team has two more tournaments to play before the West Coast Conference Championship takes place in mid-April.
Coming off a 16th-place showing in the Lamkin San Diego Classic, played March 12-13, Coach Chris Riley's team is focused on its next event on April 2 and 3. The Toreros play in the Redhawk Invitational at Chambers Bay Golf Course in University Place, Wash.
San Diego traveled to San Diego State on March 23 to compete in the Aztec Invitational. Fourteen Toreros recorded personal bests and 15 finished in top 10 spots in various races.
Freshmen women who competed in the 1500 meters exceled. Hannah Rasmussen was placed in the fastest heat for her collegiate 1500 debut, and placed 12th in 4 minutes, 40.32 seconds. Sera Parvin, Cammy Manes and Kate Kohler placed second, fourth and seventh, respectively, in their heat. Parvin put up a time of 4:51.28 and Kohler, 5:10.57, which were both personal bests.
One more Torero came in second place as Junior Zani Moore ran a personal best of 4:44.09 in the 1500. Moore was followed by Natalie North-Cole (4:48.78) and Ally Roessling (4:59.13) who came in sixth and 12th, respectively. Both women ran their personal best in the 1500.
The women impressed in the 3km race. Competing in the fastest heat, Madison Lambros (10:09.02) placed seventh while recording a personal best time, and Julie Giannini (10:21.18) placed eighth. The second heat brought more personal bests for USD. Hailey Shipway (10:.53.58), Hailey Purtzer (11:10.23) and Bri Pertak (11:20.32) all recorded personal best times.
Next meet: USD at California Collegiate Invitational at UC San Diego.
For all USD Athletics news, scores and information, visit the website and follow the Toreros on social media platforms: Facebook, Twitter and Instagram.