Balanced Effort Leads USD Basketball to CIT First-Round Win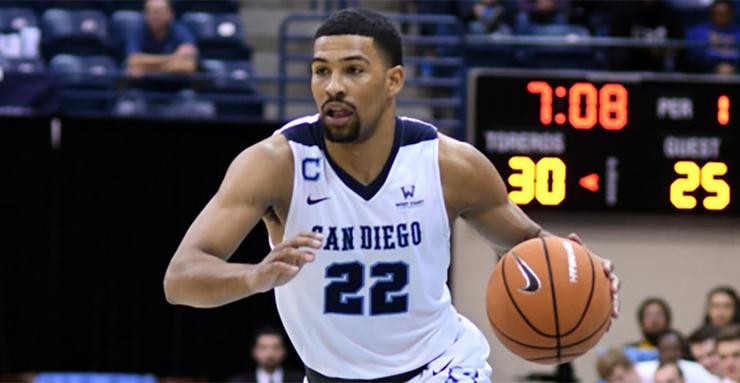 Isaiah Wright recorded a double-double as six San Diego players scored in double-digits to defeat Hartford, 88-72, Monday night in the first round of the CollegeInsiders.com Postseason Tournament.
The Toreros (19-13) returned to the court after a nine-day break — a West Coast Conference Tournament quarterfinals loss to BYU on March 3 — and delivered its most balanced offensive performance of the season.
Senior Cameron Neubauer led the way with 16 points, followed by Tyler Williams (15) and Wright (14). Isaiah Pineiro added 13 points, while Olin Carter III chipped in 11. Yauhen Massalski scored 10 points off the bench, going 3-of-3 from the field and 4-of-5 from the free-throw line.
Wright logged his third double-double of the season, dishing out a team-high 11 assists to go with his 14 points. He also pulled down four rebounds. Williams grabbed a team-best six boards, while Neubauer pulled down five.
The Toreros' acting head coach, Sam Scholl, earned his first victory as a head coach.
The Toreros shot 58.2 percent (32-of-55) from the field — their second-best shooting performance of the season behind a 59.1 percent (26-of-44) showing against Saint Mary's on Feb. 3. USD went 12-of-26 (46 percent) from three-point range. The Toreros shared the ball well, racking up 24 assists which tied its season high.
USD jumped out to an early lead and led for nearly the entire game. An early burst by the Hawks (19-14) gave them a four-point lead in the first five minutes. That would be the biggest lead they would get all night.
Jose Martinez hit his first shot of the game – a three-pointer at the 14:37 mark of the first half – to put the Toreros up, 12-10, and give them a lead they would not relinquish.
San Diego continues CIT play on Saturday, March 17 at 7 p.m. PT when it hosts Portland State in the Jenny Craig Pavilion.
— USD Athletics