Torero Athletics: Softball, Baseball Keep Battling; WCC Tennis Begins; Spring Sports Roundup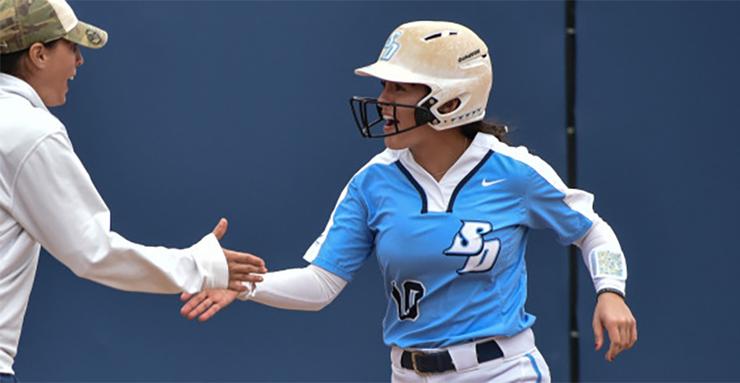 The USD softball team traveled to Tucson, Ariz., to compete in the University of Arizona's Wildcat Invitational. In five games played between March 9-11, the Toreros posted a 3-2 record with two losses on Friday — No. 9 Arizona (10-2, five innings), South Dakota (6-5, eight innings) — and then three straight wins, two on Saturday against No. 24/25 USC Upstate (3-2), and South Dakota (4-1) and another victory on Sunday against Wisconsin (7-4).
Kailey Hill had a solo home run and Sarah Stone doubled in USD's other run in the loss to Arizona. In the narrow loss to South Dakota on Friday, USD was down 5-1 in the seventh inning before rallying to force extra innings. A fielder's choice by Sara Silveyra, an RBI single by Shelbi Evans, and a two-RBI single by Lindsay Clare accounted for the Toreros' seventh inning surge.
On Saturday, the Toreros' winning ways started with the program's first win against a Top 25 team this season, USC Upstate. Oddly, USD was outhit 10-2, but made the most of their offensive opportunities. Hill hit her fifth home run of the season, a two-run shot, and Hannah Gilliland had an RBI single. All of USD's runs were scored in the third inning. Pitching wise, Delaney Heller and Halle Kyler combined for the win, pitching four and three innings, respectively. In the second game of the day, Hannah Boos tossed a complete-game two-hitter and the Toreros scored all four of their runs in the first inning. Evans had a two-run homer and Gilliland had two hits.
Sunday's win over Wisconsin came on the strength of Silveyra going 2 for 3 with three RBI and a four-run fifth inning, highlighted by Sarah Stone's two-run single and Gilliland's two-run homer. Boos picked up the win to improve her record to 5-2. She went 2-0 with a 0.68 ERA for USD (14-13).
Next Games: USD Softball hosts Fairfield, Wednesday, 7 p.m., USD Softball Complex; USD at Cal State Bakersfield, Saturday (DH), 12/2 p.m., Sunday, noon.
Houston took two of three games from the USD baseball team in a weekend series, including a marathon 12-inning decision in the opener, a 4-3 decision for the host Cougars. Houston won the second game 5-2 before USD, behind a solid start by Nick Sprengel, salvaged the finale, 7-4.
The Toreros (9-7) play their first West Coast Conference series this weekend at Fowler Park. USD also hosts San Diego State Tuesday at 6 p.m.
Against Houston on Friday, Grayson Padgett hit a 12th-inning solo home run off USD reliever Justin Friedman for the difference in the series opener. Brhet Bewley drove in all of USD's runs in the third inning with a three-run home run. Paul Richan pitched 6.2 innings, scattering eight hits, giving up three runs and striking out eight.
On Saturday, Houston won after trailing 2-1 through three innings. Jay Schuyler was 3-for-3 to pace USD's offensive output. Chris Murphy took the loss, giving up all five runs in six innings and allowing eight hits. He had four strikeouts.
Sunday's win for USD was won on the strength of Sprengel allowing only one hit through six innings and striking out nine to pick up his first win in three starts this season. Offensively, Adam Kerner had four hits, Daniel Gardner had three and both Gardner and Jeff Houghtby each drove in two runs.
Next Games: USD Baseball hosts San Diego State, Tuesday, 6 p.m., Fowler Park; USD hosts Santa Clara, Friday-Sunday, 6 p.m., 5 p.m., 1 p.m., Fowler Park.
The men's tennis team captured its lone match of the week in a 5-2 triumph over Gonzaga, which was the West Coast Conference opener on March 11. The match was played at The Santaluz Club in San Diego.
The Toreros (5-4 overall, 1-0 WCC) won the doubles point on the strength of wins by Gui Osorio-Nico Borter and David Norfeldt-Joel Gamerov. Singles victories by Osorio, Borter, Gamerov and Norfeldt closed out the Bulldogs.
Next Matches: USD men's tennis co-hosts the Spring Invitational with San Diego State, March 15-17. First matches at 10 a.m. each day at USD's Skip and Cindy Hogan Tennis Center. (Check www.usdtoreros.com for updates).
The women's tennis team split a pair of home matches, defeating Boston University, 5-2, in a nonconference match on March 8 and then dropping a 4-2 West Coast Conference decision to Saint Mary's on March 11.
The Toreros, whose record is now 4-6 overall and 0-2 in WCC play, gained a solid win against Boston on the strength of Maria-Paula Torres and Kati Kukaras' play. They teamed to win the lone USD win in doubles play. Torres, Kukaras, Nicole Anderson, Gemma Garcia and Carolin Nonnenmacher each won their singles match to claim the match victory.
In Sunday's WCC match, Gemma Garcia figured into both points. USD won the doubles point on the strength of wins by Nicole Anderson and Daniela Morales and then Garcia with Kukaras. Once the match moved to singles play, Saint Mary's won the first three matches before Garcia, playing at No. 5 singles, cut the lead to 3-2.
Next Matches: USD women's tennis hosts Colorado State, Wednesday, 1:30 p.m., Skip and Cindy Hogan Tennis Center at USD; USD vs. Texas State, Thursday, 1:30 p.m., San Diego Tennis and Racquet Club.
The USD men's golf team is co-hosting the Lamkin San Diego Classic with San Diego State today and Tuesday at the par-72, 7,033-yard San Diego Country Club in Chula Vista.
The tournament, which is considered among the top in collegiate golf, has five teams in the field who are ranked in Golfstat.com's Top 30 poll: No. 1 Oklahoma State, No. 9 Texas Tech, No. 13 Texas, No. 27 North Carolina and No. 30 Louisville. Joining them and the tournament co-hosts in the field are Colorado State, Arizona, Saint Mary's, Colorado, 2017 Lampkin team champion Mississippi, Middle Tennessee State, New Mexico, Loyola Marymount and Connecticut.
USD comes into the tournament after sophomore Dalton Hankamer tied for medalist honors at a tournament in Scottsdale, Ariz., in early March.
Play today began at 8:30 a.m. with a shotgun start for 36 holes of play. Tuesday's final round of 18 holes starts at 8 a.m. with teams going off on both the No. 1 and No. 10 tees. Tournament admission is free and open to the public.
The USD men's crew team is completing its final competitive tune-up for the upcoming San Diego Crew Classic with two days of duel-style racing. The Toreros faced off against Santa Clara late afternoon on March 11 in Mission Bay. Today, Monday morning, USD battled against Gonzaga at 7:10 a.m. (varsity), 7:30 a.m. (junior varsity) and 7:50 a.m. (3V) and then against UC San Diego at 10:30 a.m. (varsity), 10:50 a.m. (JV) and 11:10 a.m. (3V).
Both the men and women's teams will vie in the San Diego Crew Classic on March 24-25 at Mission Bay. Also, be sure to get your tickets to celebrate the 40th anniversary of the USD men and women's rowing programs. A special event is planned for March 24 at 6 p.m. in the Joan B. Kroc Institute for Peace and Justice.
San Diego opened its 2018 spring track season with 19 personal best times under rainy conditions at the Oxy Distance Carnival at Occidental College in Eagle Rock, Calif.
In women's 1,500 meters, three of five Torero runners earned a personal best, including freshman Sera Parvin, who was second place in the Section 5 race in 5 minutes, 04.08 seconds. Erin Duncan and Kate Kohler had PR, finishing fifth and sixth.
In women's 5K, nine runners earned a personal best. Hannah Rasmussen, freshman, was the top USD runner in 17:22.49 to finish 18th in Section 1. Cassidy Kuhn had a PR (17:37.49), also in Section 1, and was 19th. Zani Moore, Maggie Scholle, Molly Klein, Ally Roesling, Natalie North-Cole, Madison Lambros, Hailey Shipway and Brianna Pertak all had PR times.
USD does not field a men's track team, but several runners competed unattached. Patrick Bruce, Jackson Pearce, Eli Rosen-Duran, Ryan Tessier, Matthew Sickman, Jack McCarthy and James Davenport each set PRs in the men's 5k event.
Next Meet: USD competes in the Aztec Invitational, March 23, at San Diego State.
San Diego swimmers set school records in multiple events at the season-concluding College Swimming and Diving Coaches Association of America National Invitational March 8-10 in Annapolis, Maryland.
On Thursday, USD's relays earned two top-10 finishes. Alex Hubel, Mackenna Briggs, Kailyn Evans and Danielle Taylor had strong efforts in the 200-yard freestyle relay (seventh, 1:33.50) and the 400-medley relay (eighth, 3:44.84).
Hubel broke her own school record in the 100-yard butterfly to highlight Friday's action. She had a time of 53:65 to win the B-final and finish ninth overall. Evans had a personal best time of 1:02.37 in the 100 breaststroke to place fifth overall. In the 800-free relay, Hubel, Evans, Briggs and Taylor finished eighth in 7:26.90.
Saturday's final day of competition ended strong for the Toreros. Evans, Hubel, Briggs and Taylor finished in 3:21.54 to place sixth overall in the 400-free relay for a school record. Hubel also set an individual school record in the 200 butterfly in 1:59.71 in the prelim race. She then went 2:00.61 in the finals and finished seventh place. Taylor finished 15th in the 100 free in 50.79.
In the team standings, the four USD swimmers combined to score 131 points, good for 11th place overall in a 31-team field.
For all USD Athletics news, scores and information, visit the website and follow the Toreros on social media platforms: Facebook, Twitter and Instagram.