Torero Athletics: Basketball Teams Battle; Softball's Strong Start; Baseball Opens at Home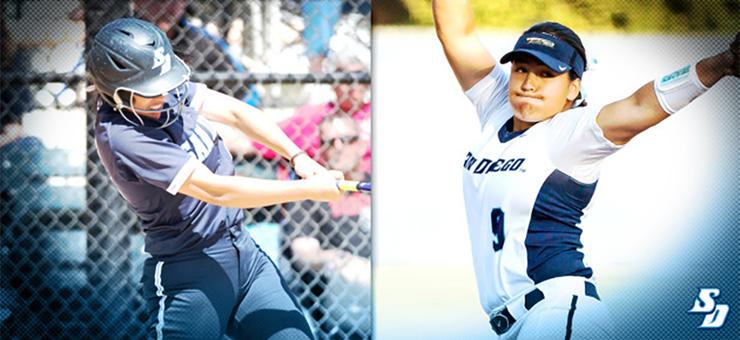 The 2017-18 USD men's basketball program is doing all that it can to be at a level of solid competitiveness and team togetherness to make some noise in the West Coast Conference. In road games at Pepperdine and Santa Clara this past week, a few more lessons were learned and a few bright spots emerged.
USD secured a 68-66 come-from-behind triumph over Pepperdine on Feb. 8. Junior forward Jose Martinez came off the bench to score a career-high 16 points and Isaiah Pineiro (12 points), Tyler Williams (11), Olin Carter III (11) and Isaiah Wright (10 points, 7 rebounds) each scored in double figures.
Trailing by 10 with just under nine minutes to go, the Toreros closed out the Waves with a 22-10 run. The Toreros tied a program record with 15 made three-pointers on 34 attempts.
"Jose was outstanding," said Head Coach Lamont Smith of Martinez, who made five of eight 3-point attempts. "We knew they were going to zone us and Jose is a player not afraid of the moment and not afraid to compete. I couldn't be happier for him. He really helped us get that win. We told the guys that if we were going to win this game that we were going to have to get stops. And we did that down the stretch. This was a gut-out performance. We had our backs against the wall pretty much the whole game but the guys just kept fighting and clawing and we found a way. It wasn't pretty but we found a way to win on the road. I'm just so proud of this team for its toughness and fight."
Two days later, though, the Toreros let a double-digit lead get away early in the second half, enabling host Santa Clara to get a 70-64 victory. Senior Cameron Neubauer did score a season-high 18 points for the Toreros, and he was followed by Wright (16 points, 7 rebounds, five assists) and Pineiro (12 points, 7 rebounds).
The result moved USD's record to 16-10 overall, 7-7 in WCC play.
Next Games: USD Men's Basketball hosts Pacific, Thursday, 7 p.m., Jenny Craig Pavilion; USD hosts BYU, Saturday, 1 p.m., JCP; USD hosts Gonzaga, Feb. 22, 6 p.m., JCP.
A pair of West Coast Conference home victories for the USD women's basketball team — a 79-53 blowout of Pepperdine on Feb. 8 and a 51-40 win over Santa Clara – improved Cindy Fisher's team record to 14-11 overall, 7-7 in conference and 9-4 in games played at Jenny Craig Pavilion.
Now comes a critical stretch of road games — at Pacific Thursday, at BYU on Saturday and then at WCC-leading Gonzaga on Feb. 22 — with the conference season winding down and WCC Tournament seeding beginning to take shape. The Toreros enter this three-game road trip with a 4-7 mark away from the JCP, so a win at Pacific would be a confidence boost.
Meanwhile, in games played at home, things have gone well.
Against Pepperdine, senior guard Aubrey Ward-El scored a game-high 23 points, which including converting on 6-of-12 shooting on 3-pointer attempts. She added seven assists. Also reaching double figures in scoring were Madison Pollock with 12 points and Maya Hood with 11 points and 10 more rebounds to add to her USD career-leading total. On Feb. 10 against Santa Clara, which was USD's dedicated Play4Kay game, Hood had another sensational performance. Hood finished with 14 points, 12 rebounds, five steals and three assists. Ward-El also scored 14 points.
Next Games: USD Women's Basketball at Pacific, Thursday, 7 p.m., Stockton, Calif.; USD at BYU, Saturday, 11 a.m., Provo, Utah.
After a season-opening 3-1 loss to Campbell on Feb. 8, the Torero softball team won five games in a row in the USD Tournament this past weekend, sweeping three against Cal State Bakersfield — 7-5 on Feb. 9, 10-2 in five innings Feb. 10 and a 4-2 win Feb. 11 — and beating Campbell twice — 4-2 on Feb. 9, 5-0 on Feb. 10 — at the USD Softball Complex.
Kailey Hill's walk-off, two-run homer in the bottom of the seventh inning against Bakersfield gave the Toreros the Sunday. Halle Kyler came on in relief to pick up the win. Kyler went 3-0 on the weekend. As a result of their efforts in the tournament, Hill was named the WCC Player of the Week and Kyler was WCC Pitcher of the Week.
Top hitters for the Toreros were senior Kailey Hill (.529 batting average, two home runs, 9 for 17 at the plate, seven RBI and two runs scored), junior Lauren Kane (7 for 16, five RBI, five runs scored, two doubles), freshman Katie Vretzos (7 for 20, two RBI, five runs scored), junior Taylor Spence (7 for 21, six runs scored) and sophomore Sara Silveyra (6 for 20, five RBI, three runs scored, home run).
USD scored 31 runs in the six games, scoring seven in the first inning and 11 in the third inning.
Pitching wise, freshman Kyler's 3-0 record was a spark in two starts and two relief appearances, 24.2 innings pitched, a 1.42 earned-run average, 11 hits and five earned runs allowed along with 16 strikeouts. Freshman Hannah Boos went 2-0 in 13.2 innings, striking out nine and allowing 12 hits and four earned runs. Sophomore Delaney Heller suffered the lone defeat of the weekend, allowing two runs in 1.2 innings in the opener.
Next Games: USD Softball at Arizona State's Littlewood Classic, Friday-Sunday, Tempe, Arizona: USD vs. Illinois State, Feb. 16, 11:30 a.m.; USD vs. North Dakota, Feb. 17, 8 a.m.; USD vs. Illinois State, Feb. 17, 10:30 a.m.; USD vs. Texas State, Feb. 18, 10:30 a.m.; USD at Arizona State, Feb. 18, 1 p.m.
The 2018 USD baseball season gets underway this weekend with games against Cincinnati and Cal at Fowler Park throughout the weekend and at the helm for his 20th season as head coach is Rich Hill. It's also the 60th year of the USD baseball program.
The man who enters his 31st overall season as a head baseball coach — Hill was previously head coach at University of San Francisco and at his alma mater, Cal Lutheran — brings a 979-669-4 record into this season. He needs 21 wins to reach 1,000.
Learn more about the 2018 USD baseball team and about Hill in this feature story on the USD Athletics website.
Season-Opening Games: USD Baseball hosts Cincinnati, Feb. 16, 6 p.m., Fowler Park; USD Baseball hosts Cal-Berkeley, Feb. 17, 6 p.m., Fowler Park; USD hosts Cincinnati, Feb. 18, noon, Fowler Park; USD hosts an exhibition game against British Columbia, Feb. 19, 6 p.m., Fowler Park; USD at San Diego State, Feb. 20, 6 p.m., Tony Gwynn Stadium.
Alexandros Araouzos came up clutch in a big moment for the second time early in this spring season as the Toreros took down UC Santa Barbara, 4-3, on Feb. 11.
With the teams tied at 3-3, Araouzos earned a comeback win at No. 5 singles against Hironori Koyanagi, 6-7, 6-4, 6-2, to claim the team victory. Araouzos also provided the clinching decision in comeback fashion after doing so two weeks ago at No. 10 TCU.
"Alex came up big for us again today," said head coach Ryan Keckley. "He fought some adversity early in the match after having two set points on his racquet in the first set. He recollected himself emotionally and came up with the goods when we needed him most."
USD (3-1) earned the doubles point on the strength of wins by Joel Gamerov and August Holmgren and the team of Gui Osorio and Nico Borter.
The Toreros started quickly in singles play, earning their next two points with Holmgren beating out No. 75 Nicolas Moreno, 6-3, 6-3, and Osorio taking home a, 6-4, 6-2, victory against Simon Freund.
The Gauchos won the next three matches to tie the score, 3-3 before Araouzos' heroics.
Next Matches: USD men's tennis hosts Arizona State, Saturday, 11 a.m., Skip and Cindy Hogan Tennis Center (at USD); USD hosts Fresno State, Sunday, 2 p.m., Hogan Tennis Center.
The women's tennis team topped cross-town rival San Diego State 4-2 on Feb. 11 at the Aztec Tennis Center.
Down 1-0 after losing the doubles point, the Toreros got singles victories from its No. 1, 2, 3 and 5 players, Nicole Anderson, Daniela Morales, Kati Kukaras and Maria-Paula Torres to earn the victory, improving USD's record to 2-4.
Anderson's 4-6, 6-1, 6-4 win over SDSU's Jana Buth clinched the victory for the Toreros.
On Feb. 8 at home against Hawaii, the Toreros dropped a 4-2 decision. San Diego won the doubles point and Daniela Morales earned a singles win. The doubles teams of Sophia Chow and Maria-Paula Torres and Carolin Nonnenmacher and Gemma Garcia pulled out a win to secure the Toreros' first point.
Next Matches: USD women's tennis hosts Cal Poly San Luis Obispo, Sunday, 10 a.m., Hogan Tennis Center; USD vs. Santa Clara (WCC opener), March 2, 1:30 p.m., Hogan Tennis Center.
The women's swimming and diving team will compete in the Mountain Pacific Sports Federation (MPSF) Championships Wednesday through Saturday, at East Los Angeles College for the swimming events. Thursday through Saturday is the diving competition at the Rose Bowl Aquatics Center.
For all USD Athletics news, scores and information, visit the website and follow the Toreros on social media platforms: Facebook, Twitter and Instagram.