Mulvaney Center: Making Community Connections for 30 Years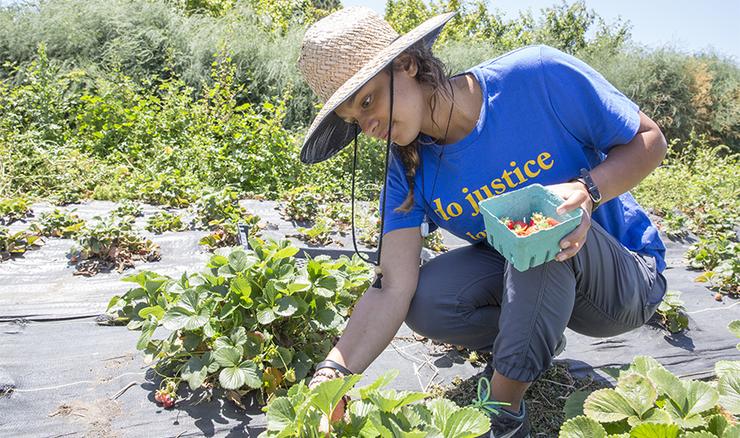 When Chris Nayve expresses the importance of the University of San Diego to have a strong connection with the community — locally, regionally, nationally and globally — it's more than just words.
It's truly about action — long-term, quality interaction and working alongside those living in the community — that matters.
For 30 years, from when it was first known as the Volunteer Resources Office to what today is called the Karen and Tom Mulvaney Center for Community, Awareness and Social Action, Nayve, its current director, and directors past and countless faculty, staff, students and alumni understand what is the center's purpose.
"It's always been about having deeper connections," says Nayve, who also serves as USD's associate vice president for community engagement and anchor initiatives. "When we talk about community engagement, at its core, it's about relationships. Even if Judy Rauner, Sister (Sally) Furay and the university's founders, all of whom helped create the work we're doing today, were still here they would still see their work. What they've done has always pushed us to make sure this wasn't about service. I remember that Judy Rauner, Elaine Elliott and Barbara Peterson would really want to steer us away from one-time projects. That's what I learned in this field — anything we do connects to our anchor, to our mission means we have long-term, equitable partnerships."
Building a Foundation for Community Engagement
The university took its first steps toward what today is a juggernaut of community engagement practices during the 1985-86 academic year. Then Provost Furay created a Social Issues Committee, the university established a formal partnership in education with local Kit Carson Elementary and others, and then USD President Author "Art" Hughes was a founding member of Campus Compact.
USD's drive to be a community engaged campus increased significantly in 1986-87 when Judy Rauner was hired to create a Volunteers Resources Office and to support the Social Issues Committee. Local partnerships grew to nine, including the Special Olympics, and Campus Compact provided a $5,000 grant, the first of several to help USD's program grow. The next year saw student leadership positions increase from one to five and poet and civil rights activist Maya Angelou was a Social Issues speaker on campus.
The 1988-89 year provided a glimpse of what was to come with growth in terms of work-study student positions, the start of a Linda Vista Adult Literacy program. Tijuana trips for house-building, working with Los Niños and Habitat for Humanity took place. Student participation grew with 20 USD students working with student mentees and USD earned recognition from Campus Compact for its Student Literacy Corps program.
As USD's involvement grew, so did various community programs locally, such as the formation of the Linda Vista Kids program, leadership in volunteering and volunteers for youth mentoring programs, an American Indian outreach program, a juvenile hall program and more.
In 1994-95, USD renamed the on-campus entity as the Office for Community Service-Learning, which reflected its course-based service-learning program. The Linda Vista Collaborative, a network for agencies, schools and residents of Linda Vista to work together in a service-learning environment, was born.
Numerous service-learning programs ensued, including a HUD Community Outreach Partnership grant with the Linda Vista community, a program at Mark Twain Junior-Senior High School, and the establishment of a community office at Bayside Community Center in 1996-97 has remained a vibrant partnership today.
Service learning, a concept championed by Rauner, gave Elliott, who was hired in 1995 as a community liaison and then in 2002 when she became director, the ability to help USD students become more compassionately aware of others.
"Having lived in Mexico as a child, and then in Guatemala as a young adult, when I began working at USD, I was very aware how well-meaning Americans can unintentionally be condescending and superior as they work to help people who are poor, marginalized, ill, or in some other kind of need. Our culture prioritizes success and independence and thus struggles in this area. This can be defeating to others, not helpful, and we wanted to try to do better," Elliott said. "The service-learning movement added 'learning' to 'service' to try to emphasize that student and faculty work in the community was not only about giving, but also being open, humble, and curious enough to receive and allow ones' worldview to change."
Broadening Community Engagement
This fundamental approach still applies for USD staff, faculty and students when they participate some 30 years later. A focus on community engagement has kept the Mulvaney Center thriving as a primary resource and model for those on campus wanting to enter into the community and build these same deep connections.
"Think of all the work, not just in our office, but all that's happening because of community engaged justice work in University Ministry, in the Changemaker Hub, the Center for Inclusion and Diversity, United Front Multicultural Center, Women's Center," Nayve said. "You can narrow it down to relationships. They can shift, but there is a deep commitment to equity, fairness and the reason of who we are. We're always trying to get better. This university is always trying to deepen, broaden and connect to these strategic goals."
Nayve, a triple USD alumnus, has been involved with the center since 1996-97. He, along with double alumnus John Loggins, director of community-engaged learning in the Mulvaney Center; Sociology Professor and Mulvaney Center Faculty Liaison Dr. Judith Liu; Undergraduate alumna Maria Silva, who is the director of neighborhood and community engaged partnerships; and alumnus Austin Galy, assistant director of student leadership and learning, provides solid and professional leadership within the center.
When the center was renamed through a generous gift by Tom Mulvaney, a USD law alumnus, and his wife Karen Mulvaney, a few years back, the couple was impressed with the work, drive, mission and values that Nayve, Loggins and others had and their respected approach to connect with the community.
"It's about taking the concept of community, wherever that community is, and to help students, faculty and alumni, understand that this is a community, a worldwide community and then maybe we can understand we're all in this together in this world we live in," Tom Mulvaney said in 2014. "If we can create in the students and faculty and others I've talked to about the concept of working with one another, collaborating with one another, understanding one another, that's what we view the center being, and it just makes the world a better place."
The Mulvaney Center maintains a full load of Linda Vista-based partnerships, relationships throughout San Diego County, joint participation with St. Mary's College for a summer MICAH fellowship program in Northern California, and life-changing experiences in destinations such as New Orleans, La., Guatemala, Tijuana, Mexico and Duncans, Jamaica. Faculty and their academic courses often partner with the Mulvaney Center to provide students with an experiential education experience that sinks in deeper.
"It goes to the liberal arts education, which looks at multiple forms of learning," Nayve said. "Community Engagement learning is connected to study abroad, to internships, experiential education and connected to the Living-Learning Communities. When you look at it holistically, like a liberal arts institution, it's a practice, a pedagogy, a scholarship and a way of learning that fits perfectly with who we are."
— Ryan T. Blystone
The (30th) Year Ahead
Nayve said three events in 2018-19 will highlight the 30-year milestone celebration of the Mulvaney Center:
During the March 2018 spring break, Tom and Karen Mulvaney and more than 20 student MICAH Fellow alumni from St. Mary's College and USD, will reunite in New Orleans, and reflect on what they learned and how it impacts them now.
The Mulvaney Center will host a Fall 2018 conference for the campus community to come together for events tied to social issues. Specific dates are still to be determined, Nayve said.
The Campus Compact Western Region will hold its annual Continuums of Service Conference on March 6-8, 2019 at USD. Nayve said there will be national representatives attending the conference.