Torero Athletics: Volleyball, Football Fall in NCAA Playoffs; Tough Losses for Basketball Teams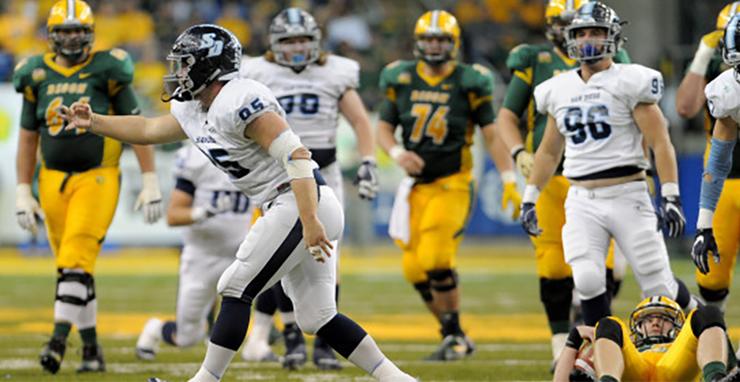 The University of San Diego women's volleyball team took one of its greatest obstacles in NCAA Tournament play, the USC Trojans, to a fifth and deciding set in a second-round playoff match on December 2 in USC's Galen Center.
The end result, unfortunately, was the same as the teams' six previous NCAA Tournament meetings. USC, this time seeded 10th nationally in the playoff bracket, was able to hold off USD, 25-22, 24-26, 24-26, 25-22, 15-11. USC advances to the round of 16 while the West Coast Conference champion Toreros' concluded with a 25-5 record.
The Toreros, who had four players with double-digit kills, played with USC the whole way as all five sets were decided by four points or less.
Jayden Kennedy led USD with 16 kills. Addie Picha, Lauren Fuller and Kaity Edwards all had 12 kills. Picha was a force at the net all night and finished with 10 blocks, one off her career-high mark. Kristen Gengenbacher, the WCC Player of the Year, had a double-double with 51 assists and a match-high 19 digs. Lizzy Tardieu had 17 digs.
While USD won the second and third sets, they also tied the first set at 22-22 before USC pulled away for the early lead. With USD storming back to take a 2-1 edge, the fourth set was equally competitive with 12 ties and it came down to the wire. It was tied at 20-20, but USC closed out the set on a 5-2 run to force the deciding set.
USD did lead 10-9, but USC's 6-1 run clinched the fifth set for a hard-earned victory. The Trojans are now 11-1 overall against the Toreros and 7-0 in NCAA Tournament play.
The Toreros reached their second-round match by defeating first-round foe, Louisiana State University (LSU) in a four-set victory (25-23, 24-26, 25-23, 25-21) on Dec. 1 at the Galen Center.
After splitting the first two sets, the Toreros were down 19-14 in the pivotal third set, but reeled off a clutch 8-0 run to take the set. USD then led for nearly the entire fourth set, although the Tigers kept it close throughout. It was their best set hitting-percentage wise, as they hit .295 as a team.
Three Toreros had double-digit kills, led by Kennedy's 17. Fuller had 15 kills, one off her season-high, and Picha had 13 on a .480 hitting percentage. Gengenbacher had 52 assists and 11 digs. Lizzy Tardieu had 21 digs and Roxie Wiblin added 10 digs.
North Dakota State achieved for the second straight year what few other teams have been able to do against the USD football team — not only contain them, but to shut them down in a lopsided playoff loss.
The Bison, the No. 2 seed in this year's NCAA Division I FCS playoffs, defeated the Toreros, 38-3, before 18,067 fans at Gate City Bank Field in the Fargodome in Fargo, N.D. on Dec. 2. The second-round playoff game result ended San Diego's season at 10-3.
The Bison lead 14-0 after the first quarter, 17-0 at halftime and it was 38-0 before USD kicker Patrick Murray's 48-yard field goal a minute into the fourth quarter prevented a shutout.
The North Dakota State defense limited USD's potent offense to 174 total yards. Quarterback Anthony Lawrence, the Pioneer Football League Offensive Player of the Year, completed 13 of 25 passes for 107 yards and an interception. He was sacked twice. Justin Priest was the top receiving target with four catches for 50 yards and Emilio Martinez led the Toreros on the ground with only 22 yards on 10 carries.
Despite the final score, there were a few highlights defensively for USD. Defensive end Jonathan Petersen did set the FCS career sacks record, taking down Bison quarterback Easton Stick three times to finish his Torero career with 43. On his record-setting sack in the second quarter, Petersen's hit forced Stick to fumble and USD's Kim Mahoney recovered. Colton Giorgi collected a game-high 11 tackles for the Toreros and was followed by Mahoney's nine. Petersen's record-breaking day also included eight stops.
The end of the football season means a return to work for Coach Dale Lindsey, his staff and their returning players, but the Torero seniors have plenty of reasons to be proud. USD's senior class won four straight PFL titles, took three trips to the FCS playoffs, including the school's and PFL's only two playoff victories; and a four-year record of 38-10 with a string of 21 consecutive PFL wins.
The men's basketball team began last week on a high with a 5-0 record and the only West Coast Conference team still undefeated on the young season. But a poor shooting night against San Diego State in a nearly sold-out Jenny Craig Pavilion on Nov. 30 and a follow-up Dec. 2 loss at UC Santa Barbara gave the Toreros plenty to think about and to work on in their remaining nonconference games this month.
Against SDSU, Isaiah Pineiro scored a team-high 19 points but it was not enough to overcome a tough night offensively overall for the Toreros in the 66-57 loss to the Aztecs.
USD fell behind early and weathered multiple scoring droughts in both halves to remain within striking distance. The Toreros were ultimately undone by going 23 of 61 (37.7 percent) from the floor, including a 7 of 30 (23.3 percent) mark behind the three-point line.
Olin Carter III added 12 points while Isaiah Wright chipped in 10. Yauhen Massalski and Wright led the Toreros with six rebounds each.
The Toreros defense played well but did not have an answer for SDSU's Devin Watson who posted a game-high 26 points and went 10 of 11 from the free-throw line.
Against Santa Barbara, Carter and Pineiro scored 14 points apiece but it was not enough to overcome two big runs by UC Santa Barbara as San Diego fell, 67-57, to the Gauchos.
Pineiro, Carter III and Wright each hit double-digits in points but the Toreros (5-2) had trouble getting going offensively overall throughout the night. The Toreros shot 21 of 58 (36.2 percent) from the floor, including a 6 of 26 (23.1 percent) clip from three-point range. USD struggled at the free throw line, going 9 for 23 (39.1 percent).
The Gauchos capitalized with runs of 13-4 in the first half and 15-4 in the second to take command of the game.
This Week: Men's Basketball at New Mexico State, Wednesday, 6 p.m.; USD vs. Northern Arizona, Saturday, 7 p.m., Jenny Craig Pavilion.
The nonconference schedule is what prepares a team for the West Coast Conference battles to come. Hopefully that's what Coach Cindy Fisher and her team are taking away from a four-game road trip that has taken them to Santa Barbara, back to San Diego for a tough game at San Diego State and then Dec. 2 at Seattle University.
USD's overall record is now 5-3 — 1-2 on the trip that ends this Thursday — after the 80-73 setback at Seattle University. Three Toreros scored in double-digits with Alexandra Hagen (6-for-9 shooting) and Aubrey Ward-El each scoring 17 points. Maya Hood added 16 points on 7-for-11 shooting. The Toreros held a 67-61 lead with 4:36 left in the game, but went cold from the field and the Redhawks finished the game on a 19-6 run.
In the annual meeting with San Diego State, USD fell 77-76 in a wild game. There were 13 ties and 24 lead changes in the Nov. 29 contest. Sydney Williams hit two big three pointers in the final 30 seconds, including one that gave USD a one point lead with 15 seconds left, but the Aztecs' McKynzie Fort scored a driving lay-up with eight seconds left to seal the win for SDSU. The loss snapped USD's four-game win streak over the Aztecs.
Four Toreros scored in double-digits, led by Williams' 17 points. Ward-El scored 14 points but fouled out with 1:30 left. Hagen continued her breakout season with 13 points and Myah Pace had 10 points and a career-high seven assists.
This Week: Women's Basketball at Cal, Thursday, 7 p.m.; USD vs. Minnesota, Sunday, 12:30 p.m., Jenny Craig Pavilion.
Keep up with all USD Athletics news, scores and information by visiting the website and following the Toreros on social media: Facebook, Twitter and Instagram.